You have /5 articles left.
Sign up for a free account or log in.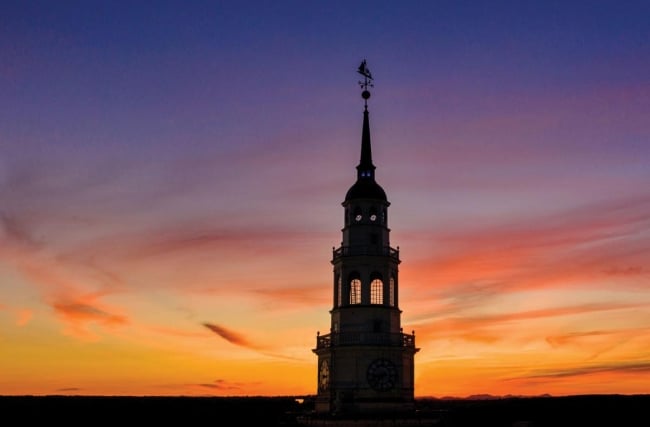 Not all of the most selective colleges have given out their acceptance letters yet -- the Ivy League will announce Tuesday evening -- but the trends are already clear. The pandemic has not hurt the colleges in admissions; it's helped them. It has sent them new applicants, new minority and first-generation applicants, and new attention. The results are starting to come in -- and they suggest that the most selective private and public institutions are going to have a very good year. What that means for all the other colleges remains to be seen.
Colby College admitted only 8 percent of the (record) 15,857 students who applied, down from 10 percent last year and 13 percent the year before. Despite the popularity of test-optional admissions (which Colby had as a policy before the pandemic), Colby received students with great test scores: the median ACT score is 34, and the median SAT score is 1520. Thirty-five percent of American students are people of color, and 11 percent are international students.
"Obviously, this had been the most challenging admissions year we have ever had, but we had a really strong strategy," said Matt Proto, vice president for enrollment and communications.
While Colby has been open to students this academic year, it has barred all visitors, meaning that admissions had to do all of its recruiting remotely. Proto said he found that the college was able to make more "visits" to high schools because they were virtual visits.
A key for Colby has been a financial aid program that expects no parental contribution for families with incomes of up to $65,000. "You've got to have a robust commitment to aid," Proto said.
Now the key is to get students to enroll. Proto said the college will stream current classes online so newly admitted students can watch. He's hopeful that and other virtual interactions will get the students to enroll.
Colby is not alone. Williams College also admitted 8 percent of students this year, out of 12,500 applicants. The admit rate is down from 12 percent two years ago, the last class admitted before the pandemic.
Swarthmore College also had an 8 percent admit rate this year, down from 9 percent last year.
And if 8 percent seems impressive, consider the Massachusetts Institute of Technology, which admitted just 4 percent of the 33,240 students who applied. That is a 66 percent increase in applicants in one year. The admit rate fell from 7 percent.
Larger universities tend to have slightly higher admit rates, but they are going down.
The University of Notre Dame admitted 1,771 students last week and earlier admitted 1,673 through a restrictive early program. The admit rate fell to a new record of 15 percent.
Emory University's admit rate (for Emory College) fell from 19 percent to 13 percent.
Among public flagship universities, there is also more competition to get in. The University of Virginia saw applications increase from 41,000 to 48,000 -- and offered admission to 21 percent.
At the University of Georgia, 39 percent of applicants were admitted this year, down from 46 percent last year.
Jim Bock, vice president and dean of admissions at Swarthmore, said his college received 12 percent more applications this year than last.
He noted that despite the way the national press denigrates a liberal arts education, top liberal arts colleges continue to attract students.
In terms of changes Swarthmore made, he pointed to a fly-in program that the college typically does for 75 to 150 disadvantaged students. This year the program was virtual, and 200 students attended. He said the college needs to look at the results (how many of the students actually enroll?) and should think about changes in the fly-in program next year.
Swarthmore also went test optional this year for the first time. Bock said the college uses "holistic review" -- generally, not just this year -- so testing being left off some applicants' forms was not a huge change. Nonetheless, he said Swarthmore would study the results. (The college will be test optional for at least one more year.)
At Emory, John F. Latting, associate vice provost and dean of admission, said there are fears that getting too selective could scare off applicants. "In most of America, it raises the intimidation factor," he said. "And that's not what we want."
Still, he said, Emory is planning for the next few years 5 percent increase each year in applications, with no increase in enrollment.
Emory had to do many things differently this year (beyond being test optional).
The university published a story about the differences in admissions, including:
"Pass/fail grades last spring: Many schools around the world went to a 'pass/fail' grading system for the spring semester of the junior year when nearly all schools transitioned to virtual learning. This impacts a student's grade-point average (GPA).
"Virtual learning this year: For many school communities, virtual or hybrid learning has continued in some form this academic year, changing the nature of how students learn and are tested on their knowledge. This also impacts a student's GPA.
"Extracurricular activities and job changes: Many academic competitions, sports tournaments, internships, volunteer opportunities and part-time jobs were canceled last year and this year or may have only been offered virtually, shifting the traditional activities a student may participate in during their senior year.
"Letters of recommendation from teachers: Due to the virtual learning environment, many students shared that their teachers didn't know them as well, not having that face-to-face relationship."
Plus the staff, Latting said, was meeting entirely via Zoom.
Over all, the class admitted has more students from underrepresented backgrounds, more first-generation students, more undocumented students, more DACA students, more (economically) poor students and more students from Georgia and the Southeast.
Mark E. Butt, director of undergraduate selection at Emory, said, "We doubled down on training for admissions." With so many things not in the file, "we wanted to make sure we understood the student voice in the file," he said.
At the University of Georgia, Rahul Shrivastav, the university's vice president for instruction (who oversees admissions), described the year as "chaotic and unpredictable."
Applications were up 40 percent, although Shrivastav estimates that about half of the gains are because the university joined the Common Application this year. He also guessed that some of the gains are due to being test optional. (That decision was made by the University System of Georgia.)
"We're very pleased with where we are," he said. "But it will be a long time until we sleep easy."
What About Everyone Else?
Robert J. Massa, principal and co-founder of Enrollment Intelligence Now, said via email that the numbers are indeed good for the more selective colleges and universities. But he said, "We need to remember that although there was an 11 percent increase in applications submitted through the Common App, there was a less than 2 percent increase in the number of students applying. For the institutions with brand recognition, that meant record numbers of applications in the wake of COVID-related test optional policies. Yields will be lower and waitlist activity will likely be high, with -- pardon the expression -- a 'trickle down' impact on many less selective colleges and universities. I would guess that waitlists at institutions with admit rates in the single digits will hit record levels."
He added that "this does not portend well for lesser selective schools admitting, for example, 40 percent of their applicants vs 4 percent, not to mention those admitting 80 percent. Most of these schools did not receive record numbers of applicants, are admitting a higher percentage in order to enroll the class, have small or no waitlists, and will be subject to waitlist decisions of schools further up on the prestige scale. It is not a pretty picture."
Christine Chu, an IvyWise college admissions counselor and former assistant director of admissions at Yale and Georgetown Universities, said she was "not too surprised" by the good numbers at most top colleges. She noted the Common App figures as well.
She has some hopes for the colleges that are not as competitive in admissions if -- and this is a big if -- the economy improves. But she said that remains to be seen.
Aviva Legatt, author of Get Real and Get In (St. Martin's Griffin), and founder of Ivy Insight (a college consulting service), said via email, "'Good' admissions results ('good' defined as an increase in selectivity) means in a decrease in college access and choice for students. The test-optional movement, while being hailed as a pillar of access (and I acknowledge that it can help low income and minority students because the test has been shown in multiple studies to be biased against this population), the test-optional policy is misleading and unhelpful for the vast majority of applicants (only 44 percent submitted scores according to Common App, which means that most people did not take and/or send in their standardized test scores)."
She added, "It's another case of the rich institutions getting richer. I truly hope there is more honesty and transparency in the 2021-22 admissions cycle."