You have /5 articles left.
Sign up for a free account or log in.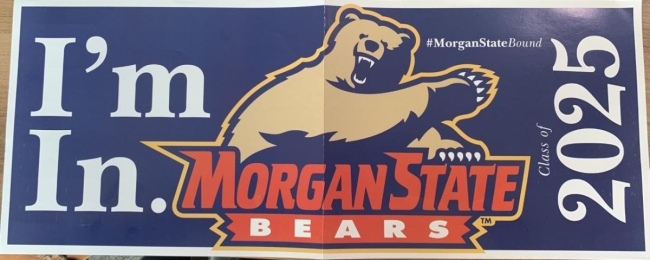 Check out the #MSU25 hashtag on Twitter and you'll see some of Morgan State University's next class of freshmen. One woman boasts, "After getting accepted into 15+ schools, I have decided to further my education at Morgan State University."
Another says, "Two years ago I was not aware that undocumented students were allowed to achieve a higher education. Thanks to God and my community, today I have decided I will be attending Morgan State University majoring in communications and political science." Many students pose with the "I'm In" banners that the university sent out with its admissions offers this year.
This is of course the admissions class that was most influenced by the pandemic. Students couldn't visit campuses where they wanted to enroll, and many had to decide based on factors other than the campus visit. Many students of all races said in surveys that they wanted to attend colleges close to home (if they didn't get into Harvard University or someplace similar). Black students were influenced by reports of racial tensions at many predominantly white campuses. And many Black students were influenced by finances -- questioning how they could afford a higher education.
Tracking the enrollment at historically Black colleges can be difficult. Many historically Black colleges do not adhere (at all or strictly) to May deadlines for telling the college if a student who has been accepted will enroll. This reflects a reality that the colleges are admitting students who will be just able to afford to attend (with the aid they are given), and for many students and families, the beginning of May is the start of the time to figure out what they can afford.
Nonetheless, some Black colleges are declaring this year to be one of amazing success in admissions.
Chelsea N. Holley, interim director of admissions at Spelman College, said the college received 11,126 applications this year. Last year and the year before, it received only about 9,100 applications. The college aims to enroll roughly 575 students, the same number as last year.
At North Carolina A&T State University, it's "another great year," according to Todd Simmons, the associate vice chancellor.
The college has received 28,488 undergraduate applications, up from 28,426 at this point for 2020 and 26,708 in 2019. In 2017, total applications were 18,645. Simmons expects applications to top 30,000 this year, for the Class of 2025.
North Carolina A&T also has seen a 36 percent increase in freshman intent to enroll (with a 3.8 grade point average). The university does not require a deposit but does require students to pay a deposit for housing.
Simmons predicted this year would be the sixth straight year with record enrollment.
But those increases are nothing like what Morgan State, a historically Black university in Baltimore, has seen. The university received 14,600 undergraduate applications, an all-time high, and a 58.5 percent increase over the total number received in 2019, the last year before the pandemic.
Of those students who were admitted, 1,600 have committed to attend in the fall, compared to fewer than 700 who had committed at this point last year. And nearly 1,200 applicants have submitted applications for housing thus far, an increase of 54.6 percent over 2019.
Last year, the university enrolled 1,235 freshmen. With 1,600 already committed to attend, and Morgan State still admitting students, Kara Turner, vice president for enrollment management and student success, said she expected more students to enroll this fall than last fall.
"Summer melt is real," she said. But she is "cautiously optimistic" about the numbers.
Asked why so many students are seeking out Morgan State this year, she offered a number of reasons.
"There are a number of things going on, some we can't take any credit for, but others we can." Some of the changes reflect on Morgan State, and others on all Black colleges.
HBCUs "are really in the spotlight," she said. In part that's because of Kamala Harris (a Howard University grad) serving as vice president. Or the work on voting led by Stacey Abrams (a Spelman College grad).
More students appear to be applying to more colleges.
Students "want someplace safe, where they will feel supported," Turner said.
Many Black colleges have good reputations for handling the pandemic.
Morgan State received extensive publicity for the gifts from the philanthropist MacKenzie Scott ($40 million) and from Calvin E. Tyler Jr., who dropped out of Morgan State in 1963 and took a job as a truck driver because he couldn't afford tuition.
Morgan State waived the application fee, will accept unofficial transcripts in the admissions process and went test optional for the first time. "We wanted to make it as easy as possible to apply," Turner said.
Morgan State added marketing efforts and financial aid to attract students.
Turner said she couldn't cite a single reason but that it was the cumulative effect of all these things. "Although we were already seeing incremental increases in applications annually and anticipated some additional level of growth due to national trends, what we are seeing in actuality was somewhat unexpected, but this is a good problem to have," she added.
Mason Davies is one of the students who will be enrolling in the fall.
He credited a tour by Don-Terry Veal, vice president for state and federal relations and chief of staff, with his decision to go to Morgan State over Towson University, a predominantly white institution nearby.
"My family and I had the opportunity to tour Morgan's campus," Davies said. "Dr. Veal was a great guide, and I emailed him to let him know that I knew the tour was a very special opportunity. He shared the importance of Morgan students' participation in the 1955 sit-in at Reed's Pharmacy. That story ties into my major, sociology/anthropology, because of its historical aspect and the roles African Americans played during the civil rights movement of the '60s. I thought North Carolina A&T began the sit-in movements, but Dr. Veal reminded us that Morgan was the first. That was good to know."
He said, "The tour made all the difference in my college decision. I am super excited to have chosen Morgan State as my academic home."