You have /5 articles left.
Sign up for a free account or log in.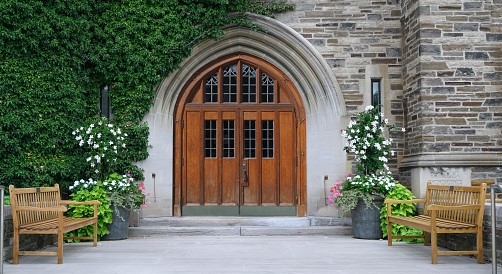 Where do public universities recruit students?
Most universities would like the public to think that they focus on their states, visiting every possible high school, particularly those with talented disadvantaged students.
But that's not what Karina Salazar of the University of Arizona, and Ozan Jaquette and Crystal Han, both of the University of California, Los Angeles, keep finding out. Two years ago, they found that public universities focus on high schools that are out of state and more likely than not to be high income and largely white. Further, a disproportionate number of the high schools visited are private schools.
They have returned to the subject with a new paper, published Friday, in The American Educational Research Journal. Its conclusion: "Results reveal socioeconomic, racial, and geographic disparities in recruiting patterns. In particular, most universities made more out-of-state than in-state visits, and out-of-state visits systematically targeted affluent, predominantly white localities."
They also fault much of the current research on the college search process. "College access is an outcome that depends on interactions between students looking for colleges and colleges looking for students," they write. "How do students and colleges find one another? Most scholarship analyzes the process by which students search for colleges. A massive 'college choice' literature highlights many factors that influence students' decisions about where to apply and where to enroll … By focusing on the characteristics and behaviors of students, families, and K-12 schools (the 'demand side' of higher education), the college choice literature largely views colleges and universities (the 'supply side') as passive recipients of students."
To focus on the supply side, they examine the high schools visited by recruiters. This is because "analyses of organizational behavior show that colleges and universities are very purposeful about which prospective students they search for."
"Given that more privileged segments of the student market tend to be made up of affluent and predominately white students, we analyze the socioeconomic and racial characteristics of schools and neighborhoods that receive a recruiting visit in comparison with those that do not." And they found "that universities focus their efforts on recruiting out-of-state, affluent, white students."
The study covered 15 public research universities. Inside Higher Ed reached out to five of the universities Friday afternoon, and three responded, defending their recruiting tactics.
What the Research Says
The authors explain their research this way. "We also expect universities to make a substantial number of out-of-state recruiting visits because non-resident students typically pay two to three times the amount of tuition that resident students pay," the article explains. "Universities are also likely to disproportionately visit private high schools as these schools tend to enroll high-achieving, affluent students who can afford to pay full tuition."
The researchers captured -- from university websites -- every visit that a university made to a high school in 2017. They used scraping tools and -- because universities change their websites frequently -- scraped every two months. The study "defines off-campus recruiting events as those that focused on soliciting undergraduate admissions applications and were hosted by paid personnel or consultants at any off-campus location." (The study did not count admissions interviews.)
They also acknowledge that their methods of data collection are not perfect. "Off-campus visits encompass only one university recruiting effort. Universities may also be recruiting students via other interventions (e.g., direct mailings, emails, specific outreach programs). Second, despite our best efforts to collect and triangulate off-campus recruiting data from more than one source to validate quality and completeness, our data may not capture all off-campus recruiting events by each university."
The researchers found that "in 12 of the 15 cases, universities made more out-of-state recruiting visits than recruiting visits within their respective states. Seven universities made more than twice as many out-of-state visits (Alabama, Arkansas, CU Boulder, Kansas, UMass Amherst, Pittsburgh, South Carolina)."
The University of Alabama, which did not respond to emails asking for comment, represents "the upper extreme of making more out-of-state than in-state recruiting visits. Alabama's 3,900 out-of-state visits accounted for 91 percent of the university's total visits, a proportion higher than any other case." (This also coincides with a decision to enroll more out-of-state undergraduates than in-state.)
Alabama's 3,900 out-of-state recruiting visits compare to 382 in state. The university with the next-biggest ratio of out-of-state to in-state visits was the University of South Carolina, with 1,726 out-of-state visits, compared to 418 visits in state.
North Carolina State University and the University of California campuses at Berkeley and Irvine were the only universities in the 15 studied that visited more high schools in their home states than out of state. "It may not be a coincidence that the three universities with more in-state than out-of-state recruiting visits are the only cases in the study that face strong legislative pressures to cap non-resident enrollment," the paper says.
The study also examined the likelihood of visits taking place at private high schools by comparing the visits to private high schools to what they would have been "if each school had an equal probability of receiving a visit." (This part of the study was on out-of-state recruiting.)
For Alabama, it found 28 percent of visits were to private high schools, compared to a 19 percent proportional figure. For South Carolina, it was 33 percent, compared to a proportional figure of 19 percent.
Among the other findings: "We find a significant and negative relationship between enrollment [in high school] from Black, Latinx, and Native American students and the probability of receiving an out-of-state recruiting visit for most universities in the study even after controlling for other factors."
And: "Across all cases, out-of-state recruiting visits were concentrated in public high schools with lower percentages of Black, Latinx, and Native American students than non-visited schools."
The authors, in their conclusion, say, "Universities in this case study devote a greater share of enrollment management energies on recruiting out-of-state, affluent, White students and a lesser share on recruiting rural, in-state, low-income, Black, Latinx, and Native American students. Through an academic capitalist lens, results suggest that universities in the study prefer to recruit prospective students in more privileged segments of the student market and overlook segments made up of historically [underserved] student populations. These findings provide new empirical detail on how universities' recruiting efforts segment and sharpen class and racial divisions in prospective student markets."
Universities' Responses
Three universities responded, via email, to the new study.
Jack Miner, vice provost for enrollment at the University of Cincinnati, said, "We sit at the juncture of three states, Ohio, Kentucky and Indiana. From our main campus, employees and students can be in Kentucky in 10 minutes, Indiana in 15 minutes. And yet, this study defines our strong recruitment presence in our own metropolitan area as 'out of state.'"
He added, "We are equally distant from our own state capital (Columbus) as we are from Louisville, Kentucky, or Indianapolis, Indiana, and our recruitment efforts have long been based on this geography and inclusive of urban, suburban and rural areas of each state, as well as both the public schools and the many faith-based or other private schools in this region. We continually expand these relationships in our tri-state community. In the past few years, we have also expanded our national profile."
Jeff Stensland, assistant vice president for media and external engagement at the University of South Carolina, said, "We visit every high school in South Carolina that will have us and we are committed to increasing access to as many residents of South Carolina as is possible."
But he added that "high school visits are only one component of our recruiting. We offer on-campus events, regional events around the state, virtual events, and we have a robust direct mail, phone, and text marketing approach. We have increased our in-state freshmen enrollment by more than 12 percent since this study was completed, while nonresident freshmen have remained flat."
Stensland also said, "We recognize affordability is a concern for students and their families. We have limited need-based financial aid at our disposal and, as the flagship public institution in the state of South Carolina, we are committed first and foremost to providing access to South Carolina residents. Therefore we focus our recruitment of low-income students primarily in-state. We also welcome non-residents to the University of South Carolina, and our out-of-state recruiting efforts are focused on high schools whose students are more likely to attend college out-of-state."
And Lauren M. Sheprow, a spokeswoman for Stony Brook University, of the State University of New York, said, "It is unclear whether the method of web scraping for announcement of school visits accurately captures the totality [of] Stony Brook University's out-of-state recruitment activity, but what is known is that Stony Brook's recruitment strategy is designed to recruit a diverse undergraduate class from all walks of life. It may be helpful to have an understanding first of how Stony Brook recruits students from low-income backgrounds through means (other than high school visits) from low income backgrounds:
Prior to the pandemic, a strong component of our recruitment effort was hosting campus visits for students from underserved schools and  communities -- in 2018-19 we hosted 93 campus visits.
Last year we hosted 75 campus visits prior to March.
Since March of last year, we've worked closely with school partners, community based agencies and organizations to provide virtual visits and tours for many students. 
This year, our team has conducted more than 200 virtual visits with high schools, and community-based organizations.
We have hosted information sessions and served on panels for organizations such as Gateway to Higher Education, Coalition for College, Urban Assembly Schools, Breakthrough NY, Achievement First, Goddard Riverside Options Center and others."