You have /5 articles left.
Sign up for a free account or log in.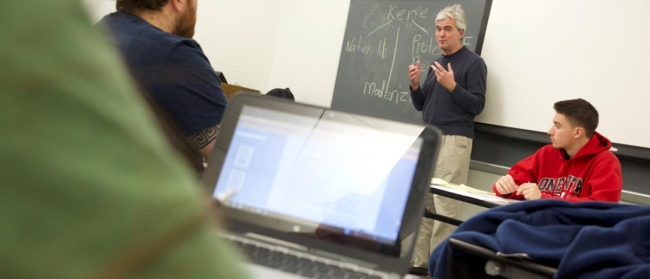 The State University of New York at Oneonta was closed to visitors until January of this year. Normally, those who visit in the fall are likely applicants in the spring (or the next spring). Karen Brown, executive director of admissions, said Oneonta tried to do remote tours and to interact online with applicants, but it wasn't the same. And so Oneonta -- located in a small city (population 13,901) -- is experiencing a severe drop in freshmen expected for the fall.
This year, Oneonta dropped its target for freshmen for the year from 1,500 (around where the college was before the pandemic) to 1,200. As of last week, the university has 1,000 freshmen who have committed. The university is still accepting applicants. Brown expects enrollment will stay where it is -- with the university gaining a few more and losing some to summer melt.
"We're a work in progress," said Brown. "We're not doing as well as we did in the past."
The pandemic has hurt all kinds of applications, she said. Normally, 40 percent of applicants apply early, but those applicants generally visited the campus first.
Oneonta has a reputation for good teaching. But New York State generally has lost population, but especially in her area, Brown said. "The demographics and COVID challenges have caused some real concern and damage," she said.
Such is the situation of many regional state colleges and universities this year. Flagship universities are generally having a good year in admissions, hitting their targets. Community colleges are struggling, but most of them have never completed the admissions cycle until students actually show up in the fall. For private colleges and universities, the hypercompetitive ones are doing well, but the experience is very mixed for the rest.
For most regional public colleges, it's been a frustrating year. Applications are down at most institutions. Students are willing to travel to colleges if they get into whatever colleges are considered a reach (private or public). But maybe not for a regional public. So most regional publics say they are still accepting applications with July just around the corner. And most are expecting declines in the number of freshmen they will enroll, although some are still hoping for small declines or even an increase.
There are exceptions -- generally in fast-growing states.
Florida Gulf Coast University had a goal for this year of 2,245 first-year students. The university is way over that. It received 16,759 applications (up 7.9 percent over last year), it has 2,889 deposits (up 33.3 percent over last year) and 2,820 of those students have signed up for orientation (up 39.1 percent over last year).
But most states are not like Florida.
The Pennsylvania State System of Higher Education is down 6.9 percent from last year. But David Pidgeon, a spokesman, said the system is "in the middle of the admissions period, so data and data collecting on this can vary greatly, even week to week."
At the University of Toledo, the numbers are also down from before the pandemic.
Last fall the university enrolled 2,200 freshmen, down from 2,700 the year before, said Collin Palmer, director of undergraduate admission.
This year he expects to end up "slightly north" of 2,200 -- maybe a 2 to 3 percent increase.
"We'd like to get to 2,500, 2,700, but I don't think it's happening this year," he said.
He thinks the problem isn't that students aren't going to college, but that they're choosing new options. Last year, he said that institutions like Miami University of Ohio and Ohio State University appeared to admit more students who also applied to Toledo, and Toledo lost most of those students.
Toledo is doing everything it can to get more students excited about coming, he said.
The university has hosted tours that include its athletic facilities, he said. The university even had an evening tour to which people could bring their dogs, he said.
International students are interested in attending, but visas are very slow, he said.
Locally, the university appears to be making progress. "Every week," he said, the university is making progress.
Texas State University doesn't release data on its incoming students until they have actually arrived. Over all last fall, Texas State attracted 37,849 students, which was a 1 percent decrease from the previous year.
Then there is the California State University system, which doesn't have final numbers in.
Luoluo Hong, associate vice chancellor for student affairs and enrollment management, said, "The field of strategic enrollment management relies heavily on data and analysis of past patterns to project future outcomes. As with most other institutions of higher education across the U.S., the CSU system lost its 'crystal ball' as a result of the pandemic, so we are working hard to collect new data on how our students make decisions and weigh options."
Cal State was pleased last fall to experience "a slight bump to our overall enrollments," Hong said. "To support student retention, campuses worked hard to maintain continuity in instruction and student services -- while also paying particular attention to ensuring access to and availability of particular programs that increased in importance during the pandemic, such as basic needs initiatives, emergency grant aid and mental health services. We believe these contributed to helping students stay in college."
For this fall, Hong added, "there was a slight drop in the number of applications we received from first-time college students and upper-division transfers. However, we anticipate that admission rates will increase slightly."
Hong said the key to policy has been "appropriate flexibility in admissions and continuation policies -- adopting interim practices that reduced barriers yet still maintained standards of excellence." For example, Cal State suspended the use of standardized tests in making admissions decisions. "We eased up on grading policies in response to extenuating circumstances. These efforts convey to students that CSU is here to encourage students to stay in college and succeed."