You have /5 articles left.
Sign up for a free account or log in.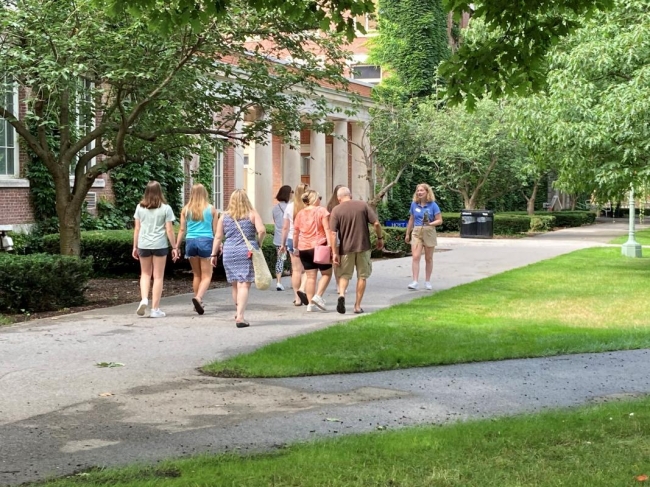 Sara Miller/University of Rochester
Drew Carter, deputy director of admission at the College of the Holy Cross, remembers campus tours before the pandemic hit.
They were offered four times a day. Some of the tours attracted 100 people (counting prospective students' family members). While Holy Cross devoted considerable time and attention to the tours, the college was glad to do so. People who visit a campus are more likely to apply and enroll.
Then came the pandemic, and the college had no tours at all until this April. The college restored tours only for students who had been accepted and their family members. One student (and three family members) could attend a tour.
The tours themselves were different. They were mostly outdoors, going inside a few buildings. "But we were talking outside and walking inside," Carter said.
"We launched tours every 20 minutes," he added.
Now the college has shifted again. It has tours every day, but each tour is limited to three potential students and their family members. Twenty people over all can be on a tour. Preregistration is required. Tours leave on the hour, compared to four times a day before the pandemic.
With more tours and fewer people on a tour, and still limited exposure to the buildings on campus, Carter said Holy Cross is assuring the health of visitors (and staff members) -- and also providing the kind of experience students and their families want.
He said the college may even keep the new format after the pandemic is totally over. "They can hear better in a smaller group," he said.
The college is still promoting its expanded virtual offerings -- and Carter said that some people prefer them to a visit right now.
Campus tours are back, but most of them differ from how they were before. They are smaller, and officials believe that's making them more personalized. They frequently require preregistration and sometimes a health assessment (by those on the tour, in advance). Colleges are navigating carefully: Carter said the main lesson he's learned is to be nimble and to think about what a college can do to offer safe experiences on campus.
At the University of Rochester, officials decided to resume small, one-hour tours of the campus this summer. Masks are required. In what the university says is "an abundance of caution," Rochester is only taking reservations for the tours one month in advance -- in case conditions change.
Baylor University, since the summer of 2020, has been offering private (one family only) in-person tours. In April and May, Baylor let two families visit at the same time. This month they are letting 12 people visit at a time, said Ross VanDyke, senior director of undergraduate admissions.
"Students on these personalized campus tours tend to be highly qualified, and they received a completely personalized tour that included a free drink at the on-campus coffee shop and a coupon for a free cupcake," VanDyke said.
"Do personal tours lead to better conversion rates than a traditional tour where it can be sometimes hard to hear everything the tour guide is saying? Yes," he said. VanDyke added that "while fewer high school seniors visited the Baylor campus in 2020 than in 2019 because of COVID-19, the application rate among Baylor visitors increased 23 percent. And the rate at which Baylor visitors enrolled more than doubled."
For large events, Baylor remains virtual.
Baylor shifted from one-hour in person to 15-minute information sessions and received good feedback from attendees.
Shoring Up Online Materials
Gil Rogers, executive vice president of strategic partnerships, marketing and outreach at PlatformQ Education, a company that helps colleges with their virtual engagement and events, said that interest in "shoring up" virtual events remains high, even as college resume in-person events.
Last year, colleges were scrambling to get material online for prospective students. This year, institutions feel they have to provide a real experience online.
Rogers said that colleges are serving more than one audience with virtual programs. First, they have an audience of people who aren't visiting campus -- some may be nervous about travel, while others may not have the money to visit a campus. The second audience is the entire audience, if the pandemic gets worse. While colleges hope that doesn't happen, their experiences this last year confirm the possibilities.
Amanda E. Craddock, associate vice president for enrollment management at South Carolina's Coastal Carolina University, said the campus has in-person and virtual tours.
On the university's homepage, both options are offered.
"We didn't have anything virtual before the pandemic," Craddock said. "We've developed a virtual on-demand series" covering various topics.
The in-person events are for 10 to 15 people (compared to 25 or more before the pandemic).
"We don't require masks," she said. "Some wear them and some don't." The college does ask those who visit to do a health assessment.
Describing the philosophy, she said, "We had to be flexible and meet people where they want to be."
Washington University in St. Louis expanded its virtual programming during the pandemic, with many themes offered. The university is also conducting virtual interviews.
Not everything is online, however. The university started a "WashU Walk-Through," a three-hour, outdoor experience for prospective students and three family members each. The university expects to host approximately 2,500 students plus up to three guests each from June 1 to Aug. 13, roughly comparable to a typical summer.
Joel Bauman, senior vice president for enrollment management at Duquesne University, said his university has been "traditionalist" on admissions, and "the last year has been a shock to the system."
Typically in the past, Duquesne had 40 to 50 people on a tour. Now there are fewer than 10, but the tours are more frequent to keep up with demand.
Anthony Cappa, director of enrollment management at the university, said the pandemic experience (offering only online programs) has influenced Duquesne's approach to the return. Online, people have shorter attention spans, so the university divided its materials into 15-minute segments. Now, they are applying that idea to in-person visits, making the remarks short and then following them with a campus tour.
They had an event with 350 students and plan one now with 700 students. "It's going to be an evolution. We're still learning what works," he said.
The Delta Variant
If there's a topic that worries admissions leaders today, it is the Delta variant, a highly contagious form of coronavirus that strikes widely among the unvaccinated but also affects some people who have been vaccinated.
Carter, of Holy Cross, said he's been in three meetings this week about the variant and how Holy Cross should respond.
"A month ago, we were thinking this is going to be great," he said. "Then the Delta variant appeared."
Carter said Holy Cross is still trying to figure out its strategy to keep as many people as possible safe. "We're asking a lot of questions," he said.