You have /5 articles left.
Sign up for a free account or log in.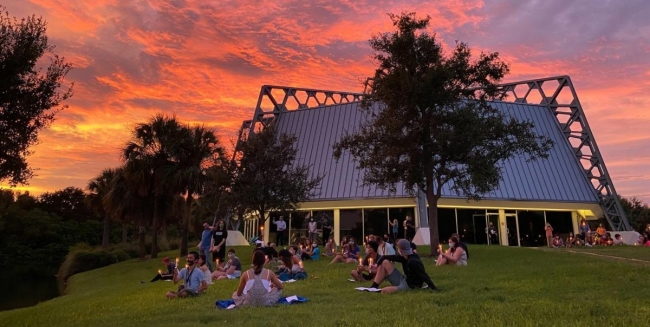 This year was supposed to be terrible for admissions at private colleges, at least those private colleges not fortunate enough to have billion dollar endowments and international reputations.
But it's became clear that for some private colleges outside those rarefied ranks of Harvard and Stanford Universities, the class that will enroll in 2021 will exceed expectations in numbers, in diversity, in tuition revenue and other factors that admissions officers lose sleep over.
Here's a look at how Eckerd College, Emory & Henry College, the Rose-Hulman Institute of Technology and Xavier University (Ohio) all filled their classes. They used a variety of strategies, but had one common feature: They remained largely open for business in the 2020-21 academic year. Another is that discount rates were generally at or above the national average of 53.9 percent.
Eckerd College
Eckerd, in Florida, is enrolling a record 664 new students this week, up 29 percent from last year's class (at the beginning of the pandemic) and up 27 percent from the previous year, which set the previous record.
John Sullivan, vice president for enrollment management, said, "when COVID hit, this community really rallied together."
He said the key to attracting students for this year was that Eckerd had students last year on campus -- for the entire academic year. "We had safety protocols in place," and people followed the rules, he said. "It was a fairly normal year."
For recruiting students at the beginning of the 2020-21 year, Eckerd relied on videos -- making many so that they could be personalized.
As the year went on, in-person visits were added. "This was huge for students, to be able to see what we're like."
During the summer, the Parents Council sent handwritten notes to the parents of every incoming freshman. As a result, Sullivan said, the summer melt rate is lower than it was two years ago.
Jacob Browne, director of admission at the college, said its location in Florida meant that the college came up with 50 spaces outdoors for classrooms. This meant that visiting potential students could really see classes and the faculty in action.
Another advantage for Eckerd: going test optional for three years. And Browne added, "we're really test optional," including for merit aid.
Sullivan said the discount rate increased marginally, and will be 53 percent, up a little more than a point from the previous year.
Florida is a state where the governor has barred even private colleges from requiring vaccinations of anyone. So Eckerd has urged its students to get vaccines. Of students enrolling in the fall, just under 85 percent are vaccinated. Browne said, "we're not quite there yet."
As for the Delta variant, Sullivan said, "we're encouraged by the high numbers who are vaccinated, and we'll push to get the number higher."

Emory & Henry College
While Eckerd is emphasizing its historic strengths, Emory & Henry College, in southern Virginia, is trying new strategies. They have resulted in a 63 percent increase in new students in one year. It will enroll 467 new students.
John W. Wells, the president, said, "there isn't one silver bullet." Rather, the college acted on a range of issues.
It added nursing and business programs to attract students who wanted a clear path to financial success after they graduate. "It's a market strategy," he said. It stuck with a high discount rate -- 55 percent -- but Wells said he is comfortable with that rate in a time of transition.
And the college made a major change in its financial aid strategy designed to attract more middle class students -- and fewer low income students.
Wells said the college found it was enrolling students who were wealthy and students who were very low income, and was hurting in the middle.
He stressed that the college is still very committed to educating low-income students. In the new class, 44 percent will be eligible for Pell Grants, a higher percentage than is the case at many private colleges, down from 54 percent the year before.
The discount rate is flat --- at 55 percent.
Wells said the goal is to better connect with the region, "which has been hurt by the decline of coal."
The pandemic was a factor, he said, but wasn't the college's sole focus this year.
Rose-Hulman Institute of Technology
At Rose-Hulman, officials not only expect a 15 percent increase over the last year (620 students, a record for the institution), but a more diverse class.
The class is 24 percent female, not a statistic that many would boast about, but the second highest share of the class for women. Thirty percent of the class is racially or ethnically diverse -- a figure that is pretty good for a college in Terre Haute, Ind.
Tom Bear, vice president for enrollment management, said last year the college enrolled 547 new students. The improved class size is not a result of overspending. The discount rate is high at 58 percent, but is down a point in the last year.
"We look more at net tuition revenue," and Rose-Hulman exceeded its targets there, he said.
In working on recruiting students, the admissions staff focused on those "who were going to be the best fit." Rose-Hulman is small for a STEM-oriented college, but that appeals to some students who want to work closely with faculty members, Bear said.
Rose-Hulman also froze tuition. "I definitely think it helped. Families are trying to figure out" how to manage in the new economy, Bear said.
Given the emphasis on a rare style of education, he said, it was very important that the college was open all of last year. "That really resonated with students," he said.
Bear remembers a young woman who visited, and just said "she found her space" on campus.
Xavier University of Ohio
At Xavier, more than 15,000 high school seniors applied for admission, marking the highest total in university history. The closest was to enroll in the fall of 2018, said Aaron Meis, vice president for enrollment management and student success.
The key to the expanded applicant pool was staying open all of the last academic year, he said. "We decided to commit to being open," he said.
And Meis said staying open extended to the classes. At many colleges that were "open," most classes were online. At Xavier, 80 percent of classes were in person. "We were telling that story throughout the recruitment cycle," he said.
Keeping the campus open extended to campus visits. "Families kept saying 'you were the only school that was open,'" he said.
The discount rate went down by 1 point, to 55, after going up 6 points last year.
The end result is a freshman class of 1,202. The university budgeted for only 1,150.
"We committed early and stuck to it," said Meis.