You have /5 articles left.
Sign up for a free account or log in.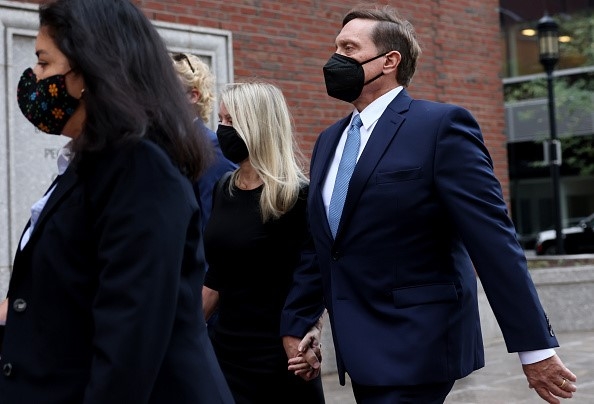 The Boston Globe/Getty Images
A federal jury on Friday convicted two wealthy fathers of illegally paying bribes to get their children admitted to the University of Southern California.
Gamal Abdelaziz and John Wilson, both prominent businessmen, paid hundreds of thousands of dollars to Rick Singer -- the mastermind behind the admissions scandal -- and to USC in the cases. Some of the funds went to USC coaches as payment for accepting students on athletic teams for which they were not qualified to play, and did not play.
Their trial was the first in the scandal, which became public in March of 2019, when the first 50 people were indicted.
The case fascinated -- and concerned -- higher education leaders. Many wanted to distinguish the behavior of the defendants from the admissions process. Others said the case was just an example of how far parents are willing to go to get their children into a good college.
Michael A. Olivas, an expert on higher education law who recently retired from teaching law at the University of Houston, said, "This wasn't the poor folks on juries not liking or knowing rich people. It was about them being disgusted with the advantages of privileged families and underachieving children."
He added of the defendants, "Lock 'em up. They threw the dice with trials, and lost."
Both men were convicted of one count of conspiracy to commit mail and wire fraud and honest services mail and wire fraud, and one count of conspiracy to commit federal programs bribery. Wilson was also convicted of three counts of wire fraud and honest services wire fraud, two counts of federal programs bribery, and one count of filing a false tax return. They will be sentenced in February. They could receive 20 years or more on the charges but are expected to be sentenced to a much shorter time in jail.
Abdelaziz and Wilson were the first to opt for a trial. Thirty-three parents have pleaded guilty to charges related to paying to have their children admitted to college, and most have served out their sentences -- ranging from a few weeks to months in jail. In some cases, the funds were used to bribe coaches to list the child as a recruited athlete -- even though the children didn't play the sports. In other cases, the bribes involved paying proctors to change SAT or ACT scores. Some of the parents admitted to both kinds of misconduct. President Trump pardoned one of those facing charges.
During the trial, prosecutors suggested that Abdelaziz and Wilson engaged in the same sort of bribery as the other parents. But lawyers for Abdelaziz and Wilson suggested that they thought the payments they made were simply the way wealthy people worked with colleges to which they wished to send their children.
After the verdicts, Abdelaziz's lawyer Brian Kelly told The New York Times, "This is obviously not the result he was looking for, but you know, that's our system and that's why they have appellate courts, so that's what we'll be doing next."
The case -- whether you think the defendants were guilty or not -- focused attention on wealth in the admissions process. And while bribery may be illegal, there are numerous ways that colleges favor wealthy applicants in admissions. These range from where colleges recruit (wealthy high schools), to early decision (wealthy students are more likely to apply early), legacy preferences (which help a disproportionately wealthy subset of the applicant pool) and high school counselors (wealthy students have access to private counselors and also have more counselors per student at their high school than low-income students). All of those policies are completely legal.
The trial featured recordings of Singer and Wilson talking about the costs of bribing one's way into Harvard University -- Singer claimed he could do it for the right price, but the scandal did not produce anyone who did that. In this recording by WGBH, Singer talks about money opening "the side door" to college, and how it doesn't matter which sport they will pretend will work for Wilson's children.
The Reactions
To some, their primary reaction was a variation of "now we can focus on what really matters." The following are from emails with a range of sources.
Melanie Gottlieb, interim executive director of the American Association of Collegiate Registrars and Admissions Officers, said, "Those at the center of the scandal are parents and coaches, not admissions officers. We're happy to see this case come to a close so that we can focus our attention on the larger challenges of student access, equity, completion that have been exacerbated by the pandemic."
Jim Jump, academic dean and director of college counseling at St. Christopher's School in Richmond, Va., and an Inside Higher Ed columnist, said, "The verdicts send an important message that 'side doors' and cutting in line for advantages in the admissions process are fundamentally wrong. They also maintain confidence in the judicial system."
But he added, "What the verdicts don't do is resolve the issue of whether colleges were innocent victims of Rick Singer and the Operation Varsity Blues parents or were 'unindicted co-conspirators.' We know that the wealthy bring all kinds of advantages to the admissions process just as they do in many areas of life. Should the college admissions process accept that as a fact of life? Should it provide further advantage to the already privileged? Or should admission to college be counter-cultural, guided by principles of equity and fairness? What will we learn from the scandal?"
Katie Burns, a college counselor for IvyWise and a former senior assistant director of admissions at the Massachusetts Institute of Technology, said she wasn't surprised by the convictions. "It is interesting to see the defense's claims that Abdelaziz and Wilson were ignorant to what their money was funding, that they thought they were just making a development donation to these institutions and not paying for the more nefarious misrepresentations that got their children admitted as athletic recruits only to never step foot on the court or in the pool," she said.
Burns added that there is a clear message from the trial for parents. "I hope the takeaway from this entire scandal is a continued shift towards parents focusing on supportive and nurturing parenting," she said. "By allowing kids to navigate their own path towards independence and success as they define it, to make mistakes, to choose their own adventure, we create happier, more resilient, and self-reliant young people."
Robert J. Massa, principal and co-founder of Enrollment Intelligence Now, said, "The convictions demonstrate zero tolerance for manipulating the college admission process in backhanded ways. And while that process at highly selective colleges has long favored the wealthy and those with connections (even with the commitment to and the progress made in access for low-income students), it is hard to imagine a scenario in which parents did not know that falsifying student résumés was wrong, and that no matter how you looked at it, money could not make that right."
He said he believed that since the scandal broke, "colleges have certainly become more sensitive to the potential loopholes in the process, particularly for applicants who bring athletic or other talents into the admissions equation."
One counselor who asked not to be identified said, "College admissions in the U.S. has never been a meritocracy, and to some extent, its fairness could always have been questioned. Multiple groups always had an uphill climb to gain admissions, even a steeper climb to the most selective institutions. A very long list of people were literally shut out of certain places, in many cases, deliberately. Testing, after all, was invented to keep people out of certain schools -- not meant to level the admissions playing field."
She added, "Having said that, and in spite of the Varsity Blues scandal, an irony might be that this could be the most open the admissions world has been. Leveling any playing field is hard -- very hard. As unfairness reared its head in so many ugly ways, admissions folks became hopeful change agents? A COVID by-product was the earthquake in the testing world. Test free, test blind and test optional grew out of necessity. Enrollment managers scrambled. Many discovered what Chicago did in the pre-pandemic days -- test optional yielded increased applications, increased diversity in the applicant pool, a lower admissions rate, and the reported test scores (because only students with great scores submitted scores) went up."