You have /5 articles left.
Sign up for a free account or log in.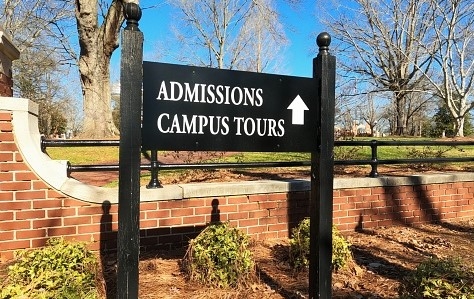 If a prospective student wants to visit Harvard University right now, the university doesn't want her to come.
"The Admissions & Financial Aid Office and the Visitor Center are temporarily closed while staff are working remotely. We encourage you to explore Harvard College through our student stories and virtual tour," says a note on the website of the admissions office.
On the other side of the country, Stanford University says, "The general public is welcome to visit the exterior spaces of campus. Pending ongoing community health considerations, guided tours are tentatively scheduled to relaunch mid-winter for prospective students and in spring for organized group visits. The Visitor Center remains closed to the public at this time, along with most of the indoor spaces of campus."
Harvard and Stanford, of course, don't lack applicants. They don't need to worry that a few weeks or more of not having prospective students visit will create a problem. For most colleges, however, the current freshman class wasn't breaking records (or even meeting targets). Undergraduate enrollment fell by 3.2 percent this fall, echoing fall 2020's 3.4 percent decline, according to the National Student Clearinghouse Research Center.
The University of California system, for example, also does not lack for applicants, and several UC campuses recently extended the time that they will provide an undergraduate education wholly remotely. But some of its campuses are still giving tours, with restrictions.
At the San Diego campus, the campus tours website says, "These tours are very limited at this time. Tours are designed for students interested in applying, who have already applied or who have been newly accepted to UC San Diego. Proof of vaccination or negative COVID test must be presented at the time of check in. Due to space limitations, all visitors must register prior to their visit."
At UCLA, the website says reservations are required and "You will wear a face mask during the entire duration of the campus tour. Masks are required and failure to comply with this requirement will result in being dismissed from the tour."
'Our Guides Know Every Corner'
The College of the Holy Cross, in Massachusetts, has canceled all in-person information sessions (for now) and is evaluating safety issues. It does allow for campus tours, but only for up to 20 people at a time (including students and their guests), said Andrew N. Carter, deputy director of the Office of Admission.
The college explains the value of the tours on its website: "Our guides know every corner of our campus, and they'll give you the lowdown on what it's like to live and study here. After all, for many guides, the tour was an eye-opening part of their college search process. They'll make sure it's just as valuable for you."
At the University of the Pacific, in California, Christopher P. Ferguson, vice president for enrollment strategy, said visitors are asked to wear masks and stay socially distanced.
"We also launched a virtual tour last year and optimized it shortly before winter break to encourage families to use that technology if they're unable to visit in-person," he said, adding, "We also have a lot of families visit on their own, without scheduling a visit with small or larger groups. To make that type of visit more personal, we're working with a San Francisco Bay Area company to create an augmented-reality self-guided tour."
Lawrence University, in Wisconsin, has campus tours, but visitors cannot attend classes or use the campus dining halls.
Lees-McRae College, in North Carolina, is also limiting the number of people who can visit, said Kevin J. Phillips, vice president for enrollment management.
Four students, and their family members, may visit at one time, he said. But the college will arrange for another guide when more than four students want to visit on a given day.
Masks are recommended but not required for tours, he said.
Lees-McRae brought in more first-year students this fall than ever before. But the college's total was 301, and it needs to keep growing, Phillips said.
At the University of Charleston, in West Virginia, Beth Wolfe, executive vice president of enrollment management, said, "When COVID first emerged and everything shut down, we knew we had to have a way to still interact with students and provide them with the information and connection they would have received through on-campus events and tours." The college, working with PlatformQ, created "a library of excellent video content" for students who are unable to visit campus. The college now offers live and on-demand content "to students in a central location with the capacity to also track student engagement and follow up with them."
Wolfe added, via email, "As a small, private school, we were very fortunate to be able to fully return to in-seat instruction in fall 2020 and we opened campus for one-on-one in-person visits at that time, too. But while our preference is always to have a student come to our campus and see it in person, we have a large international student population and we recognize that they (as well as our domestic students who are not local) cannot always make that trip before they enroll. While COVID may have been the catalyst for our expansion of virtual engagement options, the benefits extend far beyond dealing with a crisis and are allowing us to provide greater access to a larger group of students around the world."
Where Colleges Are in the Admissions World
Robert J. Massa, principal and co-founder of Enrollment Intelligence Now, said that he suspected "that institutions in high demand will see little impact and that those that are less well-known will be disproportionately affected. The major difference between now and last year, of course, is that most universities are experienced and likely prepared to conduct virtual visits, interviews, meetings with faculty and students, and general information sessions. As a result, the impact on recruitment overall should be less than we saw last year."
Gil Rogers, executive vice president at PlatformQ Education, said via email that "the biggest challenge facing enrollment managers now is that they are being pulled in two different directions. On one hand they understand the value of digital engagement as a tool in their tool kit. On the other, they are under pressure to return to what their leadership deems 'normal.' All while being asked to make up for the Great Resignation. Furthermore, after two years of diminishing returns on attempt to replicate in-person experiences virtually, they are beginning to understand that a hybrid approach is less about virtual events and fairs and more about meaningful content. This is not too dissimilar to pre-pandemic when we understood that the right content at the right time via the right medium is what moves the needle."
Rick Hesel of the Art & Science Group said the loss of visiting days in January could reinforce challenges in higher education over class. "The more affluent students tend to be more open to visiting campuses" and will do so when visits open up again, he said.
He urged colleges to add to their video content and make it possible for all students to learn about the campuses.
Greg O'Brien, chief growth officer at Ruffalo Noel Levitz, said the most important change in admissions this year hasn't been caused by Omicron but rather is the growth of test-optional admissions.
He predicted that colleges would try to continue campus visits this month, if they can.
But, O'Brien added, "the truth is no one knows what will happen in February."