UNC Asks Supreme Court Not to Take Appeal
Plaintiffs want court to decide affirmative action case at same time as Harvard case.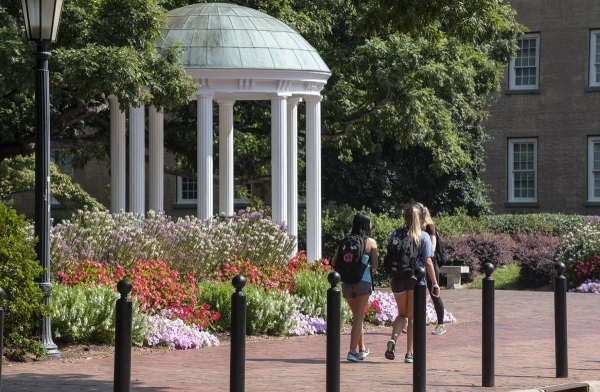 The University of North Carolina at Chapel Hill has asked the U.S. Supreme Court not to consider an appeal of a lower court's ruling that the UNC affirmative action program is legal.
UNC won the case when Judge Loretta C. Biggs found that "at trial, UNC defendants produced substantial, credible, and largely uncontested evidence that it has made the deliberate decision to pursue the educational benefits that flow from student body diversity; has offered a principled, reasoned explanation for this decision; and that the benefits the university seeks to achieve are sufficiently measurable to permit judicial scrutiny."
Normally, the plaintiffs in the case, Students for Fair Admissions, would appeal to the U.S. Court of the Appeals for the Fourth Circuit.
But in November, Students for Fair Admissions appealed instead to the U.S. Supreme Court. The group hopes that the high court will combine that case with the appeal of a ruling that Harvard University's affirmative action policies are legal.
"If the Supreme Court decides, as it should, to reconsider racial preferences in college admissions, it should consider that question in the context of both a private school and a public school," said Edward Blum, president of SFFA.
UNC told the Supreme Court, "SFFA points to no exigency to justify this extraordinary request, for there is none. There is not even a circuit split. Instead, the law in this area has been stable for decades. And this stability has allowed the people themselves to decide the wisdom of race-conscious admissions policies. Any bid to overturn precedents that have engendered such significant reliance interests should proceed according to the ordinary appellate process. Respect for precedent demands nothing less."
North Carolina added, "Bypassing the Court of Appeals is particularly unnecessary here, moreover, because SFFA has filed another petition that is largely a carbon copy of the one it filed" in the Harvard case. "SFFA has urged the court to [hear] both cases, but offers no good reason to do so. After all, everyone agrees that the same legal standards apply to both public and private universities in this context."
Further, North Carolina said, "Nor could review possibly be warranted to decide the factbound question of whether the university has properly considered race-neutral alternatives. This court typically does not review such record-intensive questions. And even if the court were inclined to do so in this case, SFFA cannot explain why it should do so now. By any measure, the Court of Appeals is the proper forum for such fact-specific inquiries."
You may also be interested in...
Today's News from Inside Higher Ed
Inside Higher Ed's Quick Takes