You have /5 articles left.
Sign up for a free account or log in.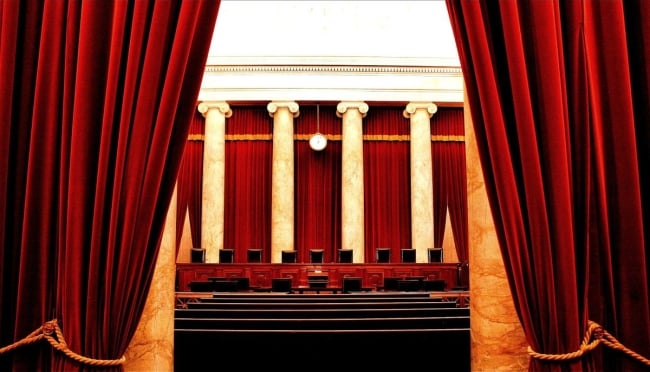 Wikipedia
Thirty-four briefs were filed, most of them last week, urging the U.S. Supreme Court to reverse its past support for affirmative action in college admissions.
The briefs could be cited in the Supreme Court's decision, expected next year, on the admissions systems at Harvard University and the University of North Carolina at Chapel Hill. No college or university filed a brief, although the deadline for briefs in favor of Harvard and UNC is more than a month away. Many colleges and higher education associations are expected to weigh in at that time.
Within some academic circles, it is simply accepted that Harvard and UNC should win the cases. The briefs filed last week may not win over those who believe that. But they do demonstrate the breadth of the forces opposed to affirmative action.
One of the briefs is labeled as coming from "senators and representatives supporting" the end of affirmative action. It is actually from 14 Republican senators and more than 50 Republican members of the House of Representatives. While that may not seem like a large number in terms of Congress, which has 535 members, those involved in the brief include Senators Ted Cruz of Texas, Mitch McConnell of Kentucky, Lindsey O. Graham of South Carolina and Josh Hawley of Missouri, and Representative Kevin McCarthy of California. McConnell and McCarthy are the Republican leaders in the Senate and House, respectively.
The members of Congress begin their brief by denouncing the Grutter v. Bollinger decision, which in 2003 upheld the right of the University of Michigan law school to consider race in admissions. "Grutter is a constitutional anomaly," the brief says. "Decisions under the Fourteenth Amendment firmly establish that equal protection of the law includes the right to equal treatment regardless of one's race. Except for race-conscious college admissions, laws and policies dividing people by race are immediately suspect."
As a result, the members say, "Asian-Americans are increasingly victimized by discriminatory practices." (A theme of many of the briefs is to charge that affirmative action discriminates against Asian Americans.)
Another political figure submitting a brief was Edwin Meese III, attorney general under President Reagan.
Meese's brief said Grutter "was met with fierce criticism by four justices, and it has not aged well; indeed, Grutter cleared the path for the discrimination of Harvard's and the University of North Carolina's Asian American applicants described throughout the petitioner's brief. Besides these critiques, Grutter suffers from another deficiency—it makes no attempt to connect its holding to the meaning of the Fourteenth Amendment as understood by the generation that ratified it."
The states of Oklahoma and Texas also filed briefs. The Oklahoma brief noted that Asian Americans can be found there and in many states. "Oklahoma City is home to one of the country's largest Vietnamese-American communities. Tulsa has the largest concentration of Burmese-Americans of Chin ethnicity. Clarkston, Georgia has the most concentrated Bhutanese-American population in the United States. Alabama has thriving Chinese and Korean communities. Dublin, Ohio, is nearly a quarter Asian-American. Louisiana was the site of one of America's first Asian communities after Filipinos settled in Saint Malo prior to the founding," the brief says.
Groups Old and New
The briefs include a number of groups that have long opposed affirmative action as it practiced by colleges and universities.
The National Association of Scholars, which argues for a traditional curriculum, says in its brief that "The court should overrule the Grutter holding that student diversity is a compelling interest justifying race-based admissions because in practice it has led not to interracial understanding but to a new segregation; because in our multiracial society it now burdens not the white majority but Asian-Americans, another historically marginalized racial minority; and because the Harvard admissions plan hailed as a model of diversity in Bakke and Grutter was in fact tainted in bigotry from its inception."
The brief adds, "Rather, the dream of integration has given way to a regime of 'neo-segregation' featuring separate dorms, separate graduations, and even de facto segregated classes."
Other briefs were from newer organizations. Parents Defending Education, for example, is a national group founded in 2021 that "opposes schools' growing efforts to indoctrinate children—over the objections of their parents—with divisive ideologies about topics like race, gender, and sexuality."
That group's problem with Grutter is that it "has spawned increasing racial discrimination and division that has reached beyond college admissions to infect K-12 schools nationwide … As long as Grutter remains the law, K-12 schools will face an inexorable pressure to discriminate based on skin color. These schools want to send their students to colleges like Harvard and UNC. And they know that elite colleges discriminate based on race, especially against Asian-Americans. So they will do whatever they can to mirror that discrimination, thereby increasing the chances that they will send students to these colleges."
A group of economists, including Hanming Fang of the University of Pennsylvania, Christopher J. Flinn of New York University, Glenn C. Loury of Brown University and Matthew S. Shum of the California Institute of Technology, filed a brief as well. They wrote that the case against Harvard allowed them to see information about 150,000 people who applied to the university over six years. When they examined those records, they found "a compelling statistical record demonstrating that Harvard discriminates based on race," they said.
Specifically, the economists focus on the "personal rating" that Harvard assigns to applicants. "While there is no question that Harvard discriminates based on race at multiple stages, including when assigning overall ratings, the extent to which this evidence of discrimination is visible in the results of the admissions models depends on the inclusion or exclusion of the personal rating," the brief says. "As the court of appeals correctly found, 'if the personal rating is excluded … being Asian American has a statistically significant negative effect on an applicant's chance of admission to Harvard.' Even more clearly, the district court found that being African American and Hispanic is associated with a significantly increased chance of admission, compared to whites."
And David E. Bernstein, a University Professor at George Mason University's Antonin Scalia Law School, filed a brief about racial classification systems.
"The first problem is that Harvard and UNC use racial and ethnic categories that are arbitrary and irrational in the context of pursuing diversity," says Bernstein's brief. "The way these schools classify students cannot pass rational-basis scrutiny, much less the requisite strict scrutiny. For example, Harvard and UNC cannot justify grouping people whose national origins represent roughly 60 percent of the world's population together as 'Asian,' despite vast differences within this category in appearance, language, and culture. Nor can they explain why white Europeans from Spain, people of indigenous Mexican descent, people of Afro-Cuban descent, and South and Central Americans who may be any combination of European, African, and indigenous by descent are grouped together as 'Hispanic.'"
Reacting to the Briefs
Inside Higher Ed did not attempt to get another view on each of the briefs, although we will do a similar story when colleges and others file briefs defending affirmative action.
However, Shirley J. Wilcher, executive director of the American Association for Access, Equity and Diversity, sent this statement on the briefs: "The briefs of former Attorney General Edwin Meese … arguably rely on a misreading of the law when they assert that the 14th Amendment is colorblind and that taking race into account in higher education admissions is prohibited by law. Grutter is still good law and that race can be taken into account where diversity is a compelling interest and related admissions factors are narrowly tailored. Moreover, by excluding 30 percent of the applicant pool, including legacies, athletes and other factors, the plaintiffs' representatives failed to make a credible argument that the Asian students were victims of discrimination."
She added, "'Cherry picking' the factors with which they disagree will not make the plaintiffs whole, because even if race is removed from consideration, there are many other factors that could have resulted in the relatively lower admissions rate of Asians. As Justice Blackmun wrote in Bakke: 'It is somewhat ironic to have us so deeply disturbed over a program where race is an element of consciousness, and yet to be aware of the fact, as we are, that institutions of higher learning, albeit more on the undergraduate than the graduate level, have given conceded preferences up to a point to those possessed of athletic skills, to the children of alumni, to the affluent who may bestow their largess on the institutions, and to those having connections with celebrities, the famous, and the powerful.'"
Edward Blum, president of Students for Fair Admissions, said via email, "It is remarkable how our small membership organization has galvanized so many allies willing to come forward to add their voices to this important legal endeavor. SFFA is greatly honored and appreciative."
For those seeking to read all of the briefs that have been filed, they are here.