You have /5 articles left.
Sign up for a free account or log in.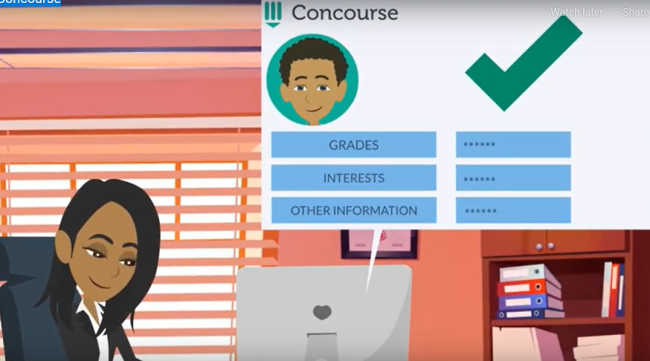 Imagine a new way for colleges to admit students: students don't apply. They just create a single, basic portfolio, showing their grades, their interests and relevant information. They can include their test scores if they want to. Colleges would then look at the portfolios and make offers of admission, without even knowing the names of the students. And what about those students who want to go to Harvard University (or equally competitive colleges)? They would go on using the current system. This is not an admissions system for them.
The new system exists. It is a company called Concourse that has been using the system to admit international students to American and international universities for the last two years. Last year, the company also conducted an experiment on the U.S. market, with a target of getting low-income students from Chicago into college. On the basis of that success, Concourse is planning to expand to five or six cities in the fall.
The idea is "flipping the script on traditional admissions," the company explains on its website.
In the last year, the program had 2,091 international students participate and 658 students from the Chicago area. Joe Morrison, the CEO, said those numbers are small because the program is new. In the next year, he is planning to expand by four or five times.
David Hawkins, chief education and policy officer for the National Association for College Admission Counseling, said he sees Concourse as "an innovative, possibly disruptive, approach to connecting students with colleges and vice versa."
The problem Concourse is solving is that "increased complexity in the application process appears to create more inequity," Hawkins said. So "reducing complexity would, we think, make the process more equitable, instead of requiring students to complete multiple applications that creates redundancies with information about them that is readily available." In NACAC's recent joint report with the National Association of Student Financial Aid Administrators on promoting equity in admissions, "we envisioned a system in which a student's record and associated information could be conveyed to colleges directly from the secondary school. Concourse is a good example of how this is already being implemented and of how we can invite colleges to 'apply' for students."
He added that "perhaps the future of college access is less about the dynamic of students seeking admission and more about facilitating connections." Hawkins added that "I haven't seen another organization doing what Concourse is doing. My initial sense is that they are forging a new path."
How It Worked in Chicago
Keith Hebert, director of postsecondary efforts for Civitas Education Partners in Chicago, was among those recruited in the city to get students.
He said the current system is failing to help the students he was targeting in Chicago: low-income, minority and first-generation students. "In our current state, students are bombarded with emails and mailings, so much that for the most part, it's obsolete and mute to most first-generation students," he said. "It's just too much information, and they choose mostly to ignore the information sent to them. And really, we all do this. We don't even open our spam anymore, and neither do the students."
Hebert said he took 150 students in two high schools, "and I had them complete the profile." Students finished the process much more quickly than with regular admissions. "It took about 25 minutes total for every kid to finish," he said.
"I also did not tell the kids who the partner colleges were. I mostly wanted them to just be surprised," he said.
He said the results were good—"$18.1 million in scholarship dollars were offered," he said. "Seventy-five percent of students received an acceptance based on their academic profile and interests."
The program, with help from EAB, recruited counselors like Hebert and eight colleges near Chicago.
Hebert said, "We have students attending seven out of the eight partner colleges from the initial list. In talking with my kids heading to Elmhurst, Bradley, Knox and Valparaiso, they said they would never have considered applying since they never heard of these schools. But after talking with them through the text messaging system online, and then visiting campus individually, and then receiving the further financial aid process, they were sold."
The rest of his students are headed to North Park University, Columbia College and Illinois State University. "The kids that matched to these schools really matched them internally. They found their fit. And that's huge for first-gen kids to find a place they not only will be able to afford, but also to know, 'Hey, I'll be comfortable here and successful.'"
Recruiting International Students
Adam B. T. Wu, director of undergraduate admission at the University of La Verne, in California, has only used the system to recruit international students, but he said he hopes the program's expansion will allow him to recruit domestic students as well. La Verne admitted 223 international students and Americans abroad from 45 countries. He got the most students from Vietnam, Mexico, Brazil, Canada, Bangladesh and Hong Kong.
He said La Verne conducted in-person recruiting in only about 20 percent of the countries from which the university admitted students. Wu said Concourse "has helped us to expand the international reach of our admit pool."
Nate Duggins, international recruitment manager at Colorado State University, said Concourse lets him select students "based on criteria that we set."
He added, "Concourse has access to a wide range of international high schools that we may not be able to reach with our other recruitment efforts." Based on those efforts, Colorado State admitted 192 students.
What It Costs
So what does it cost to produce such a system?
Morrison, the CEO, said Concourse doesn't charge students in the United States anything to participate. When the colleges offer admission to a student, they are charged $100 per student for domestic applicants.
He said that since his goal was to recruit low-income students, he didn't want to charge them anything.
For international students, he charges $75 per student, "so they will understand that it's not just a marketing gimmick." The colleges that seek access to the pool of international students are charged between $150 and $200 per student that they opt to admit.
International universities participating include the University of Waterloo, in Canada; the University of York, in Britain; the University of Adelaide, in Australia; and the University of Auckland, in New Zealand.
Before he started Concourse, in 2017, Morrison worked in software engineering and computer music. He entered the higher education world when he worked for Grok Global, which helps universities market themselves and recruit Chinese students, immediately prior to launching Concourse. (Grok was founded by his wife, Kim Morrison.)
Morrison said he was struck by how much time is wasted by admissions. In addition to filling out multiple forms for admissions, students must (for many colleges) submit SAT or ACT scores and the Test of English as a Foreign Language or IELTS for many students. And those tests lead to test prep, which favors students who have money.
Students may list the test scores (if they have taken them); some colleges have requested scores of some students. But all that is optional; he wants the process to be as simple as possible.
Morrison said he believes his model will work for most college students. "Most" excludes those students going to Harvard University, the University of Michigan and other universities that have many applicants for every spot. But he points out that if one assumes that 100 to 200 colleges will decide to keep admissions as it is, that's an extreme minority of colleges.
EAB got involved through the College Greenlight, which was originally part of Cappex, a company EAB purchased in 2020.
Jonathan​ April, managing director of College Greenlight, said that EAB handled the logistics of setting up the Chicago experiment and is working on selecting other American cities or regions, with a focus on "historically underserved student populations." Based on Chicago, "we see opportunities for this platform to scale in exciting ways," he said.
Counselors Endorse the Program
Ultimately, the model will either produce students in large numbers and convince more colleges to adopt it, or it won't.
The program has been functioning based on college counselors abroad for two years now. And the counselors who have been involved said via email that they see a lot of promise.
Kari Withers, universities and careers counselor at the International School in Ho Chi Minh City, Vietnam, said she is amazed by the speed with which students finish. "We hold an onboarding session with the support of Concourse, and our students create their profile on the spot. Once everything is approved by the high school counselor, their profile is eligible for universities to take a look at what our students have to offer. The universities then review the profiles and make offers to the students. That's it," she said.
She continued, "I have had several students choose their universities based on the offers they received through Concourse. Upon receiving their offer, students are invited to directly meet with an admissions counselor. This is a tremendous advantage because the students are getting their own questions answered and can develop a sense of what the university is all about. This interaction not only leads to a better understanding of the fit of the university for the student but also strengthens the feeling of connection our students need to have with their university."
And Withers said students get "a tremendous boost of confidence to know that they can definitely go to university."
Robert Kostrzeski, high school counselor and university counseling coordinator of the International School Nido de Aguilas, in Chile, said one of his students will attend the University of Auckland as a result of Concourse. "He had not thought of New Zealand before, but once accepted it quickly became a top choice, with nonstop flights from Santiago."
"I will say that one aspect is ease," he said. "Some students, although they didn't accept an offer via Concourse, felt consoled that there is an option as they found out quite quickly, way before most universities and colleges offer results. It is straightforward, student friendly and minimal work for a counselor. We find it a welcomed counseling tool as we manage student lists and support their well-being."
More broadly, he added, "I believe that our profession of university counseling is quickly becoming overcommercialized and transactional. We make a process unnecessarily laborious and stressful. It shouldn't be that hard to have postsecondary options for students who graduate from high school! It shouldn't take hours, weeks, months or some 'experts must see workshop' to prepare essays, interviews, applications and supplemental materials when a student has worked for four years. The calendar for many: August to December is literally the busiest time for many students worldwide taking A levels, International Baccalaureate courses or Advanced Placement coursework or equivalent. Concourse offers a breath of fresh air and a solid dose of educational reassurance right when it is needed most by teenagers."