You have /5 articles left.
Sign up for a free account or log in.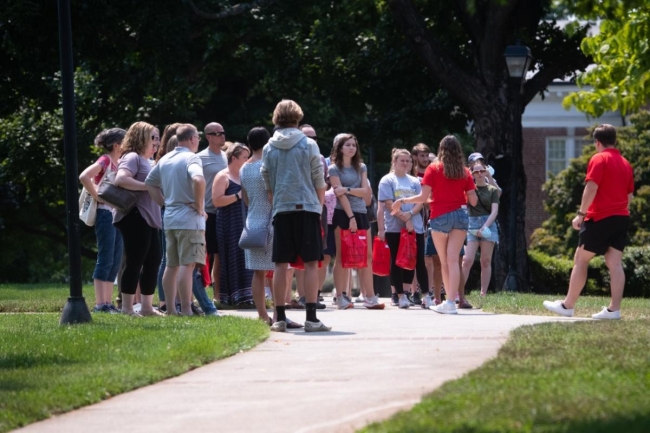 Photo by John McCormick, University of Lynchburg
Lynchburg, Va., is known as a quiet town that is the home to Liberty University, the religious institution that is regularly expanding and lately is a key player in several scandals. A little further away is Sweet Briar College, a women's institution that is building back its classes after it briefly embraced the idea of shutting down.
But the small Virginia city is also the home of the University of Lynchburg, founded in 1903. It's not an institution that has captured many headlines, like its neighbors have. And for many years, people at Lynchburg were fine with that. Sure the university has lost some of its undergraduate enrollment, but new graduate programs could make up the difference. At least that was the thinking.
Enter a pandemic, inflation and other changes in the world, and Lynchburg wasn't so happy with its reputation (or lack of reputation to many high school students). So how does a college with 2,500 students (including the graduate and professional students) distinguish itself?
Over all, Lynchburg has focused on being an institution that cares, deeply, about its students. Visit the home page of the university's website and the message is, "Big opportunities are born in small classes."
The home page invites students to consider "who we are," with the message: "We're so much more than a pretty campus, great academics, events galore, or amazing service opportunities. We build each other up when times get tough and cheer each other on every step of the way. It doesn't matter if it's a soccer game, a late-night study session, or coffee together--we're always looking out."
It's that caring message (along with no longer being afraid to boast about the college) that Lynchburg has brought to its campus tours. And the university believes that is a change that has reversed a decline in new student enrollment. The idea, according to Aaron Basko, associate vice president for enrollment, is to make every student who visits feel that they have a concierge looking after them.
'Like a Funeral Parlor'
Basko said that the first thing Lynchburg did was change the room where people arrive for a tour. It looked "like a funeral parlor," he said.
"We are still in process with it, but we first moved a very formal reception set up out of our lobby. We shifted the role of our visitor coordinator, who had been our formal greeter, to a visit concierge who makes all of the arrangements," he said. "We moved a student up front, with banners and swag for our check-in process. We updated our signage, overhauled our presentation materials, and removed the formal decor."
"We are in the process of refreshing all of the colors in that space with a wall wrap and a giant hornet, our mascot, so that families can take pictures. We rearranged all of our seating and added student banners. We'll often do trivia and give away prizes when we have a good sized group for information sessions," he added.
Those may sound like small changes, Basko said, but "the visit is so critical to everything that we do."
But the welcome center is only one of the changes. Basko's goal is that everyone who visits the campus will interact with a faculty member, or coach. or someone not in admissions to show a student what the college is really like. (Other colleges, such as the State University of New York at Oswego, are starting to involve faculty members in the admissions process more too.)
Some of the key things Lynchburg has done, he said, include telling the tour guides that they can express pride in the university. And to stress the "experiential education" that Lynchburg provides.
Faculty members are key to the process, he said.
Sabita Manian, a professor of international relations, said she constantly hears stories from faculty members about their role in admissions. She said a faculty member convinced one student to double major in criminology and intelligence studies, with a minor in crisis communications. It was "personal interaction and a sensible conversation" that not only convinced the student to come to Lynchburg, but what to study.
And she offers this personal experience: "a student who on the first day of class will announce that they remembered meeting me while they were on a tour of our campus and may recall a snippet of a conversation that led them to register for my class. It makes for an enthusiastic student and a much more engaged class."
Kara Eaton Dean, associate professor of music, described how the approach works for students who want to study music.
"The student lets us know if they are an instrumentalist or vocalist and we connect them with the professor that teaches their instrument or voice," she said. "They have 20-30 minutes together for a one-on-one demonstration lesson with that professor where they sing or play and learn together." That kind of lesson, she said, provides more of a sense of the Lynchburg experience, than just telling the student about it.
And there is more beyond the faculty role, Basko said.
"We want students to feel like part of that community. We even send out a welcome letter from the mayor to all of our admitted students," said Basko. "We stop our tours to take pictures at the giant LOVE sign in the middle of our dell, where we explain the history of service and making an impact on the lives of others that is at the heart of who we are. And we are partnering with local hotels and businesses to provide welcome packets and recommendations that help our prospective students to feel a sense of place."
President Alison Morrison-Shetlar plays a role too. She regularly meets with tours, whenever they cross paths, and talks for a few minutes with them. Many students say that they are impressed (and surprised) to be greeted by her in her Scottish accent. (She was raised on the Isle of Bute.)
The Impact
The impact of the changes is clear, given that some of them only date to fall of 2021. The university had a modest increase in applications: from 3,642 to 3,837 this year. But it is the number of students who have accepted offers that really excited Basko.
The college has 421 deposits for the fall, compared to 351 at this point last year. That's also above the numbers from before the pandemic.
Summer melt is always a concern. In the fall, the university enrolled only 336 students. But Basko said that he thinks he will avoid that problem this year because of the tighter relationship the university has built with its future students. In July, the university lost only one student, and it gained three.