You have /5 articles left.
Sign up for a free account or log in.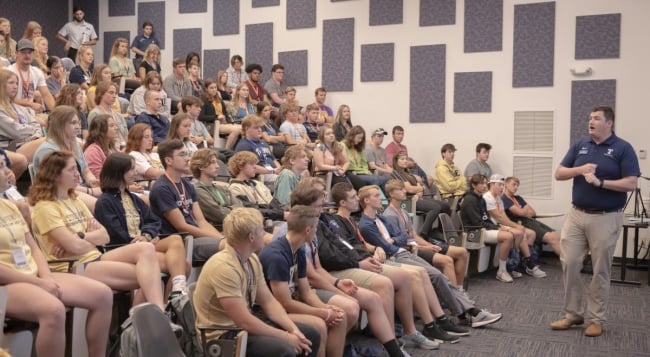 Dean Orewiler/Trine University
Trine University is located in Angola, Ind., which isn't one of the cities or suburbs to which college students flock. Angola is a small city in the far northeast of Indiana, near rural parts of Ohio (to the east) and Michigan (to the north).
The university was founded in 1884, but until 2008, it was known as Tri-State University (and before that, as Tri-State College). It changed its name because it wanted to be clear that it was not a state university but a private institution.
Its location, and its lack of fame, may make you think it is losing students, but in fact Trine is expecting a total enrollment of more than 7,000 students this year, an increase of nearly 30 percent. And that's on top of a 17 percent increase in enrollment last year.
So how is Trine doing so well? Not because the university is wealthy; its endowment is only about $50 million.
Trine is pursuing a strategy that involves two main parts: holding on to its traditional student body for as long as possible and building new programs to attract new sorts of students. That's certainly been tried by other colleges, sometimes with controversy over the new students that a college hasn't historically served. But in something of a twist, Trine has separate campuses for the two efforts. While the main campus remains in Angola, it has created two physical campuses (in Detroit and Phoenix) for new graduate students, most of them from outside the United States.
Traditional Students
Kimberly Bennett, vice president for enrollment management at Trine, said the college has attracted 730 new students for its traditional residential program in Angola, compared to 699 last year. Trine projects 1,575 students will live in residential facilities on the Angola campus this fall, an increase of 50 from fall 2021.
She said it is not any one thing that has worked, but a variety of things. The college has added new sports (such as men's rugby) that have brought additional students to Trine. The university continues to see growth in health sciences programming, including "direct-entry options" that allow students to continue seamlessly from undergraduate to graduate programs.
An overall emphasis is on the jobs students will get after they graduate.
The college boasts an almost perfect (99 percent) job-placement rate for its graduates. And word about that rate spreads. "It's word of mouth," Bennett said. "We have a very personal approach."
Trine follows up with internships for students, and that keeps job placements high, she said.
The total number of applicants for the traditional program is going up: from 3,845 for the fall of 2020 to 4,005 for the fall of 2021 and 4,450 for this fall. Most of the applicants were admitted (as is the case at most colleges). The yield has been fairly constant: 22 percent in 2020 and this year, 21 percent last year.
"I think there is an enrollment cliff coming" for colleges like Trine, Bennett said. The reason is demographic changes; there are going to be fewer students of traditional college age graduating in the region from which Trine attracts students. Trine recently did new estimates of when the cliff will hit, and Bennett expects it to hit in 2026 or 2027.
Trine's traditional enrollment will fall in a few years, but she's determined to keep enrollment at current levels until then. Most of the (traditional) students are from Indiana, or near the state, in a part of the country where the population is decreasing. Bennett thinks that, at the same time, the university needs to explore new programs.
A major effort has gone into the Detroit and Phoenix campuses, for different kinds of students. The university expects 1,300 new graduate students, twice the number from last year. Success doesn't come instantly, Bennett said. This is the fourth year the university has had a Detroit facility and the third year in Phoenix. The students are almost all international, and they come from all over the world—Bennett mentioned Bangladesh, India, Sweden and Latvia as countries that have sent more than a few students. Visas have generally not been a problem, she said.
The key to success with these students is the same as with other students: jobs. The Phoenix campus offers an M.B.A. and master of science programs in engineering management, information services and business analytics.
Earl D. Brooks II, Trine's president, said he viewed the university's success as very much related to its emphasis on jobs. "We've always had a foot and been heavily involved in working with businesses and corporations," he said.
He stressed that though the university has expanded programs for graduate students, it is also heavily focused on its main campus. In the last five years, it has spent more than $200 million on facilities.
Following Nathan Grawe
Brooks said that the plans at Trine are the work of Trine administrators and not any consultant.
But the approach Trine is taking is in many ways consistent with the work of Nathan D. Grawe, a professor of social sciences at Carleton College. In two books published by Johns Hopkins University Press, Demographics and the Demand for Higher Education, in 2018, and The Agile College, in 2021, he argued that most colleges will face a drop in enrolling new students in the years ahead. But he also offered a caveat: if colleges want more students, they need to recruit the students who aren't going to college now.
Via email, he said of Trine's efforts, "From the end of World War II through 2013, higher education never experienced a five-year decline in enrollments. But since the peak in 2010, enrollment reductions have been persistent with each year bringing fewer students to campuses than the last. Obviously, COVID contributed to more recent enrollment losses, but even before the start of the pandemic, undergraduate enrollments had fallen 12 percent. Of course, CDC births data suggest we can expect lean markets in higher education for at least two more decades. While demographics play a role, recent declines in matriculation rates by high school graduates also raise questions about the public's view of higher education's value proposition. With so many challenges, it's encouraging to see institutions responding proactively—willing to seek out new student markets, revise curricula, and develop new methods to support student success. Not all institutions will be able to offset enrollment declines with such work, but many can hope to significantly reduce resulting stresses while better fulfilling their missions. That is my hope for higher education as we confront enrollment pressures."