You have /5 articles left.
Sign up for a free account or log in.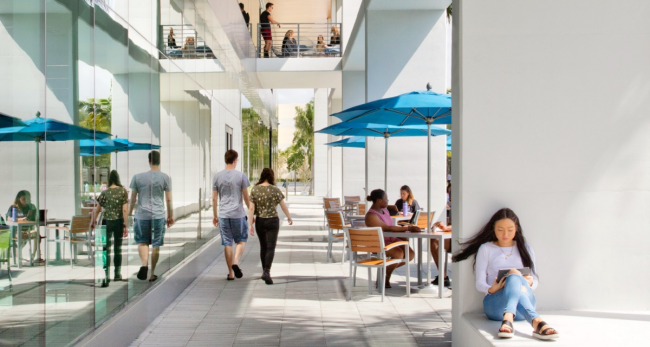 New students arrived at Lynn University last week, 785 first-years and 100 transfer students. Both numbers are up from last year, when Lynn welcomed 759 freshmen and 86 transfers. Over a decade, the overall increase for new students is 59 percent, with the number of freshmen up 86 percent.
So how did Lynn increase those numbers, and keep those figures increasing despite the pandemic (which did cost Lynn students in the fall of 2020)? Despite Lynn being not well-known? Despite being located in Boca Raton, a desirable location, but still in Florida, which some admissions experts say could be undesirable for some students because of Governor Ron DeSantis, a Republican, and the laws he has been trying to pass (and enforce) against abortion and, many think, against academic freedom?
The answer is largely that Lynn believes, truly believes, in holistic admissions. And Lynn believes in not worrying too much about numbers—at least those that other colleges may rely on to measure a student's merit.
Gareth Fowles, vice president for enrollment and university advancement, said that Lynn believes in constantly getting to know better the applicants and their counselors in high schools. He's a perfect example of how Lynn recruits students. A member of Lynn's Class of 1999, he was recruited from his hometown of Pietermaritzburg, South Africa, to play soccer at the university. He originally worked in advancement at Lynn, then moved to admissions and this year is in charge of both areas.
"We truly try to connect with people wherever we can," said Fowles. "That can mean at meetings of counselors, or visiting high schools and traveling all over the world."
With COVID-19, he said Lynn expanded its video offerings about everything: how to submit a competitive application, financial aid, different majors, careers for graduates, athletics, other extracurricular activities and more.
The goal is to be as specific as possible, so a student who can't visit Lynn can find out what she wants to know.
And Lynn tries to interview (some via Zoom) as many students as possible. It varies, but most years Lynn interviews about 70 percent of its applicants.
"Although we don't call them interviews," said Fowles. "We call it a conversation."
The idea of the conversation is to discover what about a student isn't revealed by his official record. "Once students get to know who we are," he said, Lynn's chances of getting the student improve.
The approach worked to reverse an enrollment decline about a decade ago, he said.
Other Factors
A number of other tactics have also contributed to Lynn's success.
Fowles pointed to Lynn's three-year program, in which students who have or earn the credits can graduate in three years. The college's tuition is not set on credits earned, so the students who choose this program generally save $50,000.
And there's a one-credit seminar for all new students in which they explore one new book and learn about Lynn.
Lynn had been test optional since long before the pandemic. But Fowles said more students are taking advantage of that option: this year, 80 percent of students applied without submitting standardized test scores. In previous years, the figure was 60 percent.
Lynn gets between 17 and 18 percent of its students from outside the United States. But Lynn hasn't suffered, as many colleges have, from lost international students during the pandemic. Fowles thinks the reason is the location of the students' homes. The top five countries (outside of the U.S.) represented at Lynn are: Brazil, the Bahamas, Italy, Spain and Venezuela. The tilt toward Latin America is common for colleges in Florida and has served Lynn well during the pandemic.
Of course, this year it may be more difficult to recruit non-Floridians to Florida colleges. Roughly half of Lynn's students are from outside the state. Many in admissions suspect that as young women, who overwhelmingly support abortion rights, make their college choices this year, they may be reluctant to go to states that are pushing antiabortion legislation. (The Supreme Court decision reversing Roe v. Wade happened after most students had made commitments to colleges, meaning the impact will be difficult to measure until next year.)
Fowles said, "Lynn's focus is its students and building strong relationships with high school counselors across the country. If they continue doing this and deliver a positive experience that prepares students for their futures, the admission team is confident that they will continue find success."
The Counselor Role
Fowles stressed the counselor role in everything Lynn does to attract students.
Christopher D. Miller, director of college counseling at the Sandy Spring Friends School, in Maryland, said Lynn doesn't "feel old." (It was founded in 1962.) "Many students go to college to be a part of a long tradition, but students who look at Lynn see it as a place where they feel like they still define tradition and, more or less, continue blazing a trail."
He said Lynn also gets students "as a balanced cross-section of a small liberal arts education and an education that they see as useful and practical. More and more, students want to see that value proposition in their college experience, and Lynn does a great job at communicating what comes out on the other side."
And Miller said that Lynn benefits from its location. "Simply put, Lynn is beautiful, and it's evolving with new facilities and community spaces to accommodate its growing student body as it continues to move beyond its reputation as a local or regional institution," he said.
Sharon Bikoundou, associate director of college counseling at the Carrollwood Day School, in Florida, attributed Lynn's success this way: "I think it is because they build genuine connections with the counselors. As I am sure you know, when the counselors love a place, they talk about it to students and families. The better they know a school, the more they can recommend it."
She added, "Lynn is known as a welcoming, supportive place that is quick to adjust its teaching, student life or support in general to help their student body. They have a wonderful staff that responds to counselors and students in a supportive manner versus some campuses where you can't reach a soul."