You have /5 articles left.
Sign up for a free account or log in.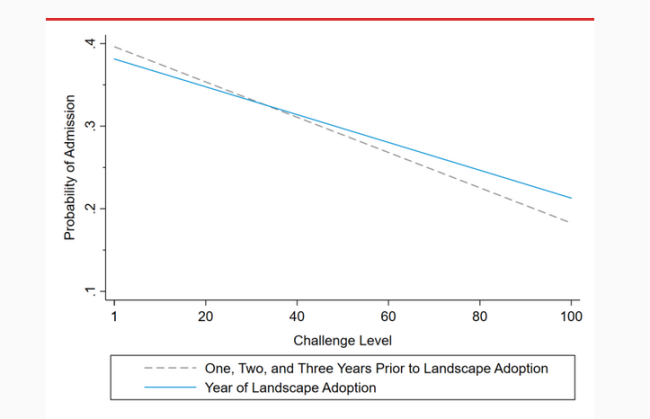 The College Board has introduced a tool, Landscape, to help colleges recruit students from diverse backgrounds.
A new study by four people, three of whom are at the College Board and one who used to be, finds that Landscape has a limited impact on student enrollment patterns. The study was published first in the journal Educational Evaluation and Policy Analysis and last week was summarized by the Brookings Institution.
Landscape is designed to provide "standardized information on educational disadvantage at the neighborhood and high school level for each student who applies," the study said. "Two main components of Landscape are the neighborhood and high school challenge indicators. These are provided: (i) at the neighborhood level, which is defined by a student's census tract and (ii) at the high school level, which is a roll-up of the census tracts of college-bound seniors at a high school."
The study examined 43 selective institutions for over 3.7 million applicants who applied to attend in the 2014–15 to 2019–20 academic years.
The researchers found that "on average, applicants from the most challenging backgrounds experienced a five-percentage-point increase in the probability of admission in the year of Landscape adoption. This amounts to a 25 percent increase relative to otherwise similar applicants who applied the previous year."
But the study also found that "In contrast to the change in admission chances, the likelihood of applicants from higher-challenge backgrounds enrolling at pilot institutions did not change after Landscape was used in the admissions process. In fact, because the probability of admission increased for students from high-challenge backgrounds while the probability of enrollment stayed the same, the yield rate for high-challenge applicants decreased after colleges gained access to the tool. In other words, the additional students from high-challenge backgrounds who were admitted in the year of Landscape adoption were less likely to enroll than otherwise similar students who were admitted before Landscape was used in the admissions process."
The researchers were: Zachary Mabel, research professor of education and economics at Georgetown University; Michael D. Hurwitz, executive director of policy research for the College Board; Jessica Howell, vice president of research at the College Board; and Greg Perfetto, an executive research scientist at the College Board.