You have /5 articles left.
Sign up for a free account or log in.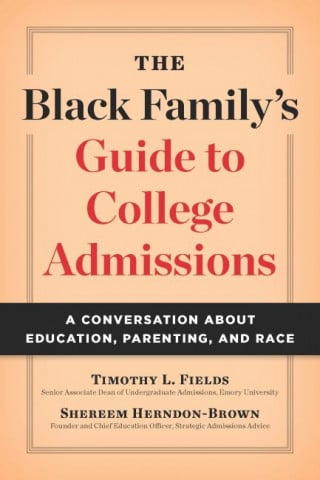 Black students seeking a college have a choice that doesn't occur to most white students: they may attend a historically Black college or university. If they attend a predominantly white institution, they have to determine how welcome they will feel, and how welcome they will be. A new book, A Black Family's Guide to College Admissions: A Conversation About Education, Parenting and Race (Johns Hopkins University Press), aims to help Black families with their choices. The book doesn't take a firm stand on Black colleges but provides information on them for all students and says they should be considered. The book strongly affirms the idea that Black families shouldn't feel closed out of higher education and should make their needs known.
The authors are Timothy L. Fields, senior associate dean of admissions at Emory University (and a graduate of Morehouse College, a historically Black institution), and Shereem Herndon-Brown, the founder and chief education officer of Strategic Admissions Advice, an education consulting firm. They responded to questions about their book via email.
Q: What are the main differences in a college search for a Black student and a white student?
A: In the college application process, the biggest difference is the option of HBCUs. Given the current climate in the country, there are many Black students and families that are considering HBCUs when in previous years they may have not had them on their college lists. While HBCUs have been around for over 200 years, they are currently undergoing a resurgence in popular culture. While we would argue that HBCUs should be a consideration for all students, both white and Black, the reality is not many white students consider HBCUs. This dynamic that exists as a part of the process is one that should be talked about more in the college admission process.
Q: One issue for Black students is whether to attend an HBCU. Your book notes HBCUs throughout, and you profile "the Black Ivies" (Spelman and Morehouse Colleges and Howard University). But you also note that 92 percent of Black parents believe there is a "perception" that predominantly white institutions are better. How can families navigate the choice of an HBCU or a non-HBCU?
A: In our book one of the major narratives we want readers to take away is how [to] redefine success. We know success takes on many forms, but there is this idea that PWI (predominantly white institutions) are more diverse and better prepare students for the "real world." While there can be an argument to be made that PWIs are more diverse, the creation of more opportunities postgraduation for Black students can be questioned. When you look at the production of Black professionals, HBCUs in many instances do more. What we would ask counselors and parents to think about is what success looks like and can that only happen through going to a PWI? The success of Oprah Winfrey, Vice President Kamala Harris, William Packer and many others would tell a different story.
Q: What is "admissions fake news"?
A: There's so much misinformation about what happens in the college admission process, and a lot of it is driven by individuals who are not in the profession [by comments on social media]. The college admission landscape continues to change and evolve, and for people who are not in the industry to be the primary drivers is problematic. Just because someone had a child or two go through the process does not make them an expert, especially given that they have no idea how or why the decision was made on their student(s). We encourage students and families to get their college admission information from college counselors, admission officers, members of community-based organizations or individuals that are directly connected to the college admission profession.
Q: Your book discusses how many Black students feel ignored in the admissions process. What should their families do about that?
A: Families and students need to be engaged in this process and understand it happened earlier than they think. The idea that the college admission process starts junior year can be problematic, especially if students want to be considered at selective schools. What we want for families is to be what Jeff Selingo described in his book Who Gets In and Why: A Year Inside College Admission—to be drivers and not passengers in this process.
Q: Many people expect the Supreme Court will ban affirmative action. What impact would this have on Black students?
A: While we don't know what is going to happen with Supreme Court cases, it is safe to know the days of affirmative action as we currently know it will be different. With that being said, it will be important that Black students and families begin to think about these key factors in the college admission process: cost, location, academic majors and potential careers. We know there are many factors that influence the college admission process; we feel that if students begin thinking about these key factors early, they can help guide the process and help them identify colleges that will be a good fit but also allow students to better articulate why they want to consider these colleges in their college admission process.