You have /5 articles left.
Sign up for a free account or log in.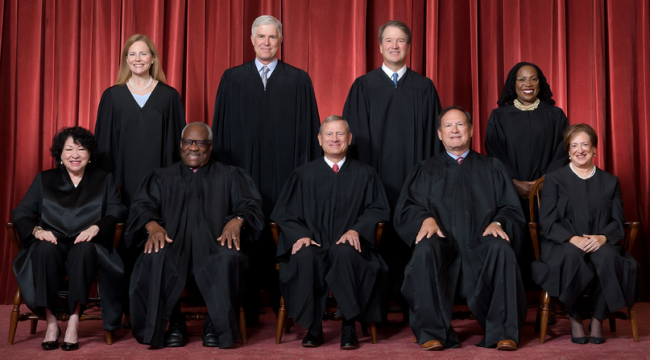 When the U.S. Supreme Court heard arguments on affirmative action last week, affirmative action was not the only controversial admissions practice to come up. Justices on both sides of the main debate also discussed legacy admissions, the practice of giving a preference to the children of alumni.
Justice Ketanji Brown Jackson said, "A university can take into account and value all of the other background and personal characteristics of other applicants, but they can't value race." She said she worried "that that seems to me to have the potential of causing more of an equal protection problem than it's actually solving."
She offered a hypothetical example involving two applicants to the University of North Carolina at Chapel Hill. (Jackson recused herself from the Harvard University case.)
"The first applicant says, 'I'm from North Carolina. My family has been in this area for generations, since before the Civil War, and I would like you to know that I will be the fifth generation to graduate from the University of North Carolina. I now have that opportunity to do that, and given my family background, it's important to me that I get to attend this university. I want to honor my family's legacy by going to this school.'"
She continued, "The second applicant says, 'I'm from North Carolina, my family's been in this area for generations, since before the Civil War, but they were slaves and never had a chance to attend this venerable institution. As an African American, I now have that opportunity, and given my family—family background, it's important to me to attend this university. I want to honor my family legacy by going to this school.'"
Jackson told a lawyer for Students for Fair Admissions, which sued UNC and Harvard over affirmative action, that "as I understand your no-race-conscious admissions rule, these two applicants would have a dramatically different opportunity to tell their family stories and to have them count. The first applicant would be able to have his family background considered and valued by the institution as part of its consideration of whether or not to admit him, while the second one wouldn't be able to because his story is in many ways bound up with his race and with the race of his ancestors."
Her argument was essentially that legacy preferences, at least those that extend several generations, overwhelmingly favor white applicants.
Apparently agreeing with her (not on affirmative action, but on legacy admissions) was Justice Neil M. Gorsuch.
He asked, during the same arguments, about another hypothetical.
"I'd like to ask you just a hypothetical about narrow tailoring, because we're in strict scrutiny land here, and the university has to demonstrate it's narrowly tailored, race is narrowly tailored. And diversity is the rationale you've asserted before us," Gorsuch said. "Universities also have all kinds of other plus factors they use, like for legacies of alumni, for donors' children, for squash players. We learned there are plus factors because [institutions] need those, too. And I guess I'm wondering, suppose a university, a wealthy university, could eliminate those preferences, which tend to favor the children of wealthy white parents and achieve diversity without race-consciousness. Would strict scrutiny require it to do so?"
When the justices were discussing the Harvard case, Justice Brett M. Kavanaugh returned to the issue with Solicitor General Elizabeth B. Prelogar, whose job is to represent the U.S. government.
Kavanaugh asked her, "So you're saying an adequate race-neutral alternative, it would be permissible for the court to say that you have to eliminate things like legacy, children of donors, if you could obtain a sufficient … meet its diversity goals, was your word, by doing so and doing race-neutral admissions. Do I have that correct?"
She answered, "Yes, that's exactly right, Justice Kavanaugh."
What Will Happen?
James Murphy, a senior policy analyst at Education Reform Now, was watching the court session with great interest. He wrote a recent report that was sharply critical of legacy admissions.
"Legacy preferences provide a birthright advantage to the children of alumni in the college admissions process," the report said. "They represent a textbook example of systemic racism, since most beneficiaries of legacy preferences are white, while students of color and students from low- and middle-income households are much more likely to be the first in their families to go to college. After a century of use, eliminating legacy preferences is long overdue, but it will be absolutely necessary for them to end should the Supreme Court bar the consideration of race in admissions, as it is expected to do."
The colleges that continue legacy preferences tend to be on the East Coast. While most colleges that offer legacy preferences are private, the report noted that 80 percent of Virginia's public colleges do so. Many of the colleges that offer legacy admissions are also among the colleges where a ban of affirmative action would have the most impact.
Murphy doesn't expect the Supreme Court will rule on the issue, although "we could see a concurring opinion from Gorsuch pushing for the elimination of legacy preferences."
But Murphy added, "At the same time, I don't know how any college president or Board of Trustees member can possibly preserve legacy preferences if the court tells colleges they can no longer consider the race of an applicant. Shame alone will make it necessary to drop legacy preferences."
Terry Hartle, senior vice president for government relations and public affairs of the American Council on Education, which filed a brief in the case defending affirmative action, said he didn't read too much into the justices' comments on legacy admissions. "Legacy preferences have been around for a long time—so are the arguments in favor and the arguments against," he said.
Christoph Baker, a fourth-year medical student at Tufts University, and founder of a Tufts group opposed to legacy admissions, said that he's noticed "that the narrative around legacy admissions is taking on more of a socioeconomic focus instead of a racial focus." He said, "We have to remember that legacy preferences were initially begun with the purpose of excluding Jews and other recent European arrivals. While legacy admissions today clearly still discriminate against people of color and recent immigrants, it appears to be drawing the ire of the justices mostly because of its divergent socioeconomic effects."
Added Baker, "My belief is that this focus on legacy through a socioeconomic lens is happening rather organically since affirmative action is being viewed mainly through the lens of race." He said this was "largely" a positive development "because anger at socioeconomic equality bridges the liberal-conservative gap. While universities have certainly done an incredible job at resisting pressure, mounting evidence will make it harder for them to justify to the public and themselves that legacy admissions are a necessary trade-off."
Some (past) defenders of legacy preferences are changing their views. Robert J. Massa, principal and co-founder of Enrollment Intelligence Now, said, "I have a difficult time seeing how its elimination will systemically improve access, as the Yale legacy now rejected from Yale is instead admitted to Duke. That said, because it will be increasingly difficult to justify legacy admission at the 70 or so most selective institutions in the country, we are likely to see its elimination as standard practice systemwide."
The Council for Advancement and Support of Education issued a statement from Sue Cunningham, its president and CEO. She noted that CASE supported ACE's brief in the case.
As to legacy admissions, she said, "We continue to firmly believe that higher education institutions are best positioned to determine the criteria that will help them build a diverse admissions class with an appropriate range of talent, background and interests."