You have /5 articles left.
Sign up for a free account or log in.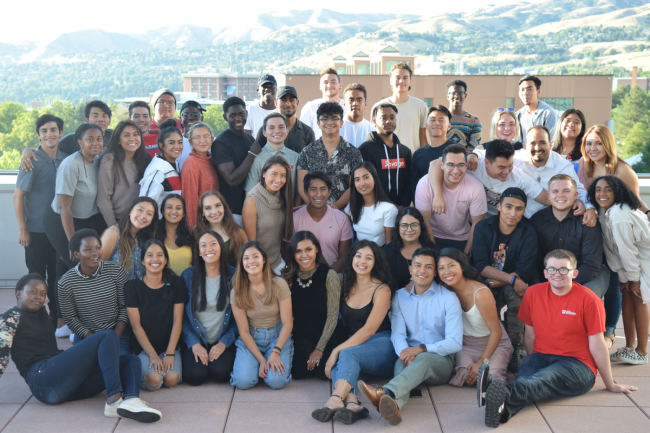 Colleges around the country are very worried about the U.S. Supreme Court decisions expected in the spring. In cases involving Harvard University and the University of North Carolina at Chapel Hill, the Supreme Court is expected to limit the ability of colleges to consider race or ethnicity in admissions decisions. The fear of colleges is that they will be unable to recruit diverse classes of students in the future.
The University of Utah has two programs (small, but President Taylor R. Randall wants to expand them) that offer a possible solution: going after students with grit, an attitude found among of people of all races.
Most but not all of the Utah students who are Opportunity Scholar or First Ascent scholars are minority students. But that is not how they are selected. Both programs are in the business school, but Randall said they could be expanded. The programs provide not only scholarships but a whole series of activities in which the cohorts admitted each year spend time together—river rafting, for instance—but also with business mentoring.
Luis Lopez, associate director of the First Ascent program, said it was created eight years ago by the Helen and Jeff Cardon Foundation. (The Cardons are local philanthropists.)
"They noticed that many students weren't going to college," Lopez said. "Whether it was economic concerns or because they were first-generation students, they weren't coming."
So every year, the program recruits 10 to 12 new students.
The students do have to submit their transcripts. But they don't have to submit ACT or SAT scores. "We do ask for an essay that reflects how they dealt with a hardship," Lopez said.
"I'd rather have someone with a 3.0 [high school grade point average] who was also a refugee or helped care for siblings," he added.
From looking at applications, he has been convinced that "there are more students who could benefit."
Lātū Kinikini, director of the Opportunity Scholars program, said the program provides financial and emotional support for students. She said finances are the top concern of first-generation students.
Kinikini described her goal for each cohort of new students as "creating a family." Many who are not first-generation students rely on family for learning "how to navigate college on their own."
"We put together a calendar of events," she said. At the start of the academic year, the program offers a two-day program. On the first day, the students meet with academic advisers and career services.
The second day is for service projects—from preparing meals for group shelters to projects designed to help just one student. A nursing student was living in unlivable conditions, so a group fixed the student's house.
"It's important to give back," said Kinikini.
Utah Is Getting Diverse
For those who haven't been to Utah recently, the state is getting more diverse.
According to the 2020 Census, 90 percent in state's residents identify as white only.
The University of Utah received 21,072 applications for admission this fall for a freshman class of 5,520.
The students in the programs sing their praises.
Yafed Mendez is a Hispanic first-generation college student at Utah.
"First Ascent has literally changed my life in every aspect," he said via email. "The program has blessed me with more than just a college community, they have given me a family. Through the program, I've met some of my closest friends and great mentors who truly care about us, the students. With the program, I've had the opportunity to go on amazing trips, (went to Hawaii this last spring), I've gone on leadership retreats, and have had lots of exposure to internship and job opportunities,"
For his mentor, he got Jeff Cardon, the program's major donor. "He has taught me so many different things and has guided me throughout my college career, but he doesn't just treat me like a mentee, he treats me like family. Jeff also helped me get my first internship and has given me the best advice when it comes to looking for jobs."
He added, "Coming from a low-income home, I was definitely in need of financial help. If I'm being honest, I don't know if I'd be here without this scholarship and program. They have also inspired me to give back to my community, and I hope that one day, I can become a donor and mentor for future students in the program!"
Yulisa Padilla is also now a senior. "My parents have not always been able to help me with homework or understand all of the logistics that come with school, especially once I started reaching middle school and high school," she said. "This got especially harder once I reached my senior year of high school and was working towards applying to college. I always knew that I wanted to go to college and my parents always pressured me to go as well, but neither of us knew anything about what the application process looked like or what to expect."
Padilla added, "On top of this, [the Utah programs] were also able to recognize the perseverance and effort I put into my life in general, not just in school, due to the challenges I faced as a first-generation student from a low-income background. During my interviews for this scholarship, I was extremely nervous, but First Ascent was able to look past this superficial layer and recognize my genuine admiration for education and my desire to break generational cycles for the better. My involvement in this program has definitely helped me in building up my leadership skills, which have also become very useful in other areas of my life as well. I have felt more validated as a student and have recognized the importance of my seat at the table because of this."