You have /5 articles left.
Sign up for a free account or log in.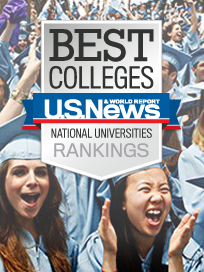 The question in the admissions world right now is fairly simple: Will the moves by leading law schools against the rankings of U.S. News & World Report spread to undergraduate institutions?
Eleven law schools, most recently at the University of Pennsylvania and the University of Washington, have announced that they will stay out of the rankings. The first law school to announce that it was dropping out was Yale University, which has been the top-ranked law school by U.S. News since it started the rankings more than 30 years ago. But in the last week, two law schools, at Cornell University and the University of Chicago, announced that they would continue to participate with the rankings.
Many have been waiting for a similar push by undergraduate colleges. But thus far, they have been disappointed.
The First College to Challenge 'U.S. News'
One undergraduate college has since 1995 refused to cooperate with U.S. News. Reed College took that stance, and stuck with it, after a story in The Wall Street Journal revealed that many colleges were "massaging" their numbers in various ways (some of which U.S. News has since banned them from doing). If you look up Reed in U.S. News, you'll find it, ranked as (tied for) the 72nd best liberal arts college, arguably far below where it would be if it participated. U.S. News has many categories marked as "not applicable" (including the category of class sizes, on which Reed excels with many small classes). For other categories, U.S. News uses information from the government or information that Reed publishes on its own website.
Hugh Porter, vice president for college relations and planning at Reed, said "we're happy to see it" of the law schools' moves. But he said the college has not heard from other undergraduate colleges planning similar moves. "It's early days," he added.
While it was difficult to take on a rankings giant alone, he said Reed "has been liberated from thinking about where you sit."
Colin Diver was president of Reed for 10 years, starting in 2002. This year he wrote a book blasting U.S. News, Breaking Ranks: How the Rankings Industry Rules Higher Education and What to Do About It (Johns Hopkins University Press).
Diver said he's "puzzled" by why more colleges have not joined the law schools. He offered theories via email about why they haven't.
One theory is that "undergraduate schools view their constituency (mostly 16- to 18-year-old high schoolers) as more naïve, gullible, impressionable (and therefore rankings-bewitched) than law schools view their constituencies (22- to 30-year-old college graduates and often early-careerists)." As a result, "at least many of the top-tier law schools are willing to take the risk that a postboycott drop in their ranking won't hurt them and might actually help them with their more worldly constituencies."
But Diver noted a "problem with this explanation is the abundant evidence that law school applicants seem even more mesmerized by rankings than anyone else."
He cited another possible reason: "law schools, which seek to prepare people for careers in law practice, public service, and the like, are more attuned to concerns about justice and the public good, than undergraduate schools, and therefore more unsettled by the U.S. News rankings formulas' patent bias in favor of wealth and privilege." Many of the law schools leaving the rankings have indeed cited such values. But Diver added that "the top law schools send the vast majority of their grads to the big corporate law firms, and benefit from that fact in many ways—good job-placement data, rich graduates more able to make big alumni donations."
Diver (and others) suggested timing may also be a factor. Many law school deans are receiving the forms to fill out now, "prompting them to ask: Why the hell are we doing this?" Undergraduate rankings are based on surveys in the spring.
He said he'd rather focus on the question of "how should colleges be responding?"
For Diver, that's easy: "Take a stand, show some courage, give the top law schools some credit for breaking the ice and join the parade of virtue."
Others have pushed against U.S. News too. In the early 2000s, Lloyd Thacker urged college leaders to stop participating in the magazine's surveys and succeeded in getting more of them to do so. But the rankings continued.
Other Colleges
Most colleges are not talking about the undergraduate rankings right now.
Lee H. Melvin, vice provost for enrollment management at the University at Buffalo, said he didn't expect institutions to act, at least not now.
"Undergraduate institutions with strong reputational swagger might convince their trustees to pull out of delivering data to the U.S. News organization," he said. "However, I honestly believe that any movement on a large scale would require a massive cultural shift to remove referencing of college rankings from our general dialogue and public psyche."
Karen N. Peart, interim vice president for communications at Yale University, said, "Yale Law School's decision to withdraw from the U.S. News rankings for law schools does not preclude Yale University or other schools at Yale from submitting data to other ranking systems. This is a decision Yale Law School made independently, based on what is best for the institution."
She noted that the Yale School of Architecture was among the leading architecture schools that in August wrote to DesignIntelligence to say it would not participate in the company's survey for its rankings. Among the reasons given was that the survey "lacks rigor," "hurts smaller schools, simply because they have fewer students and alumni to respond to surveys," and is "out of step with student and faculty concerns about the future of design."
DesignIntelligence responded by ending its survey. "For more than 20 years, DesignIntelligence has sought to support and promote architecture and design education through its surveys as well as coverage in its events, articles and other media. We will continue to support design education through our media, events and other means; however, after careful consideration, we have made the decision to permanently suspend the annual school survey program," it said.
U.S. News, however, is not planning to abandon its rankings. A spokeswoman said Friday, "Our focus is on the students and how we can best provide comparative information that allows them to assess all institutions equally. We will continue to pursue our journalistic mission of ensuring that students can rely on the best and most accurate information, using the rankings as one factor in their school search."
Ken Anselment, vice president for enrollment management at RHB, which advises colleges on enrollment strategies, said he believed timing was key. "Most of the clients I'm working with right now are of the undergraduate variety, and they're just far enough past rankings season themselves and deeply enough into admission review that they're not really focused on it," he said. "My suspicion is that when data collection comes around in the new year, we might see this pop again."
David Strauss, a principal of the Art and Science Group, said he hoped some undergraduate colleges would follow law schools, but he said he wasn't holding his breath for immediate action. Law school rankings, he said, are just "as big" as undergraduate ones, so the move by law schools is significant.
Strauss said he believes that rankings in general (not just U.S. News) are not reliable. A given ranking may find the right college for one student but not another, he said.
"There is a core question here: What is our driver?" he said, adding that he always asks colleges to focus on what they most need to improve the student experience and not on rankings.
David Hawkins, chief education and policy officer at the National Association for College Admission Counseling, said via email, "The fact that high-profile law schools are walking away from the rankings constitutes a potentially important step toward 'unilateral disarmament,' so to speak. Many institutions, whether law schools or undergraduate institutions, have heretofore been hesitant to step away for fear of the negative effects. Such effects include, but are not limited to, actions that U.S. News could take to 'estimate' data and blowback from institutional stakeholders, such as boards, state legislators, or alumni if there is a perceived drop in prestige. These law schools may have signaled to all institutions that with enough alignment at the institutional level, colleges can step away if they do not benefit from either the rankings themselves or the methods used to compile the rankings."
Law Schools
And what of law schools? What impact will it have on the rankings for so many of the law schools that U.S. News ranks highly to not participate? Will readers tolerate many entries marked "not applicable" when they look at the rankings of Harvard, Yale, Stanford and others that they expect to have high rankings?
U.S. News insists that it will not matter, but it isn't saying how its rankings will change.
A spokeswoman said, "U.S. News will continue to rank all fully accredited law schools, regardless of whether schools agree to submit their data."
Asked about the methodology, she said, "Details about the methodologies for the next editions of U.S. News' rankings will be available closer to the publication of those editions. For Best Law Schools, that will be in the spring of 2023."