You have /5 articles left.
Sign up for a free account or log in.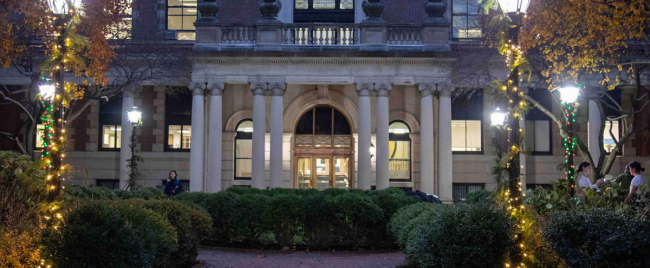 At Barnard College in December, the institution counted 1,671 early-decision applicants for the Class of 2027, easily breaking a record that had been set a year earlier. This year, the number of early-decision applicants at the college was up 11 percent, and last year it was up 17 percent.
In both years, the college offered early admission to enough students to fill 60 percent of the incoming first-year class.
The college, which has seen all applications boom in recent years, also boasted about the diversity of the early applicants. Of those admitted, 47 percent are students of color (24 percent are from underrepresented groups), and 12 percent are the first in their families to go to a four-year college. And 53 percent of students applied without submitting SAT or ACT scores.
Barnard's experience is notable but not unique.
Consider Emory University, which admitted 903 students in December via early decision, in which applicants commit to enrolling if admitted. Emory received 2,414 early applicants.
Consistent with recent years, Emory received about 10 percent more applicants this year than last. John F. Latting, associate vice provost for enrollment and dean of admission, said, "There has never been a pool of early-decision applicants with such academic preparation, life experiences, talents and interests."
Early decision (and early action, in which admitted applicants don't commit to enroll) are attracting applicants and students to competitive, mainly private colleges. (It should be noted that an increasing number of colleges, including Stanford and Cornell Universities and Middlebury College, are not releasing data on their early-decision admits at this point in the year, releasing all information about a given class at once.) At some competitive colleges, the early-decision applications are either up year over year or very close.
The plans allow colleges to lock up a significant share of students in their incoming classes. But they have become quite controversial (although not to the applicants). The norm used to be the early-admissions programs were just for small numbers of students, and a college would admit maybe 20 or 30 percent of its students that way. But in recent years, many colleges have taken to admitting more than half of their classes early. Critics say the obligation to enroll makes early decision more difficult for low-income students who would benefit from comparing aid packages. Typically, but not always, Black and Latino students and students from low-income backgrounds aren't as far along in their college searches to know which college they most want to attend by the early deadlines, compared to white and Asian students.
"The joy that these disproportionately white and overwhelmingly affluent families will share across social media will mask the less visible suffering of students who didn't participate in the process, either because they didn't know about it or couldn't afford to," wrote Evan Mandery, a professor at John Jay College of Criminal Justice and the author of Poison Ivy: How Elite Colleges Divide Us, and Michael Dannenberg, a senior fellow with College Promise, in an opinion piece published by CNN in December.
"More significantly, colleges began to realize they could limit demands on their financial aid budgets by attracting and locking in high-wealth students for whom college cost is a small consideration in deciding where to matriculate," they added. "In fact, according to a review of Common Data Set reports submitted by institutions of higher education, students from the wealthiest zip codes are twice as likely to apply early decision. International students are three times as likely to apply early decision. Those who attend private schools are three and a half times as likely to apply early as their public school counterparts."
The piece noted that in 1983, Harvard University admitted about a quarter of its class early. But 68 percent of Harvard's Class of 2025 got into Harvard early.
The Harvard Factor
Perhaps aware of such criticisms, Harvard's press release announcing its early-action totals cited more than the totals: the university admitted 722 students from a pool of 9,553. The total was down a bit from the 740 admitted last year.
The university noted that for all early admits whose families earn less than $75,000 a year—up from $65,000 for the Class of 2025—tuition, housing and food, and all fees are free. The university also noted that 14 percent of the admitted students come from first-generation college backgrounds, compared with nearly 12 percent last year.
African Americans constitute 14.4 percent of those admitted (13.9 percent last year), Asian Americans 29.1 percent (25.9 percent last year), Latino applicants 8.4 percent (10.5 percent last year), and Native Americans and Native Hawaiians 1.7 percent (3.7 percent last year).
Yale University had the second-highest number of early-action applicants ever, 7,744, from which it admitted 776 students.
The university also admitted 66 other students through the QuestBridge program, a national nonprofit organization that connects high-achieving students from lower-income backgrounds with selective colleges and universities. The university announced both sets of admittances at the same time.
The University of Pennsylvania received a record number of early-decision applicants, more than 8,000.
Penn said that these applicants "also represent more diversity among their racial and ethnic heritage, their socioeconomic backgrounds (including those who will qualify for Pell Grants), and the proportion of students who will be the first in their families to attend college than in any previous early decision round."
At the University of Virginia, 4,243 people applied early decision this year. Last year's total was just below 3,500.
Dan Warner, vice provost for admissions and financial at Lehigh University, said early-decision increases are only part of the picture there. The university this year experienced a 20 percent increase in applications among early- and regular-decision applicants. Lehigh used to admit enough students for a freshman class of 1,275 and now admits for a class of 1,500.
In 2020–21, in the middle of the pandemic, Lehigh conducted a survey of applicants. Based on the results, "we tried to be more humanistic," he said. "We wanted to be more partners in the conversations." The responses have been very encouraging, he said.
Warner said the philosophy is "we don't want to have an excuse to deny more students."