You have /5 articles left.
Sign up for a free account or log in.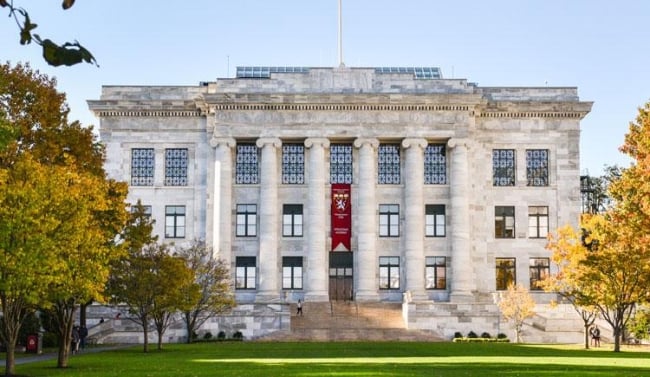 The dean of Harvard University's medical school announced Tuesday that the institution would no longer contribute data to or otherwise help U.S. News & World Report's rankings of medical schools.
"Educational leaders have long criticized the methodology used by USNWR to assess and rank medical schools," wrote George Q. Daley, the dean. "However, my concerns and the perspectives I have heard from others are more philosophical than methodological, and rest on the principled belief that rankings cannot meaningfully reflect the high aspirations for educational excellence, graduate preparedness, and compassionate and equitable patient care that we strive to foster in our medical education programs."
Harvard tops U.S. News's medical school rankings for prospective students who want to focus on research.
A similar move by Yale Law School, the top-rated law school, led many other highly ranked law schools to withdraw from the U.S. News rankings this fall. Harvard's was the second law school to join that movement.
"I have contemplated this decision since becoming dean six years ago," wrote Daley. "The courageous and bold moves by my respected colleague Dean John Manning of Harvard Law School and those of peer law schools compelled me to act on behalf of Harvard Medical School. What matters most to me as dean, alumnus and faculty member is not a #1 ranking, but the quality and richness of the educational experience we provide at Harvard Medical School that encourages personal growth and lifelong learning."
Daley added, "As unintended consequences, rankings create perverse incentives for institutions to report misleading or inaccurate data, set policies to boost rankings rather than nobler objectives, or divert financial aid from students with financial need to high-scoring students with means in order to maximize ranking criteria. Ultimately, the suitability of any particular medical school for any given student is too complex, nuanced, and individualized to be served by a rigid ranked list, no matter the methodology."
He noted that medical school applicants do need information about the institutions to which they apply. Daley pledged that Harvard medical school would continue to post that information on its website, as well as that of the Association of American Medical Colleges.
Harvard is not the first medical school to drop out of U.S. News. The F. Edward Hébert School of Medicine of the Uniformed Services University dropped out in 2016. An article in Health Affairs by Arthur L. Kellermann, a professor there, and Charles Rice, then the president, said the ranking "illustrates the limitations of U.S. News' 'one-size-fits-all' approach. Because we serve as the leadership academy for military health in the United States, our curriculum is unique. We not only provide the same high-quality education that civilian medical schools teach, our students receive 700-plus hours of additional instruction in military-relevant topics such as combat casualty care, tropical medicine, global health, ethics, and officership."
Eric Gertler, CEO and executive chairman of U.S. News, issued a statement (in its entirety) in response to Harvard.
"Our mission is to help prospective students make the best decisions for their educational future," Gertler said. "Where students attend school and how they use their education are among the most critical decisions of their life, and with admissions more competitive and less transparent, and tuition increasingly expensive, we believe students deserve access to all the data and information necessary to make the right decision. We know that comparing diverse academic institutions across a common data set is challenging, and that is why we have consistently stated that the rankings should be one component in a prospective student's decision-making process. The fact is, millions of prospective students annually visit U.S. News medical school rankings because we provide students with valuable data and solutions to help with that process."