You have /5 articles left.
Sign up for a free account or log in.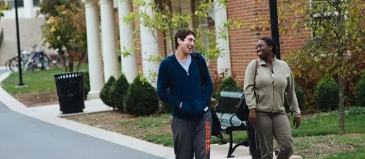 Direct admissions is continuing to grow this year, a crucial one for the alternative approach to matching students with a college that will be right for them.
In direct admissions, students do not apply to colleges. Rather, the student makes a portfolio with their grades and other information that may help a college decide whether to extend an admissions offer. Among the common portfolio options: what a student wants to study, geography (where a student is from and generally where a student wants to study). The portfolios are managed by companies, nonprofit groups and individual colleges.
The calendar for direct admissions is fluid. Many colleges started admitting students in October or November. Most are still planning to review more students. There is no one date for applications to be submitted or reviewed. And all the colleges (except one) are admitting students both the traditional way and with direct admissions. The question of yield—what share of admitted applicants will enroll—is highly uncertain. Most expect the yield questions to be answered only in the fall.
Also, most of the colleges embracing direct admissions are not the most competitive or even somewhat competitive in admissions. So these institutions are not those that are featured in certain newspapers' reports every year on how hard it is to get into the Ivy League.
Last year, Augsburg University, in Minnesota, enrolled a freshman class of 611, said Robert J. Gould, vice president for strategic enrollment management at Augsburg. This year, the college is just admitting through direct admissions, although it is participating in three programs: its own, a Minnesota program and the Common Application program.
Thus far, Augsburg has admitted 2,634 students, compared to 1,834 students last year. Gould is particularly excited about a statistic he received last week: so far, Augsburg has awarded aid to 1,351 applicants who have filed a Free Application for Federal Student Aid this year, compared to 963 at this point last year. Other statistics: among admitted applicants, a 51 percent increase in minority students, and the number of male applicants who have been admitted is up 48 percent.
"It makes me glad we went all in," said Gould. It will take a couple of admissions cycles to figure out the patterns, he added.
He also said the college is "well prepared" for an increase in students on financial aid. Many of those students are eligible for federal and state aid, and the college will help them apply for aid.
Gould acknowledged that yield is uncertain, but he predicted he would end up with a class larger than this year's freshman cohort. "I know we'll be north of 630 and we may be north of 700."
One of the reasons he's confident is because direct admissions has changed the role of his admissions officers. In the past, they have been focused on reviewing applications. Gould said the admissions office has been reoriented, with a new tagline of "Augsburg applies to you."
Now the admissions officers are meeting with admitted students about their plans for the fall, focusing on student success and academic advising before they become students.
Small but Significant
Other colleges are also seeing success with direct admissions as well, albeit on a smaller scale.
At Southwestern University, in Texas, officials have admitted 41 students through direct admissions and plan to continue with it with two more rounds this year, said Christine Bowman, dean of enrollment services.
Southwestern is using Greenlight  Match, a program of EAB (which purchased Concourse and renamed its programs). The Concourse/EAB approach has been to pick cities and to recruit there.
"We are only working with Chicago, Houston and Dallas students, as Chicago is a target market and Houston and Dallas are obviously our backyard and home community," said Bowman.
Why direct admissions? "We could get exposure to students who may not be familiar with Southwestern but would really thrive in our community; the opportunity to partner with colleagues and allow us to build relationships with them and finally the opportunity to attract some really talented students to Southwestern and have them compete for some of our very top scholarships," she said.
Also, "as Texas continues to be fertile recruiting ground for out-of-state universities in preparation for the [enrollment] cliff, we also felt that this might open some doors to out-of-state students who were open to traveling elsewhere for college."
Jessica Sullivan, assistant vice president for admission at Susquehanna University, said her institution has so far admitted 70 students through Greenlight Match. "Based on benchmarks we set at the onset, we've met or exceeded our goals in terms of the number of students we've been able to engage with," Sullivan said. The candidates "have been of strong quality and align with the standards of predictive success for Susquehanna students." she added.
She said she wasn't surprised that Susquehanna is finding good students. "Given our commitment to college access and value we place on community-based organizations and school counselors as partners in the college search process, it made sense for us to partner with Greenlight Match on this direct admission."
Susquehanna focused on New York City and Philadelphia.
Jonathan April, managing director of Greenlight Match, said the growth of direct admissions has been impressive. Last year, the program had 10 colleges, admitted 2,000 students and awarded $100 million in scholarships from various sources. This year, the program has 80 colleges, has offered admission to 10,000 students and awarded $600 million in scholarships, and the year isn't over yet. "We are still early," he said.
Next year, the program plans to grow again. But April said it will be based on that experience that the program eventually hopes to be open to the entire country.
Other Organizations
Other organizations are also seeing growth in direct admissions.
Sage Scholars is now offering direct admissions to 58 colleges, according to James B. Johnston, the president of Sage. In October, it had only 23 colleges signed up.
Niche currently has 24 colleges offering admission based solely on the profile students create for the company. Those colleges include public institutions like the University of Nevada at Reno and the University of Virginia at Wise. Among the private institutions it has Clarkson University, Regent University and Washington & Jefferson College. Niche plans to double the colleges in the program next year.
And the Common Application is up to 14 institutions that have admitted 33,000 applicants through direct admissions.