You have /5 articles left.
Sign up for a free account or log in.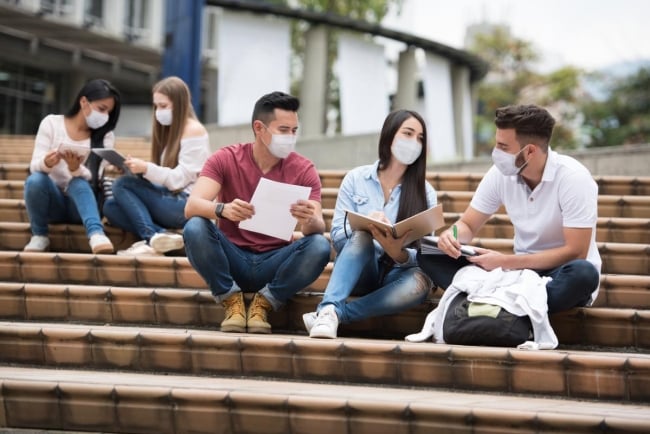 Transfers between community colleges and four-year institutions continued to drop last fall, an ongoing trend since the onset of the COVID-19 pandemic, according to a new report from the National Student Clearinghouse Research Center. But the report also contains some good news, including that six-year college completion rates among transfer students improved, despite the disruptive nature of the pandemic.
The "Transfer and Progress" report, released today, found that upward transfer—transfers from community colleges to universities—fell 7.5 percent in fall 2022 compared to the prior year and 14.5 percent relative to fall 2020.
The number of transfer students over all, including students transferring from universities to community colleges or between four-year institutions, fell at a higher rate than the enrollment declines of nontransfer students, 2.3 percent and 1.4 percent, respectively. Students who transferred in the fall 2022 term made up a lesser share of the student population of four-year institutions across racial and ethnic groups, with the exception of Black transfer students who enrolled in private, nonprofit four-year universities, the report noted.
Doug Shapiro, executive director of the research center, said the ongoing decrease in upward transfers is "very concerning."
"Upward transfer has continued to decline pretty steadily at this point in every year since the pandemic," Shapiro said during a media briefing Wednesday. "This suggests that baccalaureate attainment is beginning to appear increasingly out of reach for community college students," particularly for students enrolled in urban and suburban community colleges, which saw steeper declines in transfers to universities than community colleges in towns or rural areas.
The report also found that, perhaps counterintuitively, community colleges with "a high transfer program focus" also had steeper declines in upward transfer than community colleges more focused on vocational programs.
Some types of students transferred at higher rates than others, according to the report. Transfers by women decreased more than men, 3.5 percent and 0.7 percent, respectively. Only students younger than age 20 transferred at higher rates than the year before, while transfers in every other age group fell. Students who earned an associate degree also transferred at lower rates than those who didn't.
The report also disaggregated data by students' socioeconomic backgrounds and found that transfer to the roughly 200 most highly selective institutions were disproportionately by students from families with the top 20 percent of household incomes in the country.
Tania LaViolet, director of the bachelor's attainment portfolio at the Aspen Institute's College Excellence Program, found this data point particularly disheartening, though not surprising.
"Our hope is that community college transfer could be a means to increase opportunity for those from the most financially disadvantaged backgrounds, especially at the highly selective four-year institutions," she said. "What the data from the clearinghouse show is that hasn't come to pass … Those outcomes are a reflection of institutional practice. Are your systems at the four-year institution, and in partnership with your community colleges, are they set up to serve low-income students or do they perpetuate inequality?"
The report also had some bright spots—notably, that transfers rose by 5.4 percent among students who previously stopped out of college. Institutions that primarily serve students online were responsible for 40 percent of that surge.
Six-year completion rates also rose among transfer students for whom the pandemic hit during their fifth or sixth year enrolled in college, which is when transfer students from community colleges typically graduate, the report noted. Among transfer students who started at a community college in 2016, 69.2 percent graduated within six years, a little over two percentage points higher than those who started college in 2014. Black transfer students in particular made gains in their six-year completion rates, which rose more than four percentage points for students who started college in 2016 compared to 2014.
"It is very encouraging that among those who transferred from community colleges into four-year schools six years ago, those students are now completing bachelor's degrees at higher rates than before, and that's true despite the fact that the final two years … of that six-year window were the first two years of the pandemic," Shapiro said. "Despite those disruptions of the pandemic, that cohort of students still earned bachelor's degrees at a higher rate than the students who started in 2015 or 2014 at community colleges."
LaViolet said while the data about six-year completion rates are positive, it also shows that "the act of transferring is the hardest part of the process."
"The report shows here that the bulk of those students who transfer actually complete, so more than half of the problem is with the transfer process itself at the front end," she said. "So, this is just more evidence of where we need to invest our attention, as institutional leaders, as practitioners, in really smoothing out and making less complex, less clunky that transfer process."
Matthew Sheldon, associate director of the transfer team at EAB, an education consulting firm, said other data points made him hopeful for the future. For example, reverse transfers, students transferring from universities to community colleges, and lateral transfers, between four-year universities and between two-year colleges, started to rebound.
He also believes the boost in younger students transferring is a hopeful sign, and that universities should focus on providing clear information about how their credits will transfer and how long it will take to get a degree, "and, most importantly, how much money is this all going to cost them, and doing it in a way that captures students that are under 20 years old" through easy-to-use online resources.
"There are numbers to be excited about in here even with some of the declines that we see," he said.
Sheldon is concerned that some campus leaders might see a continued decline in upward transfers as a reason to turn attention and resources away from transfer students and toward bolstering enrollment among other student groups instead.
But "transfer is really important, and these students really matter," he said. "Supporting transfer students is a way that we can make a difference in our educational gaps and our opportunity gaps. What I really don't want to have happen is have people look at the statistic and say, 'We're down across the board and we can make up for it in other ways.' I want to say, 'Hey, we're down, but there are still a lot of students out there we are missing, and we need to capture them and support them through their educational journey.'"