You have /5 articles left.
Sign up for a free account or log in.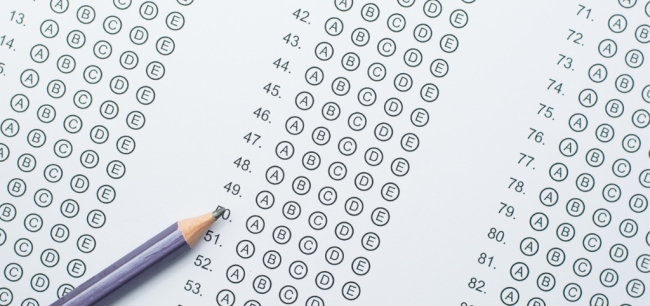 In an opinion piece published last week, Julie R. Posselt and Casey W. Miller, made the argument that the "test-optional" movement not only has merit but must be a conversation in doctoral programs across the country.
We agree that "a serious conversation about current admissions" in graduate education is necessary. We agree that this conversation requires critical introspection and candid conversations. But, we caution faculty members and admissions committees to look beyond what may seem a simple solution of going test-optional before addressing the hard work of analysis and introspection.
Many advocates for holistic file review would not encourage admissions  committees to drop one requirement, and make admissions decisions based on less information and practices susceptible to more biases. Be wary of shortcuts and silver bullets. The challenge of improving diversity and adopting a holistic admissions process is more complex than making one small change to requirements. It requires careful consideration of all sources of information used in admissions. In fact, there are many departments applying holistic admissions practices, inclusive of Graduate Record Examination scores, and successfully achieving their diversity goals. We acknowledge that eliminating bias in the graduate admissions process is challenging, but there are guardrails that can be put in place and the GRE test is one of them.
The GRE program has been supportive of holistic admissions practices since its inception, advocating that a GRE score is only one piece of evidence to be used in admissions decisions.
By dropping a GRE score requirement, committees are left to only consider measures that are subjective. This can heighten the role that implicit bias plays in the review and selection process. Faculty members on admissions committees, being human, see the undergraduate institution on a transcript and their biases can come into play. They see a last name of an applicant and their biases can come into play. They see the signer on a letter of recommendation and their biases can come into play.
Further, if faculty members are left to evaluate applicants based on subjective measures, they are left with GPAs that are not comparable across all candidates, and letters of recommendation or writing samples written at different levels or eloquence of vocabulary. If GRE scores are removed from the admissions process, what's left is not objective or comparable. In addition, dropping a GRE score requirement risks admitting students who are not academically prepared, which could lead to retention issues that have serious implications to the student and the program.
If we as a graduate community want to champion holistic file review as the equitable path forward, it must truly be holistic, no shortcuts. Dropping the GRE score requirement is a mistake. Carefully considering how the GRE score requirement is used is essential. In fact, this careful analysis should apply to all components of the admissions process and not simply the quantitative measures.
The argument that meeting diversity and completion goals can be done with less information than admissions faculty and committees already have is flawed. It is misguided to think that equipping faculty for holistic, equity-minded graduate admissions can come about by simply removing the one objective measure that has served students and the graduate community well for nearly 70 years. 
Just as the fields in which graduates will work have grappled with issues of diversity and inclusion, so must admissions committees come to terms with their own biases. We agree that "it's time for the talk," and we argue that GRE scores are only one part of that talk. The other part is more difficult, will take more introspection, more time and more work. It is the talk we hope to champion with our colleagues in the graduate community.
We've been having this talk with the GRE Board, an independent board affiliated with the Association of Graduate Schools (AGS) and the Council of Graduate Schools (CGS), which oversees GRE tests, services and research. "We too believe that the talk that should be happening on campuses nationwide must address how our own biases impact admissions decisions and how we can improve diversity with greater awareness of how we view admissions materials. The graduate community is ripe for this deep and challenging conversation and together, with you and ETS, we hope to move it forward," said Janet Rutledge, GRE Board Chair, speaking on behalf of the executive committee.
We know, from the more than 4,000 institutions the GRE program serves, that in many ways this conversation has already begun and we'd like to add some considerations.  
The GRE can provide tremendous value in helping institutions and programs achieve their enrollment goals, but to do so, programs need to require GRE scores from all applicants. The objective, comparative data that scores yield is especially helpful when comparisons are difficult to make, such as when evaluating applicants from unfamiliar undergraduate institutions or from countries with different educational and grading systems. ETS encourages programs to weight GRE scores more or less highly, versus other components of applicants' files, based upon their institutional and program enrollment goals, rather than making the test optional and disposing of the valuable data it provides.
The GRE Program has consistently discouraged graduate programs from using GRE scores as the sole factor for making any decision, and certainly not as the sole factor for cut scores. Doing so lessens the importance of other components of a candidate's application — especially indicators of desirable attributes like grit and conscientiousness — and can result in a less diverse student body.
What other measure does an institution plan to use that is common and objective, that undergoes a rigorous fairness review process and that yields comparative data? Why throw out another piece of information about your applicants? Isn't it better to evaluate how scores are currently being used and consider weighting them differently than to rely solely upon measures that can introduce a greater level of bias to the application review and selection process? For applicants who may be adversely affected by programs that drop the GRE test, the answer is yes.
The very purpose for creating the GRE test almost 70 years ago was to allow graduate programs to consider applicants who may not have come from privileged families who attended selective, private schools, but who worked hard, showed initiative and perseverance, and earned their shot at success. Today we are guided by that same purpose and we will continue to advocate for research-proven solutions that support our collective efforts to improve diversity, equity and access.