You have /5 articles left.
Sign up for a free account or log in.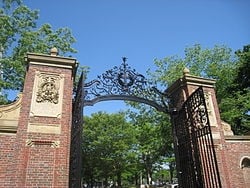 As students gear up for the new semester, Emma Choi is settling in as a new member of Harvard College's Class of 2022. Emma happens to be a recent graduate of my local high school, with a steady stream of mentions in our community paper. She has written and directed several plays, including one performed off-Broadway and another being performed at the D.C. Capital Fringe Festival. These are impressive accomplishments for anyone, let alone an 18-year-old. Cambridge is lucky to have her.
There is no shortage of Asian Americans like Emma attending Harvard, but the pending lawsuit Students for Fair Admissions, Inc. (SFFA) v. Harvard alleges that Harvard intentionally discriminates against Asian Americans in admissions. One of the plaintiffs, "Applicant," had a perfect ACT score, was a National Merit Semi-Finalist, scored perfect 800s on two SAT IIs (Math II and History), raised money for National Public Radio, tutored, and volunteered at a tennis camp. Great accomplishments, no doubt, but do they guarantee admission to the Big H?
The truth is, a perfect 800 on a SAT II Math II is nice, but 19 percent of students who took Math II got the same score. There were 16,227 National Merit Semi-Finalists in 2015, and the Harvard freshman class is usually around 1,600-1,700 students. A perfect ACT score is a rarer bird, but does it guarantee admission? Well, Harvard had 986 folks who had perfect SAT or ACT scores in its 2015 applicant pool. Perhaps they don't need or want to fill most of its class with perfect test takers.
Nothing guaranteed that Emma Choi, a Korean American, would get into Harvard. The university was smart to accept her; she's an 18-year-old who has accomplished more than a lot of adults out there. But could she just as easily been rejected? Absolutely. With admit rates are under 5 percent, Harvard has to reject a lot of fantastic, amazing students.
According to an expert report filed in the case on the side of Harvard by David Card of the University of California, Berkeley, the admit rate for the Classes of 2014-2019 was 5.15 percent for Asian Americans and 4.91 percent for white applicants who are not recruited athletes, legacies, on a special dean's list or children of faculty/staff members. It is problematic that white people are more likely to fall into these special categories, but that's a different issue than eliminating the ability to consider race as one of many, many factors, which is the goal of the lawsuit.
There has been a lot of ruckus about Asian Americans scoring slightly lower on what Harvard calls the "personal rating" which includes items like the essay and the teacher recommendations. What can I say, maybe not every Asian American (or person of any race) writes like Emma Choi. It doesn't mean that Harvard thinks that Asian Americans have rotten personalities. In fact, Harvard doesn't look at race when coming up with the personal rating -- a relevant fact for people who think that the personal rating is hurting Asian Americans.
Growing up, I knew of four students who attended Harvard from my suburban Ohio high school. Three of the four were Asian American; the other was white. None of them was a valedictorian or even salutatorian. This may seem like terrible logic to SFFA, but that is the beauty of holistic review, or as Harvard calls it, "whole-person review." You are more than a number or a list of activities.
People gripe that Harvard isn't looking at Asian Americans as individuals, but the process of whole-person review absolutely requires that every applicant is looked at as an individual, versus just a test score. However, looking at everyone as an individual doesn't mean that everyone is going to get in. Harvard saw Emma Choi (and Jeremy Lin, and scores of other Asian Americans) as individuals. It also saw them as Asian American, because, well, that's what they are. And Harvard said yes. It can't say yes to everyone but still, Asian Americans are definitely among those who are valued, needed and welcomed. Best wishes to them and all incoming students as they start their college journeys in Cambridge and beyond.