You have /5 articles left.
Sign up for a free account or log in.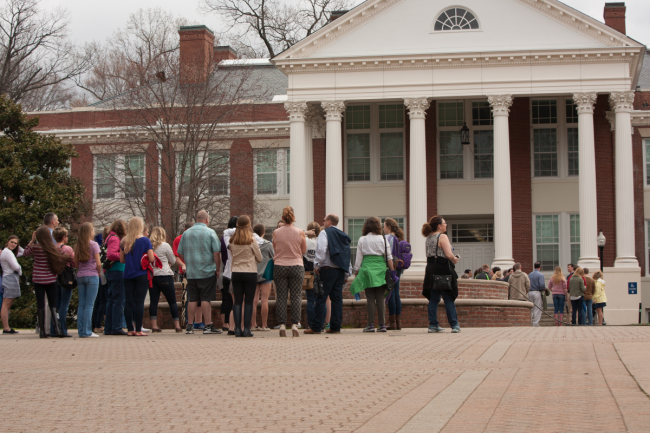 I've worked across numerous departments in higher education -- enrollment management, college counseling and residence life. As you will well know, a campus tour is a vital part of student decision making across all of these areas and more. Students want to know where they will be living; they want to see the facilities they can access. They want to meet the students and staff that they'll be interacting with.
The coronavirus pandemic really took hold just as visit season was getting into swing. Admitted student days and open houses that were planned -- and even had student bookings -- were forced to cancel. Some moved online; some were not replaced. Thousands of words have been dedicated to the rapid move to online teaching and learning. I wanted to dedicate a few to the impressive versatility displayed by colleges so far in pivoting their enrollment events online, and how we might see those trends develop.
Why Are Campus Tours Important?
You already know that campus tours are important. They have a proven impact on yield and on reducing melt.
By why? There is, of course, a practical element. Students want to see a campus to ensure it meets their expectations and needs. See that the dorms are close to the classrooms, there is study space for everyone, the sports facilities are up to par.
But much more importantly, there is the emotional element. This is what is sometimes called the "sense of belonging" that students gain from these sort of events. It's about seeing the campus, figuring out whether they can imagine themselves living there. But it's also about meeting their fellow applicants and prospects, and the current students whose shoes they will fill. The small interactions with a campus tour guide can be essential for developing that sense of belonging.
In 2007, academic adviser Martha O'Connell said, "The most important factor in choosing a college is fit" -- and fit is all about peers. Campus tours are a college's opportunity to showcase their diverse population.
Now I work for a company that moves those events online, but I will admit -- it's hard! This sort of thing, naturally, works best in person. We're all suffering with Zoom fatigue now; we're all dying to meet face-to-face. But as the coronavirus pandemic continues, and getting colleges open safely still remains a challenge, getting future students onto campus is just not going to be possible for the foreseeable future. So what can you do?
How Are Colleges Overcoming the Challenges?
Just like everything else, digital has been the keyword. The colleges that are delivering the best experiences are taking into account both those essential sides of the campus tour: the practical and the emotional. Giving students the opportunity to see the dorms and the facilities, but also feel like they're living there and hear from their peers.
Technology is being used to deliver those experiences. There's been a growing trend for 360-degree tours of campus, which open up access to students out of state and internationally. Those schools that invested in that technology ahead of time are now reaping the benefits. But 360 tours alone still don't deliver a full campus tour experience. They lack the relationship-building piece, particularly between the prospective student and the current student. The student gains a sense of place but not a connection to people.
One of my favorite creative approaches has been the University of Southern Indiana's car campus tours. Prospective students and their families drive through the campus, safari-style, with a tour guide connected via Zoom. It's a great, safe way to help students see a campus and connect with a student. I love this approach. Of course, it won't work for every school -- you might not have a campus that is fully accessible by car. And, of course, you can't take your car inside the library or the dorm rooms. But it does show what's possible with a bit of creative thinking.
A growing trend in higher ed marketing and enrollment admissions has been student-generated content -- putting your current students front and center to deliver the content and experiences that guide prospects toward your school. Now is the time for that student-led approach to really come into its own. We've seen Instagram takeovers by a current student, showcasing a day in their life. You've heard of TikTok -- the hottest social media platform of 2020. Colleges have created accounts showcasing their campuses and their students. These aren't "campus tours" in the traditional sense, but they are actually giving students exactly what they want: a sense of the experience they will get. In terms of building belonging, giving students this authentic look at college life will be far more valuable for yield than showing them the facilities.
Of course, I have to mention our own platform -- Unibuddy Live -- that is seeing a 900 percent increase in usage. Those events are organized by colleges and universities around the world and are bringing together entire campus communities to deliver an experience that is informative but also emotive -- building that all-important connection.
What Will We Take Into the 'New World'?
If you want your students to enroll this fall, you have to make sure they have an emotional connection with your college. The recruiting conditions are more competitive than ever, and that connection is going to be the defining factor. It's not just about getting them through the door, either -- students that feel a sense of belonging will stay and they will succeed.
The campus tour is the very start of that. And right now, when students can't get on to campus, delivering an alternative that provides the practical information and the emotional connection is the key to success.
But when students can get back to campus, hopefully in the not-too-distant future, colleges will be smart to hang on to those innovations that have come from this time. They'll help to keep everyone on your campus safe -- and they'll enable you to attract a wider audience.
For international recruitment -- delivering an authentic campus experience to overseas students will be a huge transformation. For attracting a diverse student cohort, helping those out-of-state students or students who might not be able to get to your campus connect with your students and build affinity with your school.
The transformation to digital has been an undertaking for every college, and I've been amazed at the versatility and innovation. When it comes to campus tours, keeping that innovative spirit and focus on digital connections will be key in the years to come.