You have /5 articles left.
Sign up for a free account or log in.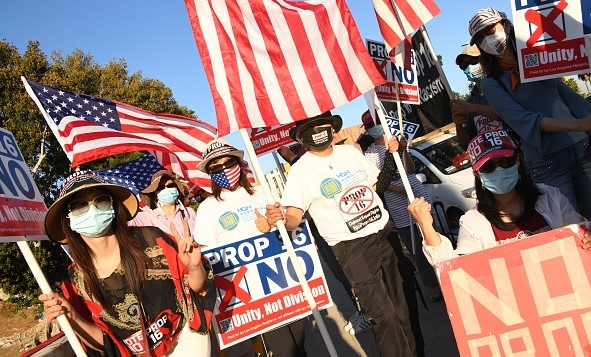 Araya Doheny/Getty Images
This month, Proposition 16 -- an initiative to overturn a 24-year-old ban on affirmative action in California -- failed at the ballot box. Why did Proposition 16 fail to pass, despite having nearly every resource behind it, and what does this mean for progressive initiatives going forward? What advocates thought would be a referendum on structural racism and sexism is instead a declaration of an entrenched commitment to colorblind ideology and practice, ignoring social inequality in favor of centering the most privileged students in university admissions.
White students who had expected admission to University of California campuses experienced shock when they encountered intensifying competition in the selective higher education landscape in the 1990s and were rejected. For these students and their parents, treating their rejection as "reverse discrimination" and the consequence of "preferential treatment" of Black and Latinx students was easier than confronting their own feelings of entitlement to elite university admissions. These feelings ushered in the victory of Proposition 209 in 1996, which succeeded at similar voting margins to Proposition 16's failure in 2020.
Proposition 16 faced more favorable opportunities. Advocates had 24 years of evidence -- plummeting Black and Latinx enrollment in the UC system -- to support their claims of racial inequality in the system. And unlike before, Proposition 16 had considerable political support. Back in 1996, the California Democratic Party did not campaign against Proposition 209, fearing the loss of middle-aged white voters. However, today the California Democratic Party supports affirmative action, and political stars such as Kamala Harris, Bernie Sanders, and Pete Buttigieg endorsed Proposition 16. While opponents of Proposition 209 did not have a coherent strategy to protect affirmative action, Proposition 16 commanded support from a broad coalition: Bernice King (the daughter of Martin Luther King Jr.), respected labor activist Dolores Huerta, Kaiser Permanente, the Golden State Warriors, the Los Angeles Times and co-founders of Black Lives Matter Patrisse Cullors and Alicia Garza. Their coalition raised 14 times more donations than those groups opposed to Proposition 16.
Still, Proposition 16 failed. And the presidential race was much closer than liberals and progressives anticipated. Part of why we are experiencing the many crises of today, presided over by the Trump administration, is that many whites (and even some racial minorities) identify deeply with feelings of victimization. They blame their declining quality of life not on the lack of a social safety net, stable employment or an opportunity at dignity, but on policies such as affirmative action and those they perceive as encroaching upon their opportunities. These feelings motivated affirmative action bans more than 20 years ago and were one of the driving forces behind California's decision earlier this month. Until we confront and struggle over white identity, progressive initiatives aiming to improve the social position of Black and Latinx people -- and by extension, society over all -- will continue to fail.
What masquerades as colorblind ideology and practice is actually anything but. While dismantling civil rights-era policy and gains for decades, "colorblind" policies provide a cover for the belief that one's whiteness endows you with an elevated social status, a belief scholar-activist W. E. B. Du Bois called the "psychological wage" of whiteness. Adopting "colorblind" practices not only further disadvantages the racially marginalized, but also normalizes and renders this psychological wage of whiteness invisible -- obstructing collective solidarity. Du Bois evoked the psychological wage to explain why working-class whites did not band together with working-class people of other racial groups, highlighting how whiteness itself could be seen as "compensation" for continued class exploitation.
Affirmative action does not solve all of our social problems, but it is a clear pathway into selective higher education for underrepresented students. More importantly, the campaigns of Proposition 209 and Proposition 16 teach us that more than 50 years after the first affirmative action programs were adopted, it is still more popular to hoard opportunity than extend it to the greater collective. And this logic, if left unchallenged, will continue to decimate our democracy.