You have /5 articles left.
Sign up for a free account or log in.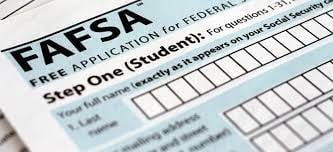 Applying for financial aid takes more than a form
My daughter, a high school senior, has just applied to college. Whew! It was a struggle, let me tell you. She submitted each application at (almost) the very last minute, after spending agonizing months procrastinating on essays and arguing with her parent's suggested revisions.
But while her focus was on each college's deadline, we all missed some very important dates. Sure, I completed the Free Application for Federal Student Aid the day it was available online (I have a thing for forms). But that was the only financial part of this admissions journey we got right.
We ended up getting a whole lot more wrong.
The private colleges on her list all require or suggest using the CSS Profile in addition to the FAFSA. You are supposed to complete this form through the College Board website within two weeks of the application deadline for each college. We missed this entirely! I had never even heard of this, and neither had my daughter.
Why all the fuss? Well, it turns out that the CSS Profile uses a different approach to calculating your expected family contribution (or the EFC). Apparently, it takes into account the fact that you still need to eat while paying college tuition. Ha! Just kidding. Mostly.
The CSS Profile does ask for more information on your expenses and investments and has more detailed questions about your family. It adjusts for the cost of living of your location and assumes that if you have younger kids, you may also need to save some of your money for their future college expenses.
I knew none of this until it was too late. And how would I, really? My daughter is the one with the College Board account, and the Common App didn't make this obvious, either. Her school does not communicate with parents about the college process, and What to Expect When You're Expecting neglected to mention this, too.
When I learned about the CSS, I immediately panicked. I then wondered if my daughter had looked into any scholarships, what she knew about financial aid packages and what other deadlines she had missed.
Turns out, she did miss an important deadline to apply for scholarships at one college (Nov. 15!), but most colleges on her list screen all applicants for scholarships (a relief!). And many deadlines for scholarship programs beyond universities have already passed, too, here in early January of her senior year.
It's hard not to feel defeated and embarrassed that I didn't do more sleuthing on her account. To be honest, I wanted this experience to be led by my daughter, and I didn't want to meddle. Initially, I wanted this because I thought the whole process would be fun, but that quickly turned out to be not true.
What I really wanted: for my daughter to figure this out on her own, supported by her school and motivated by her desire to go to college (and get out of the house). I wanted her to be inspired by her college research and to scour websites for application tips and scholarship advice.
In short, I wanted her to use the skills that I know she will need when she shows up in our classrooms next fall.
Instead, she is anxious, feeling terrible that she messed up her college experience already. And I feel terrible, too. I should have paid more attention, been more involved or hired her the college counselor she begged us for.
I remain astounded that the college admissions process is so much more complicated than it was when I applied, 30 years ago. I am furious that the public high school, lauded as one of our state's best, has provided little oversight, advice and encouragement. I am worried that many high school seniors, without the support of their schools or parents, might miss important deadlines, forms, profiles and dashboards. We know there are racial and socioeconomic disparities in the admissions process, and the lack of coordinated information is certainly part of this problem.
Even though our EFC is 41 percent of our take-home pay (!!!), I am fairly confident that our daughter will go to college next year. Her admissions process has been a bit of nightmare, but I am hoping that after a break from essay writing, she will once again start searching the websites of her dream schools for scholarship opportunities. Because the skill of persistence, of being a goldfish after missing a deadline or screwing up a test, is the one I really want my daughter to have when she finally arrives on a college campus next year.