You have /5 articles left.
Sign up for a free account or log in.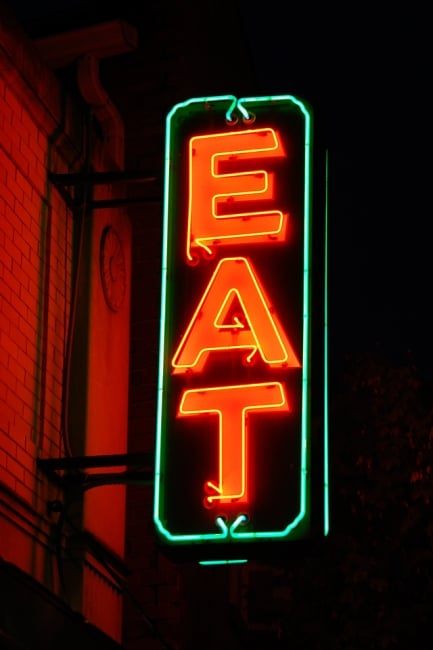 Who better to help you find the best restaurants while attending an academic conference than a data-driven institutional researcher and an assessment expert? The IR guy does some predictive modeling, identifying the best choices based on price, distance to the conference hotel, and reviews; the assessment pro rates the quality of the dining experience using a rubric. Who knew rubrics and predictive modeling could be so much fun?
Do they have professional restaurant or food critic experience? Nope. But they know what it's like to be on a college budget in an expensive city. Using a variety of online "data sources," a selection of candidate restaurants is compiled with our multivariate proximity model using cost, distance from hotel, cuisine genre, and customer reviews to rank restaurants. Depending on conference scheduling, weather, and the establishment's hours of operation, we strive to assess one top-tier candidate restaurant each day while in a conference city.  
Next, we categorize restaurants by their price point.  We developed our categories with our tongues placed firmly in our cheeks, so let's not take them too seriously.
The Tenured and Trustees  -- These restaurants tend to be more high-end. If you have an expense account and unlimited funding we recommend you start here.
Staff and Administrators -- Many of us conference-goers will fall into this category. You are entitled to a decent meal and want/need the best bang for your buck.
Junior Faculty – How'd you even get to a conference in these tight budget times?  Well played! Here are a few restaurants that won't require an additional teaching gig to pay for them.
Study Abroad – You can use conference travel as an opportunity to "taste the world" one conference at a time. Price is secondary to the experience.
Then, we eat. Our goal is to visit one restaurant in each category. But we not only eat, we assess. We start with (what else?) an outcome statement:
While attending conferences, a restaurant meal should be gastronomically satisfying, in a relaxing and refreshing environment, and easily accessible to the hotel.
With this outcome statement in mind, we developed the following rubric to assess restaurants:





Using the rubric, restaurants are then assessed. Rather merely critiquing the restaurant, however, we accredit them (or not). We use the following accreditation/recommendation scale:
20 Points: Fully accredited with commendations
15-19 Points: Accreditation reaffirmed
10-14 Points: Monitoring/Follow-Up/Progress report required
5-10 Points: Warning Issued
1-4 Points: Withdraw/Deny accreditation
Chicago!
Chicago has become quite the conference town.  For example, in the summer of 2012 both the Society of College and University Planners (SCUP) and Noel-Levitz held their annual conferences in Chicago. During the 2012-2013 academic year the American Academy of Religion (AAR) held their annual meeting in Chicago as well (as will many other academic groups). The Higher Learning Commission Annual Meeting will be held in April, as will MLA at the end of the year. These are all very large conferences, so in addition to Chicago being a major tourist destination, the influx of thousands of higher education professionals also has an impact on the local restaurant scene. How do you decide which restaurant to enjoy? Are you heading out with your "conference friends" or do you want to use the time for planning with the colleagues you traveled to the conference with? Or -- and many parents will relate to this – do you just want a few minutes of solitude and a chicken nugget-free dinner?  Let's review what Chicago has to offer to conference goers.
First, many of the academic conferences are taking place in or near the near north side of Chicago. The Hyatt, Sheraton, a variety of Marriotts and a few other nearby hotels are popular destinations. Within a one-mile walk you can find, literally, hundreds (if not thousands) of restaurants. So many choices can feel overwhelming. How do we make sense of all the choices? The IR Guy developed a list for us to choose, including at least one in each category.
First up, our Tenured and Trustee dinner: Morton's Steakhouse: Fully accredited with commendation.
Morton's scored an easy 19/20 (click here for our rubric). The only real drawback (which is not a factor that's scored) is that it is a chain and we pride ourselves on finding local restaurants. That said, the food and service were both stellar.
Next, the Staff/Administrator meal: Shaw's Crab House:
Shaw's ranked 16/20 (rubric here). The food was terrifically fresh and very good but it was not in the same category as Morton's. The sushi was the best she had ever had and he was impressed that there was walleye on the menu. The service was more than adequate but the bar environment, where we sat, was noisy.  It should also be noted that while the predictive model suggested this would be in the Staff/Administrator category, to our great surprise, it turned out to be a Trustee-level meal. 
Junior Faculty: Gino's East: Monitoring/Follow-Up/Progress report required. While Gino's East should be a clear junior faculty choice, its score was a 13/20 (rubric here) which leads to some questions about its true value. However, we must insist on a follow-up report with this restaurant. First, we attempted to visit during the conference lunch hour (which was actually 90 minutes). The walk was a bit longer than anticipated so that cut into our dining time. Plus, there was a 20-minute wait to get in and when seated the waiter informed us that their signature items take 40 minutes to prepare. As a result, we were forced to order off a mini-menu, which resulted in less than satisfactory gastronomic experience.  However, it is probably not fair to base our assessment on this condensed meal. A monitoring report is absolutely necessary.
Junior Faculty: Wow Bao: Accreditation reaffirmed. Wow Bao is squarely in the Junior Faculty price range (and could be cross-listed as Study Abroad). For $8 you get a pretty big meal and beverage. The food is nicely spiced and the counter servers (it's fast food) were delightful. (Their credit card machine broke and when we expressed concern at leaving a written copy of our credit card numbers the server agreed to call us when the system was back up to get the information. You definitely don't see that type of service every day.) Wow Bao easily scored a 17/20 (rubric here), which is remarkable for a fast-food chain. Finally, the food is very healthy and calorie counts and health recommendations are readily available.
Study Abroad: India House, quite possibly the best Indian restaurant in the United States: Fully accredited with commendations. (20/20 -- rubric here). The lunch buffet puts it in the junior faculty price range, though a dinner meal may be tenure-track. In any case, this ultra-fresh, top service Indian restaurant is worth the visit. Not only is fresh-baked naan brought to your table during the buffet, but so is freshly grilled tandoori chicken. India House earned a clear reaffirmation with commendation.
We'll be back with our next city in our next column. Enjoy.