You have /5 articles left.
Sign up for a free account or log in.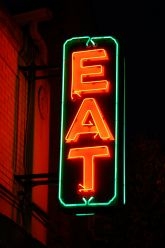 Your friendly -- and perpetually hungry -- Conference Connoisseurs find themselves in Indianapolis on an annual basis to attend the annual IUPUI Assessment Institute, which just concluded. Indianapolis, with its well-constructed downtown and many hotels adjacent to a topnotch convention center, has become an increasingly common venue for annual meetings -- in the next six months, the American College Personnel Association, the Conference on College Composition and Communication, and the National Conference on Race & Ethnicity in American Higher Education will all meet there.
Indianapolis played a key role in inspiring our writings. After all, each year we would walk around downtown Indy choosing between some rather underwhelming chain restaurants. Full disclosure: one of your CCs maintains there is no great shame in eating at a chain restaurant. After all, if it was terrible it wouldn't be a chain. 
If chains are your thing, Indy is your place. From Capital Grille (yes, it's a high-end chain) to Dick's Last Resort and everything in between, downtown Indy is rife with chain restaurants. But Panera, P.F. Chang's, and Weber Grill became a bit boring year after year so, to help you enjoy your time at the Assessment Institute or any of the other higher education meetings in Indiana's capital, we've done a little pre-assessment for you (with only one chain restaurant on the list). We hope you enjoy our culinary trek through Indianapolis!
As reminder, our ratings scale is:
20 Points: Fully accredited with commendations
15-19 Points: Accreditation reaffirmed
10-14 Points: Monitoring/Follow-Up/Progress report required
5-10 Points: Warning Issued
1-4 Points: Withdraw/Deny accreditation
*****
St. Elmo -- 19/20 –  Tenured and tenure track
St. Elmo steakhouse is the oldest and perhaps the best known steakhouse in Indianapolis. While squarely priced in the tenured and trustees category, we decided to go without food for days in order to afford to visit this establishment. Was it worth it? Absolutely! 
First, the service at St. Elmo is par excellence. We were immediately made to feel welcomed and at home. Our waiter was funny, engaging and sincerely makes you want to revisit the establishment. The food was also very good. To be fair, we had exceptionally high expectations for the food and, honestly, there was no way the restaurant could truly live up to those expectations. However, we were delighted from the beginning through the end of the meal. For starters, a warm basket of bread was delivered to the table.  Hidden among warm onion rolls, wheat rolls and traditional dinner rolls was their house specialty parmesan cheese bread.  This little morsel delivered by the heavens is a wafer thin piece of dough covered in garlic butter (oh so buttery!) and topped with rich, nutty parmesan cheese and then baked. Caution: eating a basket of parmesan cheese bread and warm onion rolls (filled with onion bits) may impede your ability to eat your meal.
We then ordered St. Elmo's famous shrimp cocktail. To be honest we were rather skeptical about this offering. First off, how fanciful can shrimp cocktail be? Well, for $16 it needed to be pretty darn fancy. Turns out the shrimp were plump and flavorful but the cocktail sauce is what stole the show. Basically, the sauce is horseradish with a little tomato product added in, perhaps for color. For the heat loving CC it was pure nirvana! 
Dinner then arrived and it, too, did not disappoint. A 14 oz. New York Strip Steak arrived alongside a loaded baked potato. No doubt the steak was good. The downside was that it was not quite cooked to the correct temperature – it was a little more rare than desired.  However, the flavor was delicious. 
The big surprise on the plate was the loaded baked potato. Normally a fairly pedestrian side dish, this baked potato was wonderful, hitting perfect notes with all three t's: texture, temperature, taste. The non-meat eating CC ordered a pasta dish with king crab and shrimp in a garlic basil pesto sauce. The dish was filled with seafood and a wonderful sauce. The pasta was cooked perfectly. Due to the overconsumption of bread and appetizers, sadly, your CCs did not order dessert. We did witness a gargantuan slice of fudge cake delivered to the next table and would encourage you to give it a try. One final note: the service at St. Elmo is perfectly timed. We never felt rushed yet the food was served swiftly, enabling us to enjoy the meal at a relaxing pace. Reservations are highly recommended!

Accreditation Reaffirmed
*****
Saffron Café -- 16.5/20 – Study Abroad
Of all of our dining opportunities, your faithful CCs enjoy their study abroad adventures most of all. This time, the CCs went Mediterranean and headed to the Moroccan Restaurant, Saffron Café. 
Saffron Café is owned by the chef, Sentissi. The restaurant has a family feel to it and there were many different types of groups presents: young families; groups of young adults; and, older couples. We didn't have a reservation but were seated promptly and warmly welcomed. Neither CC is an expert in Moroccan food so we had a bit of a learning curve and our waitress was more than happy to help us.
For an appetizer, we shared what was called the antipasto platter which consisted of super creamy hummus, an eggplant spread (Zaalouk) and a spinach spread (Bakoula) accompanied by warm pita bread. The hummus had a nice garlic flavor and the cheese cubes that came alongside it really complemented the flavor nicely. One CC favored the spinach spread, the other the eggplant. In both cases there was a nice, if not terribly complex, spice palate within the spreads. As is the case with many Moroccan restaurants, Tajines are the go-to dishes.  These slow cooked stews run the gamut at Saffron Café, from traditional lamb and beef Tajines to tilapia Tajine.
Your resident pesce-tarian had the tilapia Tajine and it included potatoes, tomatoes, carrots, and lemon in an acidic broth topping the tilapia. Saffron rice was ordered as a side dish and the remaining pita bread was used to take advantage of the sauce. Couscous tfyah topped with honeyed lamb was the dinner of choice for your other CC which offered a nice "gateway" entrée into Moroccan fare. The honey flavor was the most noticeable but did not dominant your palate in a negative fashion.  We found ourselves looking for that depth of spice which didn't seem to manifest itself nor to distinguish the dishes from the crowd.  The portion sizes were quite generous for the apps and entrees. As bonus, both dishes were presented in the Tajine, a clay dish with a conical top.
Your CCs decided to correct the error of their non-dessert ways and debated long and hard over whether to have baklava or cake filled with cheesecake.  Our decision (baklava) disappointed our waitress and she brought a slice of the cake gratis to help us see how good it is.  Both desserts were good, and generously apportioned,  but neither was exceptional.  What was exceptional was the coffee.  A rich, slightly thick brewed beverage was a highlight, not just of Saffron Café but of the entire trip.
Over all, the food at Saffron Café was very good. We would recommend the restaurant but have to confess that the spice palate was not as rich or complex as we expected. However, for the experience, the friendly atmosphere and the coffee, it is worth the trip.
We should note that this restaurant, while within walking distance of the downtown hotels, is about 0.8 of a mile from the city center. The walk is easy and you do get beyond the downtown area but if mobility is a concern a quick cab ride may be in order. Saffron Café is worth the trip and it was nice to get away from the downtown area and dine with locals.
Accreditation Reaffirmed
*****
The Claddagh Irish Pub and Tavern – 17/20 -- Junior Faculty

There are no shortages of Irish pubs in downtown Indianapolis. Just within one block of the Claddagh there are three similar establishments. We had some unexpected bonus time during our visit and made a spontaneous selection that was based more on curb appeal than our typical research based selection. In full disclosure, the Claddagh is a small chain with multiple locations operating in the Great Lakes region.   
The staff was extremely friendly, courteous and went out of their way to be helpful. I noticed these tendencies were present in other staff serving nearby tables in the room. There was a patron at a nearby table who didn't complain about his meal but expressed that it didn't quite meet his expectations. The server addressed the situation in a very positive manner with a genuinely apologetic response along with removing the item from their tab. This observed situation will not affect my food quality rating but will influence the service rating based on how it was handled by the staff.
My meal consisted of shepherd's pie alongside a beautifully drawn pint of Guinness. The lunch portion of my entrée was more than adequate and the combined flavor of the mashed potatoes, ground beef, root vegetables and peas was a splendid contrast to my properly served beverage of choice.
The location of the Claddagh is very convenient, offering just the right amount of distance from the most popular conference locations, City Centre and the hub of hotels located in Downtown Indy.
Accreditation Reaffirmed