Topics
Ain't No Stopping (Me) Now
Shawn Anthony Robinson, a black man with dyslexia, describes through poetry his successful journey through academe.
If you've ever been held down before
I know you refuse to be held down anymore
Don't let nothing, nothing
Stand in your way ….
"Aint No Stoppin' Us Now," by McFadden & Whitehead
I was warehoused in a special educational system that is designed to segregate, rather than emancipate, black men. This not only left me behind academically but also led me to feel hopeless about obtaining a bright future. Besides being identified as "at risk" and attending an alternative high school for two years, I also graduated from high school with scores reflective of an elementary school student.
Yet my life changed when I was accepted to the University of Wisconsin at Oshkosh in 1996. Robert T. Nash, the former director of the Project Success program and a dyslexia specialist, saw past my frustration and recognized my talents when other educators were convinced that college was not for me. My mentors always believed in me, encouraged me to turn my dreams into realities, and discouraged me from listening to those who doubted me. Their words, love and encouragement kept me moving forward through trying times.
Twenty years later, after six years of undergraduate college, five years of graduate school and seven years in the Ph.D. program, I accomplished a major task that is unheard for black men who come out of special education and are unable to read. On Oct. 19, 2015, I successfully defended my dissertation, "Navigating the Academic Systems Through Three Perspectives: A Twice Exceptional Black Male With Dyslexia. An Autoethnographic Account."
My academic journey has led me to take a social justice stance for equal and equitable education. My lived experiences are what drive me to change the narratives of students in special education.
I decided to write this poetic account of my journey to provide my struggle, redemption and transcendence. I want to remind students in the trenches with a learning disability to always have hope.
Ain't No Stoppin' Me Now
The Struggle
Prior to college, my academic learning was concerning;
My abilities were masked, and teachers just asked;
Passed through the special education system, I felt like an outcast;
Some teachers' instruction was more like disorganized road construction, with much obstruction, which resulted in my own self-destruction;
Unable to read, I wasn't freed, trapped within myself, I constantly snapped;
With no self-control, I didn't have academic goals;
Throughout my schooling I had self-doubt and constantly cried out;
I had no knowledge of the alphabetic system and was unapologetic for my behavior;
Thought I was tough, and teachers had enough;
Caught up in the wrong system, the academy didn't miss me;
My future wasn't bright, and in some teachers' minds, I was out of sight;
Yet, graduated high school at an elementary level, my college courses were supplementary;
I was psychologically damaged as an 18-year-old learning basic phonological and morphological skills;
Learning to read was the key that opened the door, which allowed me to exceed past my wildest dreams;
Furthermore, instruction on writing was ignored, which left my thoughts and structure of ideas in knots;
College, M.Ed. and Ph.D. weren't easy, but I had some professors that acknowledge my frustrations, and had high expectations;
Yet I had professors who questioned my ability, and didn't want extend a hand;
They failed me, thought I would go away, but I plugged away.
The Redemption
As a black collegiate male with dyslexia, I heard all the doubters and shouters;
"Shawn, you'll never make it," "Shawn, can you read," "Shawn, your writing is awful" to "Shawn do you think this program is for you";
These messages were real and a constant spinning wheel;
I relentlessly worked within and against a higher education system where black males with dyslexia are a nonentity, and labeled with a "special" identity;
Expectations were low, faculty discounted my visions and decisions, and I found myself in a battleground;
Utilizing support services, I managed to no longer be academically "disadvantaged";
It took me six years to achieve something that many didn't believe;
I flipped the script, but still wasn't equipped with the necessary tools for graduate school;
On mandatory academic probation to continue my education;
Five years of graduate school, one or two classes a semester, I didn't feel like a fool;
Even though the content was difficult and my writing sucked;
I spent hours with candid tutors, instead of sitting in front of training programs on a computer;
Finally, I graduated, and illustrated what a student can receive when they believe (M.Ed.);
Doctorate in language and literacy was tough;
Professors questioned my desire and didn't see me as a Ph.D. qualifier;
Many criticized my thoughts, writing and exercised their authority;
Two professors failing me, did not result in me bailing;
Shocked that their insults didn't have me walk, I saw them again and had a game plan;
Sought out writing support, and my past pain was only a second thought;
I laughed at professors like that, because they couldn't stop my craft;
Heard "Shawn you'll never be a published author" to other inefficient comments;
I kept my eyes on the prize even though they put me a year behind;
Before I graduated, I was a chief investigator of a statewide project;
After seven years, I graduated with a couple peer-review manuscripts and my Ph.D. transcripts.
The Transcending
Here I am, a successful black male with dyslexia who survived stressful times;
I wanted to quit but had to recommit;
Warehoused in special education barely reading;
Overtime, I became self-liberated, and now leading;
Now I love to write, which allows me to give insight;
The truth to the youth, I didn't learn to write until my second year in the Ph.D. program, and now speaking outside of Capitol Hill;
I may not be the most prolific writer, but I can drop some specific knowledge;
My story isn't unique, but rather I refuse to listen to the negative critiques and learn proper techniques;
To survive challenging times, I had the inner drive to strive;
My hunger for knowledge broke me hostage from self-bondage;
I realize that not many black males with learning disabilities are returning;
It is my mission to become an academician, so I can refute the negative stereotypes given;
My academic success was a result of a rigorous process;
Persistence is the key that allowed me to be free;
My academic journey ended with me attending a meeting at
1600 Pennsylvania Avenue.
Concluding Thoughts
I like to share my pain, emotions and enthusiasm through poetry. I hope my story resonates and inspires others to keep their head high, and stand strong through the storm.
With the limited research, educators could not only offer black men with dyslexia in special education a pen to drop poetic knowledge, which may provide them a sense of "liberation," but also serves as the platform they need to have their voices heard about their position in the academic system (#BlackMaleDyslexiaStory). And to the youth in the struggle, "if you've ever been held down before, I know you refuse to be held down anymore. Don't you let nothing, nothing stand in your way."
Bio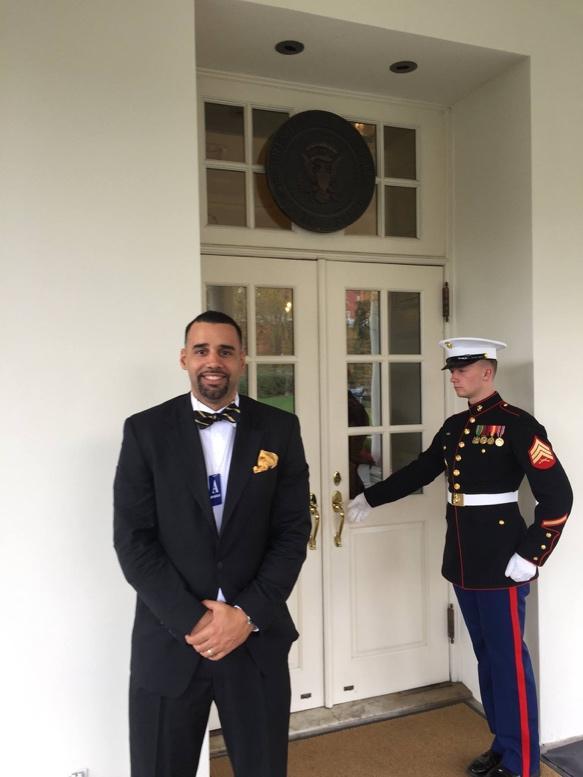 Shawn Anthony Robinson is an independent scholar and dyslexia consultant who brings a wealth of academic experience, training and knowledge about the psychological development of dyslexia. His research has been highlighted in NBC News in an article titled "This Man Is Searching for a Link Between Illiteracy and Racial Bias."
Opinions on Inside Higher Ed
Inside Higher Ed's Blog U