You have /5 articles left.
Sign up for a free account or log in.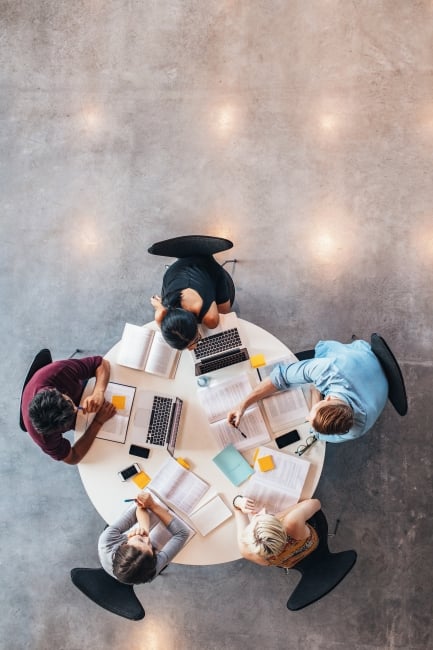 iStock/Jacob Ammentorp Lund
Assigning group work is a good teaching strategy, right? Research shows that by working together in small groups, students can develop critical thinking skills, exchange knowledge, share expertise, increase motivation and improve their attitudes toward learning. So why do so many students dislike group work?
Common student complaints about group work include unequal workloads -- due to freeloaders or do-everything control takers -- and group members who work independently rather collaboratively. But the root cause for students' antipathy to group work may lie in the fact that many don't know how to work that way effectively. Instructors tend to provide plenty of information about the assignment itself but little to nothing about how to get the work done. Without such structure, differences in work style -- such as starting and completing tasks early versus waiting until the last minute -- can lead to drama within a student group.
Educators who have implemented group work realize that the use of small group activities doesn't always result in shared learning. Comprehensive approaches to such work, like cooperative learning, define how the learning is accomplished. Cooperative learning requires peer interaction with positive interdependence and individual accountability. That is, individual goals depend on group efforts and students are assessed through individual learning outcomes.
Other essential elements for successful cooperative learning experiences include promotive interaction (team building), interpersonal skills and group processing. For students at the college level, the instructor also needs to communicate the value of working together, explaining the purpose of involving groups and assuring students that activities are related to the assessments for the course.
To make group work more palatable and more successful for your students, you must first acknowledge that group dynamics are important. Then you should provide your students with tools to establish and improve how they work together. Here are some tips:
Call them teams, not groups. A group consists of people who coordinate their individual efforts. A team, however, has a common purpose and a shared responsibility for success. And although it may sound corny, having a team name is the first step to thinking as a team.
Nurture team relationships from the start. Asking students to come up with a team name is a simple team-building activity. By creating a name for themselves, they will start developing a group identity. It's also easy to ask new student teams to answer several questions about themselves. To assist students who may not be comfortable speaking up among new friends, teams can gather around a whiteboard or flip chart and write out their answers.
Provide opportunities for teams to reflect on their dynamics and decide on ways to improve. A midterm "learning cycle" requires students to ponder the success of the team and its individual members thus far in the course and to consider changes that may improve their outcomes. Students may be reluctant to complete this assignment. After all, in a matter of weeks, the course will be over and team members will move on. But why should they just wait it out when it could be better? Ask teams to answer three questions: What does your team do well? What could your team improve upon? What changes will you implement to improve your team processes?
One team in my class realized that if they didn't immediately recognize how to solve a problem, they tended to sit and stare at it, losing valuable class time. They decided to have the team leader for that assignment ask each member what they were thinking while reading the question and why they were confused. The goal was to determine if everyone had the same difficulty, if team members had different interpretations of the question or if one person remembered something from the notes that others didn't.
Require teams to set expectations for their own behavior. Don't tell teams what type of behavior is expected -- let them decide for themselves. When teams establish their own ground rules (such as "everyone must participate") and processes for conflict resolution (vote, flip a coin, etc.), they address key components of successful teamwork such as positive interdependence, individual accountability and interpersonal skills. Ground rules are an important tool for helping people function together as a team by recognizing that, in addition to getting the work done, how the work gets done is key. Ground rules reflect what is important to the members of the team about how they work together and show respect for each other. They help teams hold members accountable for their actions -- after all, each team member agreed to the rules at the start of the term.
In the workshops and faculty learning communities that I facilitate, we stress that students themselves do the heavy lifting needed to make teams successful. Faculty members provide the framework, offer suggestions and act as a guide, but it is ultimately up to the students to ensure that their teams are working effectively.
Before I required students to establish ground rules in my courses, I experienced the use of such rules in both professional and personal settings. While on sabbatical, I worked with a local company where setting ground rules was an established practice for newly formed teams. And in my spiritual group at church, where we share personal stories and discuss sensitive topics, ground rules -- called the group covenant -- are the subject of the very first meeting.
Having a mechanism for accountability is especially important when other social dynamics such as gender or seniority may be at play. On a family road trip from Rochester, N.Y., to Yellowstone National Park last summer, ground rules helped the trip go smoothly. More than once my son reminded the adults in the car that we all agreed to "no talking about politics, work or annoying people." Similarly, in a class several years ago, a team consisted of two hearing and two deaf members. Their ground rules acknowledged the communication challenge, identified several resources to facilitate communication and established the expectation that communication was everyone's responsibility.
By implementing simple tools such as ground rules and learning cycles, I have seen improvements in team outcomes in courses from introductory to upper division. Team assignments are now more likely to be completed on time and to be of higher quality.
The assignments differ greatly: some are in class and completed within the class period, some are out of class and stretch across the entire term. Yet whatever the task, the time and effort devoted to team dynamics has allowed me to spend more time on content and less dealing with student complaints. More important, it has helped students to get more out of team assignments with less drama.