You have /5 articles left.
Sign up for a free account or log in.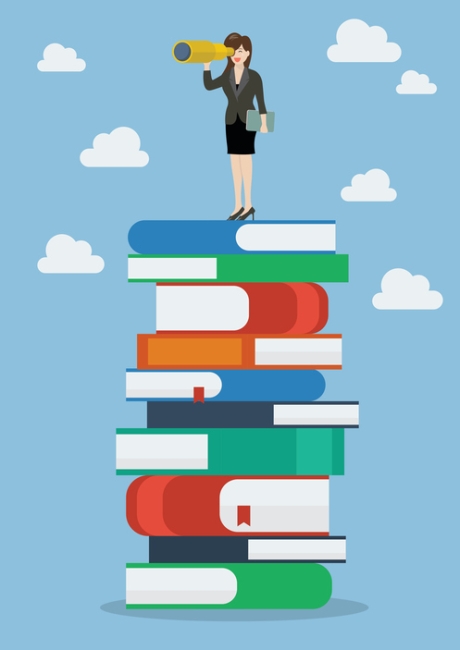 Istockphoto.com/siraanamwong
During graduate school, two of the most formative learning and professional development experiences that I participated in were not connected to my course work or research. Instead, they were intellectually rigorous co-curricular opportunities to apply scholarly knowledge and research skills to contexts outside academe, supported by the University of Michigan Rackham Graduate School's Program in Public Scholarship (a part of our professional and academic development programming).
One involved working as part of a faculty-graduate student team on a more than yearlong project to research and write an updated National Historic Landmark nomination for Cliveden Historic Site in Philadelphia and the National Park Service. The other involved a summer internship with the learning and interpretation unit at the Detroit Institute of Arts, where I worked with their team to research and write content that would be used for programs and upcoming exhibition.
Those projects had multiple goals. They helped me prepare for more diverse career opportunities, made my time in graduate school more personally and intellectually fulfilling by working with organizations to use scholarship to benefit communities and public audiences, and improved my well-being by getting me out of the isolation of research through collaborative, team-based problem-solving projects. In both, I listened to the organization's needs and applied my own broad research expertise and methods to new topic areas.
In addition to the scholarly research outputs, however, I also gained invaluable experience in working collaboratively with teams, managing projects, balancing the needs of diverse community constituents to create a final product, talking with audiences outside my field and sharing authority over the shape of the final product with others. Such skills and experience are vital to most positions, particularly those outside the tenure track.
The projects were also both public scholarship -- mutually beneficial scholarly and creative work jointly planned and carried out by university and community partners -- and professional development experiences that helped me build skills and knowledge relevant for diverse career paths. For graduate students with similar interests in collaboration and community engagement, the diverse ways of being a public scholar can be a productive place to evolve professionally and gain experience that can assist you wherever your career may take you.
Public scholarship has many points of entry and can be thought of as a continuum of engagement. At one end are more individual public engagement efforts, such as writing a blog post or giving a talk about your research for a public audience or a radio interview that informs current debates or policy. On the other end are longer-term, more highly collaborative, two-way projects in which partners co-create new knowledge together in a reciprocal way. To get a sense of the possibilities, a new website from the National Humanities Alliance shares compelling examples.
Although "public scholarship" and "professional development" exist on their own terms, as our program's faculty director Matthew Countryman has observed, the overlap between the two can be a productive place for graduate students to shape their identities as scholars, as well as to gain knowledge about their professional interests while preparing for diverse career outcomes.
While graduate students are trained to contribute to their fields of knowledge and disciplines, programs often fall short in preparing students to work at the intersection of their scholarly expertise and the needs of diverse audiences and communities outside the university (despite arguments as to why public scholarship matters for graduate education, particularly in the humanities).
Increasingly, colleges and universities are finding ways to help train graduate students for responsible ways to connect with communities, as well as to support their development as emerging scholars and professionals. As part of our professional and academic development programming at the Rackham Graduate School, we're fortunate to have the Program in Public Scholarship. Its four core programs make up a cooperative ecosystem among community partners, graduate students and other units that helps to train graduate students to become effective collaborators, partners and public scholars for a variety of positions while they are still in graduate school. At the university's School of Information, the Office of Professional and Community Engagement also intentionally combines these realms to support the type of work students are interested in and will find upon graduation.
Finding Positive Synergies
Whether or not your school, program or institution has a specific program, office or staff member that supports public scholarship, you can pursue several strategies to engage with communities and audiences outside academe to gain experience practicing your scholarship in public.
Start small. Doing publicly engaged work requires time and commitment not only from you but also from community partners and collaborators. Starting small alleviates the pressure of beginning an entirely new project and can help you test the waters to learn if bringing a public and community-oriented approach to your scholarship works for you. Using your research and analytical skills to volunteer with an organization doing work you're interested in a couple hours a week or writing a blog post about your research for a general audience are lower-stakes ways of getting started and making connections that can lead to larger projects in the future. A Nerd Nite series, if available, can be a great way to gain public speaking experience for general audiences. Getting out of your department and engaging in your community -- through volunteering, advocacy work or serving on the board of an organization you care about, for example -- can lead to larger and longer-term projects while you develop additional skills and determine how public-facing work fits into your graduate training.
Connect with existing resources and partnerships on your campus. Most universities with graduate programs have a community engagement office of some kind, like my university's Ginsberg Center. Whether or not they have programming for graduate students, these units probably have staff members who can help you connect with community-based organizations off the campus. Since community organizations with small staffs can often become overwhelmed with students, seeking out one that has worked with the university before will help facilitate a mutually beneficial relationship, as they will have some familiarity with university-community partnerships. Libraries, museums and archives on the campus can also be a good place to begin. They may have outreach programs with local K-12 school systems, community advisory boards and exhibits and programs that would benefit from additional support.
Know the relevant professional organizations supporting public scholarship in your field. Investigating the websites and resources available from professional organizations involved with public scholarship can help you get a sense of projects, key concepts, colleagues to connect with and ways to get involved. Imagining America is a leader in supporting publicly engaged graduate students, faculty, staff and community partners with more of a focus on the arts and humanities. For those interested in STEM, the American Association for the Advancement of Science has resources and programs that help make science and technology accessible to broader audiences and policy realms. The National Humanities Alliance is a generalist humanities organization involved with advocacy and communicating the impact of the humanities.
Gain an understanding of best principles and key concepts for forming partnerships. Longer-term, more involved public scholarship projects will rarely unfold as you expect them to, but following general best principles and values for ethical university-community partnerships can guide your work. Three that we use to guide the Rackham Program in Public Scholarship are mutual benefit/reciprocity, co-creation/shared authority and public good.
Mutual benefit and reciprocity mean setting up expectations early on for how each party involved in a project will derive something useful. Keeping this concept at the forefront of your work helps prevent one-sided and exploitive partnerships. Co-creation and shared authority refer to the process of equally valuing the knowledge and assets of your community partners. You have knowledge to contribute and so do your partners, which can result in something more significant than either of you can accomplish on your own. When you cannot imagine the project without the involvement and insights of your collaborators, you know it is a genuine partnership. A public good refers to the outcomes that result from the project. Ideally, the result of your partnership creates something that is useful for you as a scholar and professional, something that contributes to your partner organization, and something that will be used by others in the future -- benefiting a larger public served by you and the organization. A public good might be a website, new resource tool, etc.
A new online course that the University of Michigan staff, faculty and students launched in September can also help you gain a better foothold on principles and strategies for collaborative public scholarship projects.
For graduate students seeking broader meaning and impact for their scholarly work and preparation for diverse career opportunities, public scholarship can help students remain engaged with a range of commitments and interests while cultivating skills such as project management, collaboration and communication.
For example, the projects I mentioned earlier led me to and prepared me for my first full-time job at the Michigan Humanities Council for three important reasons. First, they conveyed to an employer I had professional interests beyond my doctoral research. (My work is on 20th century, and this project focused on the 18th.) Relatedly, it demonstrated my ability to use my skills to serve the shared goals, needs and vision of an organization. Third, it illustrated my ability to work as part of a team and complete a project from beginning to end. While we co-created the project and our team had a lot to offer in the process, it was rooted in their needs, not only our academic interests.
Exposure to public scholarship programming, such as an internship, can be valuable professional development experiences for both future faculty members and scholars working beyond academe. There are few professions where you will work exclusively with members of your own field. Public scholarship can provide an outlet for interdisciplinary learning and problem solving, where knowledge is co-created with individuals with different perspectives and sources of information working toward a common goal, a positive impact and the public good. The skills gained while doing collaborative work are readily transferable to different contexts, giving these opportunities flexibility and value for students as their career interests or needs change.
While doing effective public scholarship has distinct challenges, I offer these examples to encourage graduate students interested in public and community engagement to expand the ways they might think about their scholarship and professional development during their time in school. There are many complementary ways to build experience, benefit communities and advance your scholarship. Finding these productive synergies could be your way toward a more engaging graduate experience -- as well as a fulfilling career that applies your knowledge, uses your skills and demonstrates the relevance of higher education to civic life.
More from Seeking a Faculty Job