You have /5 articles left.
Sign up for a free account or log in.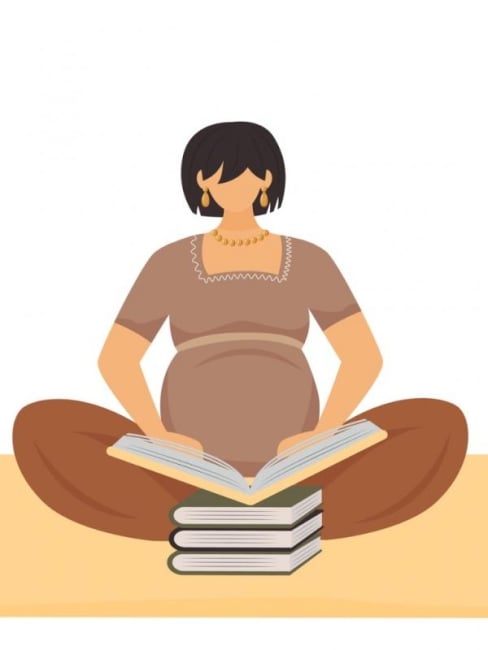 Istockphoto.com/Natalia Nesterenko
"Not now, Mai, finish your dissertation first." That was one of the things that my adviser, or "academic mother," found herself repeating to me throughout my Ph.D. program.
What was I supposed to postpone? Having a baby.
Ever since I was 19, I had always wanted a baby. But I knew I was not ready for the challenge, so I did the rational thing: I decided to enter graduate school to earn my terminal degree and settle into a career first. Once I became a Ph.D. student, however, I kept hearing from other women that "now is not a good time" and "there is never a good time." Wait, did I make the wrong decision?
I started panicking. I began attending all of the workshops at my university and professional conferences on work-life balance and navigating an academic career as a mother, hoping that some light of wisdom would shine onto my dark and already chaotic world.
Sadly, the messages I heard were not at all optimistic. I met a highly accomplished full professor in my field who moved her career to Australia to be able to be the primary caregiver to her son. She woke up and started writing at 5 a.m. when her son was still asleep, then wrote some more late at night after he went to bed. I met a newly tenured associate professor who had a baby right before her comprehensive exam, a job market baby and a pretenure baby. She worked extra hard in her pregnancies because she felt like she was also representing other women and had to prove that women could be productive even while pregnant. I met a rising star who advised attendees to outsource everything -- from hiring a nanny and a housekeeper to having your groceries delivered to your door. Another mother I met at my university flat out admitted, "I don't have a life."
Don't get me wrong. I deeply admire those women. They are accomplished enough to be invited to these kinds of panels and workshops and courageous enough to be outspoken on a topic that is still taboo in some places. They are also caring enough to say their truths -- even though some of those truths stabbed me and brought me to tears, thinking, "But I can't do what you did. I need my sleep. I want a life. I don't have the money to outsource, plus I actually enjoy grocery shopping and cooking for my family!"
To my grad school adviser's credit, I completely agreed with her. My husband and I were not ready to have a baby when I was still a doctoral student. Fast-forward a few years: I don't think we were quite ready then, either, but we were as ready (and uncertain) as we would ever be -- and my son was born. He is lovely and absolutely adorable. He brings us a lot of joy and, of course, tremendous struggle. Although I have been fortunate to receive a lot of support from my university, faculty unit and colleagues, becoming a first-time mother while on the tenure track has still been as difficult as other women have described it. It has been even more grueling to have to deal with a high-risk revise-and-resubmit with a strict deadline when I haven't slept for three days.
But I am not here to tell you another story about how difficult having a baby as an untenured female professor is. I am here to say that having a baby actually has been an enhancement to my career and made me a better scholar.
If you didn't see that twist coming, know that even I was surprised. I knew that I was committed to having a child and raising him to realize his full potential. Conceptually, I knew that it would be hard but I'd scramble to make it work. Now, about a year out, when I have had a moment to breathe and look back -- oh, where did the year go? -- I have realized that I am actually better off than before.
I disciplined myself. Many feminists have recently claimed that the fallacy of "having it all" is doing women more harm than good, and the truth is that no one really has it all. In the first few months as a mother, I felt guilty as a scholar because I was not at all productive. After I got back to work, I felt guilty for leaving my baby to cry in some stranger's arms. Then I realized that feeling bad about myself really didn't do me any good. I decided that I would have none of it. Instead of making myself miserable, I'd spend that time grinding on my manuscript so that when my son came home from day care, I could laugh and play with him wholeheartedly and guilt-free.
I happened to agree with the advice that the person who needed some discipline was me and not my baby. I started to practice Stephen Covey's "big rocks first" principle and manage my energy, not my time. I complete my two hours of writing first thing in the morning and save emails and other simple tasks for times when I don't have to (or can't) sit at a desk.
I stopped being a perfectionist. You know that feeling: when every word you write must be perfect, every sentence must be cleverly crafted and every paragraph must flow eloquently into the next. It's when the articles you read have to be in color-coded folders and your research projects are chunked out and paced neatly on Trello. But the fact is that when I did that pre-baby, I often had a writer's block and spent more time organizing my tasks than doing them.
As any mother will attest, when you have a demanding baby, it is guaranteed that you can't be a perfectionist. You will surely forget something, or something will not go according to plans. When I learned to surrender control, I actually got more done.
I became more resilient. I learned to toughen up in the face of criticism. I mean, just look at my baby: he's been told more noes in his first year of life than I have been told during my entire adulthood. ("No, don't open the trash can." "No, don't put the sandal in your mouth." "No, don't pull the electrical plug.") And there he is, still as happy as a clam, going on more adventures and exploring his surroundings.
So what are a few manuscript rejections going to do to me? Perhaps they are hiding something worthy of discovery behind that "safety lock," perhaps I am pushing some boundaries, or perhaps the editors and reviewers are just trying to guide me safely through the landmines in the field. Whatever it might be, it's exciting and actually makes me want to resubmit sooner than later.
I am more optimistic about the future. What doesn't kill you makes you stronger, right? Before my son was born, I'd laugh if anyone had told me I could become this disciplined, productive and resilient with a baby. Now that I have learned from experience that such a miracle could happen, I've become more hopeful about other challenges down the road. One day I will be tenured. One day I will publish in that prestigious A-plus journal that keeps rejecting my work. One day I will win a grant to carry out my ambitious project. This optimism really helps on the days when things are hard and the world just seems to fall apart. And it certainly makes the rest of my probationary period more enjoyable instead of stressful.
I'm in my 30s, an untenured assistant professor at an R-1 university, mother to a high-need baby and I've learned to lean in to my career in the best way possible. Thank you, little dumpling!