You have /5 articles left.
Sign up for a free account or log in.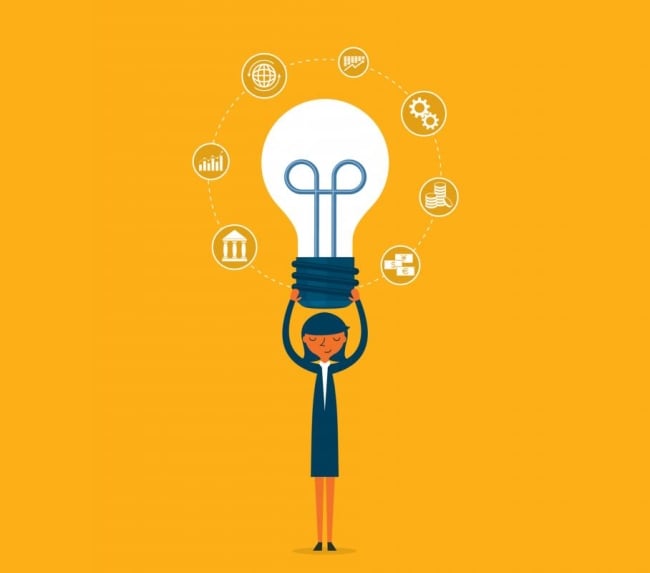 Sorbetto/digitalvision vectors/getty images
Most doctoral students don't think they have much in common with entrepreneurs. That's a shame. Getting a Ph.D. is a lot more rewarding if you stop trying to be a good student and start acting like you are running your own business. Of course, your business venture is not centered around profit-generating products. Instead, think of yourself as an entrepreneur of ideas.
I have met a lot of unhappy doctoral students. They feel lonely, uninspired to write and directionless. They find the Ph.D. endeavor utterly debilitating -- they want structure, rules, deadlines. After all, isn't that how they ended up in doctoral programs in the first place? Most people who pursue doctorates were likely always good at academics. They were excellent at consuming information and doing what teachers asked of them.
I never thrived on having to consume information, nor did I thrive on school rules and structures. That probably explains why I was never a top student in high school and college. Getting a Ph.D. was one of the last things anyone ever imagined me doing. Why would someone who hated sitting in class and reading want put themselves through six more years of school?
I certainly didn't. When I graduated college with a bachelor's in business administration, I had a strong entrepreneurial spirit and worked at several start-ups and consulting firms. But after about a decade, I realized it wasn't a great fit. On a bit of a whim, I applied to a Ph.D. program at Stanford University. Lucky for me, my adviser didn't pay much attention to college GPAs or GRE scores and gave more credence to other parts of my application. I didn't think I would be very successful at the Ph.D. and told myself I'd finish as quickly as I could and find another industry job.
But I was wrong. It turns out that I loved graduate school -- I just needed to shift my mind-set about the purpose of a doctorate education. Getting a Ph.D. is fundamentally different than K-12 or undergraduate education. As a Ph.D. student, you are no longer a passive recipient of knowledge. No one judges you on your ability to consume and regurgitate information. No one cares about the grades on your transcript. Instead, they judge you on your ability to produce knowledge. Producing knowledge requires a completely different skill set -- one that I would describe as entrepreneurial. As a scholar, you are essentially asking policy makers, practitioners and laypeople to buy your product: your ideas. Producing knowledge, at least for me, is a lot more motivating than consuming it.
Now that I am starting as a professor at Tulane University and have a forthcoming book, lots of people ask me for advice about how to navigate their Ph.D. Here is what I tell them.
Think of yourself as an entrepreneur. Your start-up is a business for ideas. And you get to give them away for free. You have the power to influence how people think.
Conduct some market analysis to understand what topics or questions will have reach beyond your small academic niche. When you come up with a research question, ask yourself if there might be demand for your idea or if you can create it. Entrepreneurs are successful when their products tap into some unmet need. I was able to secure a book contract soon after I defended my dissertation because I tackled two topics that many Americans care about but that no one had written a book about: academic success and religion.
Diversify the risk-reward portfolio of your research. Pursue some research projects that will likely work out but may not end up in top journals (low risk, low reward) alongside some projects that may not work out -- but if they do, they will be of great interest to the field and hopefully to nonacademics (high risk, high reward).
Identify which steps of the research process give you energy. Then find people who have complementary skill sets to collaborate with. If you are a person who could spent countless hours data wrangling but find the process of writing to be draining or overwhelming, find a collaborator who finds writing to be energizing. Your productivity will increase, and you will enjoy research more because you're spending your time doing work that you find effortless.
Find creative ways to bring on "employees" with diverse perspectives. I have hired over 25 undergrads through federal work-study or by offering course credit. I have also hired several graduate students through grants and offered internships to high school students and community college students. Not only was I more efficient by outsourcing some of the research tasks, but the quality of my work improved because my research assistants often had distinct and helpful insights.
Be prepared to take risks to make your venture succeed. Some of my professors were skeptical about my decision to write a dissertation about religion and academic success. After all, academics at elite liberal institutions do not generally take the academic study of religion very seriously. If you find yourself interested in a topic that seems unpopular, it doesn't mean it's a bad idea. But be prepared to advocate for yourself and not comply with the status quo.
Remember that you are your own boss. No one will tell you what to do, so stop blaming your advisers and be proactive. Embrace the autonomy and agency that the academy affords! It is a unique gift.
Practice selling your ideas by explaining them to nonacademics and potential funders. Be prepared to be turned down. A lot. Entrepreneurs must have thick skin, and so should you. (The early iterations of the iPhone were complete failures, but the engineers didn't give up.)
Study something you care about. Do so even if that means having to find different mentors. If you feel unmotivated to write, you are unlikely to become prolific via a technical solution, like waking up early or using a pomodoro timer. Motivation to write comes from feeling like you have something important to say.
And ultimately, always remember: this isn't the time to be a good student. This is the time to be an entrepreneur.