You have /5 articles left.
Sign up for a free account or log in.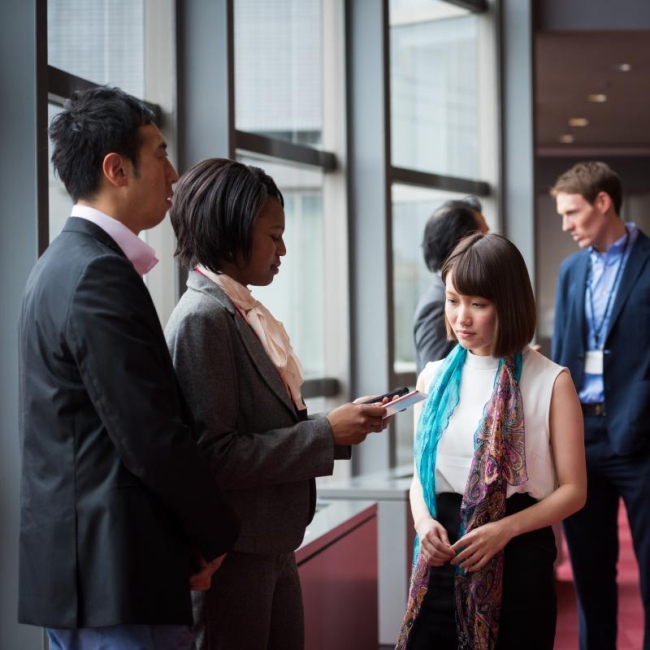 stockstudioX/E+/Getty images
Business travel is picking up again, as more employers and professional organizations return to in-person meetings.
Face-to-face interaction with colleagues can be cathartic after two years of Zoom fatigue. But it also means the return of that curious but little-discussed phenomenon known as Conferencing While Black.
Here's how that worked out for me in 2019.
I was at a large national conference with hundreds of other academics. Not surprisingly, very few Black people were in attendance. On those rare occasions when I saw someone Black, it felt comforting. In such interactions, you have an instant connection. Small talk occurs, and you quickly realize there legitimately are six degrees of separation. During that interaction, you feel hopeful.
Then something happens to remind you that you are Conferencing While Black.
I attended a morning session, eager to learn from the panelists. But when I sat down near another participant, a white woman, I was reminded of my race. She looked over at me, snatched her purse off the empty seat between us and stuffed it under her own seat.
I mean, I suppose I fit the profile of a thief: Black, 40-something, educated, sitting in the front row of an academic conference at 8:30 a.m. with a notebook in my hand.
Experiencing a microaggression within 30 seconds of my arrival distracted me during the entire session. I had been profiled. And I was reminded of how often I had been profiled in other situations: at the supermarket, at the mall, on flights.
By 8:35 a.m., I was exhausted. It was not physical exhaustion. I had slept well the previous night. I was suffering from the mental fatigue that many Black people experience at conferences.
The rest of the day passed by uneventfully until I met up with a friend whom I've known for years, a white man who's worked on many projects with me. While we were catching up, another conference participant, a white woman, interrupted our conversation and began speaking to my friend. She never acknowledged that I was standing there.
Imagine that. In just four hours, I went from thief to invisible. Now that's the real power of Black girl magic!
Finally, the woman turned her body ever so slightly and gave me a curt "Hello." That must have really worn her out. She never asked for my name, organization or anything else. Thankfully, she left right afterward.
After a pleasant dinner with my friend, it was time to attend the evening networking sessions. I returned to my hotel room and changed clothes. I figured, if I must wear my armor and shield (figuratively, of course), I should put on my favorite color: power red.
Begrudgingly, I got on the elevator, checked the address of the happy hour and walked as slowly as possible to the networking event. When I arrived at the door, it was as if a director yelled, "Lights, camera, action!" I put on my smile and stepped inside.
I should preface this by saying that I am naturally introverted, which most people do not believe. But fellow introverts know how much work it is to go out and socialize with others. It takes quadruple the effort when you're socializing while Black.
The happy hour was fine. I talked to a few people I knew. Then I returned to my room. Only the night would not end without one last microaggression on the hotel elevator.
You need to insert your room key to press the button for your floor. Digging through my bag, I couldn't find the key. I asked the other guest on the elevator, a white man, if he could push the button for my floor.
We were wearing identical badges, so it should have been obvious that we were guests at the same conference. But instead of pushing the button, he asked, "Are you a guest at this hotel?" I said yes. "Well," he responded, "I guess you need to go back to the front desk."
This time I must have fit the profile of a hotel burglar: Black, 40-something, educated, wearing a red dress and a conference badge.
Just then, I found my room key and decisively pressed the button. When the elevator stopped at the other guest's floor, I stared at him and waited for an apology. He left without a word.
Research shows that attending professional conferences is the most preferred networking activity for people of color, and Black professionals make it look easy. We smile. We socialize. We deliver presentations. But in truth, we are exhausted. While our goal is to learn and invest in relationship capital, we often deal with painful barriers. And some are more obvious than others.
We've heard a lot of talk over the last two years about how Black people need allies at work. That's absolutely true. But we also need allies at work functions that take place outside the usual 9-to-5.