You have /5 articles left.
Sign up for a free account or log in.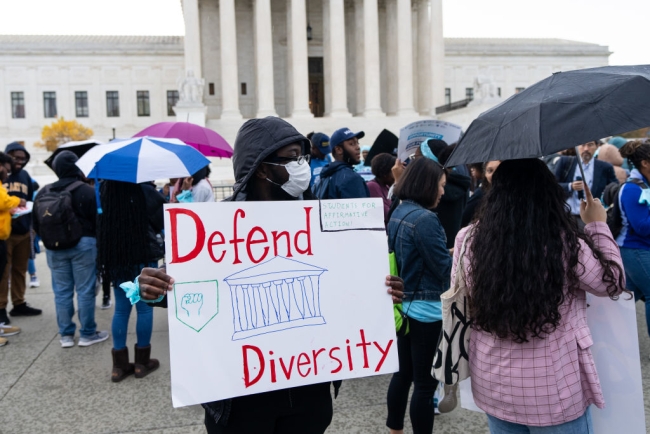 The National Association of Diversity Officers in Higher Education made its views known early about the justness of overturning years of precedent on race-conscious admissions policies. Guided by a passion that called us to this work, we disagree wholeheartedly with the notion of removing a key tool to ensure campus diversity.
Nevertheless, chief diversity officers, or CDOs, across the country must also be clear-eyed and pragmatic. In a final opinion expected as soon as this spring, the U.S. Supreme Court appears poised to overturn precedent, ending race-conscious admissions practices in higher education and dawning a fully "race-neutral" admissions era. As we await the ruling, it is imperative for diversity, equity and inclusion offices to use resources to help prepare their institutions.
The high court's decision is expected to be momentous, rippling well beyond undergraduate admissions offices. In a pair of webinars that our association hosted last fall, Art Coleman, managing partner and co-founder of EducationCounsel LLC, predicted that graduate and professional institutions, not just undergraduate schools, should prepare and watch carefully; the decision will likely affect all of higher education. It strikes at institutional autonomy and the decisions that institutions may make for themselves in accordance with how they wish to carry out their educational missions. Deeper than that, today's race-conscious practices are an important signal of belonging. How can students feel they matter, and their perspectives matter, if they are told the ways race has shaped their lives carries no meaning in the admissions process—an already emotionally fraught process for many students?
This moment is both a challenge and an opportunity for chief diversity officers who may find collegial cooperation hard to come by on campus. CDOs serve as the principal administrators to advance mission-driven efforts through specialized knowledge and expertise. If you are a CDO, now is not the time to settle for being overlooked or sidelined as work is being done in anticipation of the Supreme Court's decision. The potential end of carefully constructed race-conscious admissions is such a sweeping issue that it requires an overarching scrutiny in which CDOs should play a galvanizing, leading role. With CDOs and diversity, equity and inclusion offices helping to steer the way, and before the court issues its opinion, help your institution form a high-level working group or task force with a broad mandate to form subcommittees responsible for examining the potential court ruling's impact in various discrete areas of the institution, including outreach, recruitment, admissions (undergraduate and graduate), financial aid and scholarships.
You and the task force should, first, identify efforts within the institution that may be impacted. If race-conscious criteria are prohibited, Coleman advised, be ready to read the decision carefully in consultation with legal counsel. Every word will matter as you and your institution's lawyers ensure compliance.
Next, work on written communications from the college president, provost or dean to your institution's faculty, staff, students and alumni that are tailored to a range of potential outcomes. Help lead the hard conversations with admissions and enrollment officials about any race-neutral practices that could replace race-conscious policies to ensure that your campus's hard-won diversity efforts do not simply subside. Be prepared to reaffirm the institution's commitment to diversity and inclusion with new, real action. As Coleman asked, "Are you prepared to announce a $2 million investment in new targeted recruitment and outreach that can balance whatever adverse impact the court might have?"
As represented in the 60 amicus briefs sent to the court in support of race-conscious admissions, a diverse student body benefits us all by preparing students to join an increasingly global workforce and by fostering innovation, critical thinking and problem-solving despite our differences. We must reiterate that message to our students, faculty, staff and alumni, broadening our stakeholder outreach beyond the administration. We should also leverage researchers on our campuses and elsewhere to continue marshaling evidence in defense of diversity's value as we grapple with a potential historic setback.
Finally, make no mistake: we are in an existential fight for our students and the mission and values of higher education that include a diverse student body and the success of all students. Prepare yourself for the challenges ahead. Chances are you chose this work because you wanted to help students overcome obstacles and lead higher education toward inclusive excellence—the sort of work that our association's annual awards recognize. The legal opinion of a conservative Supreme Court majority should not silence the voices of diversity advocates across the country. Rather, it should awaken them.