You have /5 articles left.
Sign up for a free account or log in.
Each morning I open the emails that share news of the industry and ask, "are you kidding me?" And then I read the online headlines and higher education specific articles for national media outlets and sigh heavily. I am forever surprised that similar situations and scenarios trip up institution after institution. We need to learn from -- and respond to -- the experiences of our peers and do better.
It's impractical to plan for every crisis, but it's irresponsible to stumble unprepared into the same issues that other institutions deal with over and over -- especially when there are so many resources at our disposal to avoid such a fate. And no institution exists in a vacuum, which means you need to be prepared should reporters or members of your campus community try to connect you to the issues facing your peers or other institutions in your media market.
Here are some places to start your planning:
Read what's being reported on nationally and talked about among reporters. For example, each spring Scott Jaschik presents his top 10 list of higher education stories reporters should be covering to the membership of the Education Writers Association. I've included the past two year's worth of lists at the end of this entry. It is worth noting that his 2014 list was spot-on in predicting the top stories of the past and current year, which means it is worth your while to look at this year's list, too. Meet with your colleagues and ask if you have similar vulnerabilities and then work, together, to strengthen related policies campus processes and draft a communications plan that covers you should an issue arise. Remember that you can't do your job effectively if weaknesses are ignored, so push your colleagues to address institutional vulnerabilities.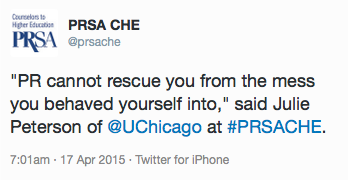 Note that Scott's lists can also be used for more than crisis planning gut. Proactively think through thought leadership content for the members of your campus leadership team based on these current stories. But, as always, make sure you are providing a new or unique twist to the telling of the topic.
Read member surveys performed by the national associations for your fellow cabinet members. Often, these surveys include where members know they are strongest and where they view their biggest industry weaknesses. For example, NASPA's version holds some great nuggets on how you can partner with your student affairs officer and team to prepare for those situations that crop up in their area, including those that are likely to garner media attention and scrutiny. Similarly, just last week URMIA released a report of a member survey that asked about perceptions of risk associated with fraternities and sororities. In my mind, the survey results were a call for a meeting among communications, student affairs, risk management and some additional offices on campus to see how well offices are working together and relationships are being maintained.
Meet with faculty, staff and students and build relationships with those on campus who can serve as a sounding board for communications approaches in the coming year. There is no greater kiss of death for a communications plan than to have the campus reject the words, tone or approach. The most successful communications offices on campus are those who are seen as collegial partners, not roadblocks.
Review coverage of how other institutions have dealt with similar situations and take notes now how it was received. We can learn from the successes and mistakes of others so that we can address situations in truthful, forthcoming manners. See how other institutions use their leaders to share news truthfully; research how others have used websites, background documents and other communications vehicles to provide facts, clarity and honesty; and think through how your people and information can best help share information.
Memorial Day Weekend and summer are just around the corner, which means we have a potential window of time to develop or update our strategies and goals for the upcoming academic year. Don't allow the day-to-day demands of your job overtake the time intended for planning. Do yourself a favor and prepare for the stories to watch and the realities of your campus so that you prevent your institution from having a copycat crisis.
2015 Stories to Watch (from Scott Jaschik's 2015 EWA presentation): 
State abandonment of community colleges
Colleges in financial trouble
Affirmative action makes colleges creative
Who runs universities with big sports programs?
U.S. Presidential campaign
Campus (gun) carry
Anti-Semitism
Freedom of speech for vile statements
Women and STEM
Who succeeds in online education?
2014 Stories to Watch (from Scott Jaschik's 2014 EWA presentation):
1. College incompetence handling sexual assaults
2. Links between college sexual assaults and other issues
3. Sexual assaults and student athletes
4. Anonymous vigilantism in response to sexual assaults
5. Race relations on campus
6. Private colleges are on the brink
7. Unions for college athletes
8. Political correctness
9. Free community college
10. Competency-based learning