Title
Building a Strong Higher Ed Marketing Team
Deb Maue provides six principles for building a strong team culture.
I have a great team at Columbia College Chicago. It's a great team mostly for reasons that have nothing to do with me, primarily because it's made up of smart, talented, fun people who are committed to doing great work.
That said, building a strong culture requires a commitment. It requires intentionality. And it requires support from a leader, which is where I can contribute. Here are a few of the principles and practices we've developed to create and maintain a strong team culture:
We have a rigorous hiring process.
Having a great team starts with hiring great people, and consistently hiring good people requires a rigorous, objective evaluation process that's focused on experience and competencies, and removes as much bias as possible. To keep ourselves honest, we follow a system we found in the book "Who?", by Geoff Smart and Randy Street. It helps us translate the theoretical job description into a practical description of the actual person we need in the role, and it provides specific experience-based questions for both interviewing and reference-checking. It's made our hiring more efficient and more effective.
We recognize excellence.
A year ago, we instituted the "boot award," using a gold-spray-painted and bedazzled platform go-go boot to recognize great work. Every two weeks, we hold a 15-minute all-team meeting and award the boot to a team member nominated by a member of the leadership team. We've recognized team members who created an outstanding issue of our alumni magazine, a team member who smoothed out a difficult client relationship, and a team member who created our 30-second recruiting ad, among many others.
One of the first recipients of the award started the tradition of adding a memento to the boot before it gets awarded to the next person. (When the boot gets full, we'll have to figure out where to store the mementos to create room for new ones. This will be a good problem to have.)
Here's a picture of it, in all its bedazzled brilliance: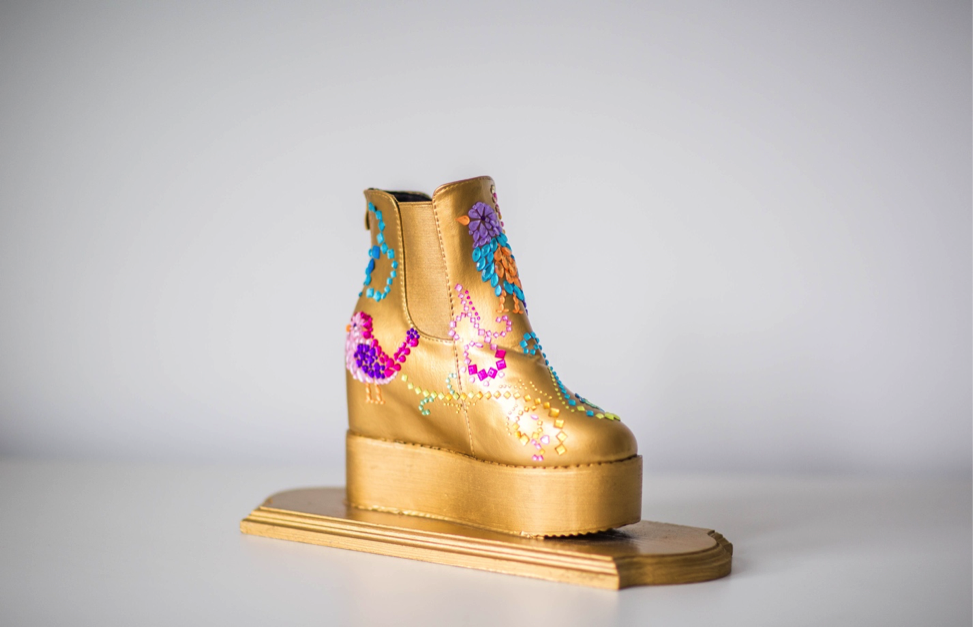 We set aside time for team-building.
When everyone is busy fighting fires (which is all the time, right?) it's difficult to make team building a priority, but for our team, it's critical. Because our team sits on two floors, we don't necessarily see each other every day. In addition to the "boot award" meetings mentioned above, we have quarterly all-team meetings. In addition to sharing updates about key projects, we often invite leadership from other departments, such as Advising, Development, and Academic Affairs, to talk about their work. We meet from 3:00-4:30 p.m., and then have social time.
We have difficult conversations.
Conflict isn't fun. Giving people honest feedback isn't fun. But in an environment where lines of responsibility are squishy and collaboration is crucial, it's important to have face-to-face discussions. We've recently started having "post-mortem" meetings after major projects are completed to talk about what went well, what didn't go well, and what we can do better in the future.
We find opportunities for professional development.
We don't have a lot of money in the budget to send people to conferences, so we're always on the lookout for webinars and speakers. Starting next month, we're having monthly "tell us what you do" brown bag lunches so that our team members across functions can more fully understand what their colleagues do.
We respect each other.
With long to-do lists (and not enough resources to do everything on the lists) and competing priorities, it's easy to get into an "us vs. them" mindset with clients and with each other. It's easy to become cynical. To prevent this, we start with empathy. We assume that everyone is doing their best, and we try hard to understand not only what people want, but why they want it. It creates a healthy, service-oriented culture.
Our team isn't perfect. It's made up of imperfect humans, after all. But using these principles, we've built a healthy, positive team culture that inspires us to do great work and have fun, to boot (pun intentional.)
Deborah Maue is the Vice President of Strategic Marketing and Communications at Columbia College Chicago, and is a leading voice in higher education marketing.
You may also be interested in...
Today's News from Inside Higher Ed
Inside Higher Ed's Quick Takes