You have /5 articles left.
Sign up for a free account or log in.
Online conversations equal reality for many people
In a world where, for most people, reality is what they see on their computers and mobile devices, it is imperative for campuses to understand the online conversation about their brand. While campuses and companies continue to invest money in branding and PR campaigns, the general population is becoming more and more distrustful of them.
The 2016 Edelman Trust Barometer study found that 63 percent of the general population rated "a person like yourself" as a credible spokesperson, compared to 35 percent who rated a government official as credible. Thankfully, 64 percent of the general public also rates an academic expert as credible. Regardless of who you've elevated as a spokesperson for your campus, the general public is viewing their friends, family, and even strangers with the same credibility as your faculty and administrators. Don't you want to know what those "credible spokespeople" are saying? Social listening can help.
What is social listening, exactly?
Social listening is the process of searching all public online sources (including social media) for mentions and conversations of interest to you. Campuses, as well as many businesses, use sophisticated software to identify exactly what types of conversations they want to see—including mentions of the campus, key administrators, comments from prospective students, and opinions from alumni. Results can be used individually to pro-actively reach out to a constituent or in the aggregate to understand the volume, sentiment, and source of online conversations over time or in comparison to peer institutions.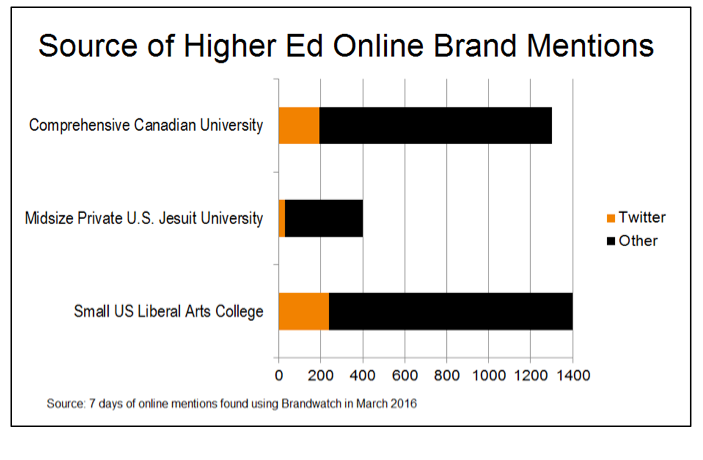 You'll be surprised by what you find
If you think you're conducting social listening because you run a Twitter search for your campus name, you're just hitting the tip of the iceberg. When I use social listening software to search for mentions of campuses (public, private, large, or small), I've found that as little as 20 percent of the results are from Twitter. The rest? They're on reddit, blogs, and discussion forums. If you're interested in understanding your institution's brand, you should strive to get all of the data informing that brand online.
It's not all pretty, and that's okay
When I introduce this topic for the first time, it's often met with some hesitation because not everything people say about your campus online is exactly…polite. Why on earth would you want to collect a roster of complaints from the general public? As it turns out, identifying complaints and responding to them can be extremely beneficial for your brand.
A 2015 study conducted by Edison Research, detailed in Jay Baer's excellent book Hug Your Haters, found that advocacy (as measured by Net Promoter Score) was boosted 20 to 25 percent when brands responded to complaints on social media or review sites. Individuals that complained in these places and did not receive a response reported an astounding 38 to 43 percent decline in advocacy—even though about half of them never expected a response in the first place.
At Pepperdine University, social media manager Noelle Seybert uses social listening daily. Last fall, a student complained online about a closed parking lot (due to a special event). The student did not tag any campus social media accounts, but Seybert received an instant alert when she posted. Within minutes, Pepperdine responded to the student, apologized, and offered a solution—the Pepp app, which allows students to track the location of shuttles across campus that serve various parking lots. Other students joined the conversation, and the Pepp app had a slight increase in downloads that day. The student thanked Pepperdine and deleted the original complaint.
Pepperdine is one of the first campuses to embrace social listening as part of their marketing and communications strategy. They're not just monitoring Facebook pages and Twitter accounts. Instead, they're constantly querying tens of millions of online sources to identify conversations related to the university. New York University, the University of Nebraska-Lincoln, the University of Illinois, and the Terry College of Business at the University of Georgia are among the early adopters of this tactic in higher education.
How to get started
To engage in anything beyond the most rudimentary social listening, software is required. There are well over a dozen competitors in this space, including Brandwatch, Crimson Hexagon, Synthesio, Nuvi, Sysomos, and others. I've written previously about why campuses should invest in this software, and provided some guidance on how to choose software. Your choice will be driven by institution size, budget, and the expertise you have or can grow within your team to build queries, analyze, and act on mentions.
What questions on social listening are being discussed on your campus? Please, share in the comments.
Liz Gross is the social media and market research strategist at the loan servicing affiliate of Great Lakes Higher Education Corporation. Find her on Twitter: @LizGross144