Oronte Churm is the pen name of John Griswold, who teaches in the MFA program at McNeese State University, proudly nestled in Cajun country on the Louisiana Gulf.
Title
Mardi Gras in Louisiana
When the horsemen come bearing chickens and Bud Light.
"To a perfect foot no place is slippery," writes Emerson in his journal in 1862.
That sounds like hope, admonition, and directive all at once—especially for writers—and I'd like to believe it's true. To find oneself in a strange new situation and to continue to see things with interest and equanimity is the task.
My family has been to several Mardi Gras events in the three years since we moved to Louisiana. Lake Charles alone has a Twelfth Night, a Royal Gala, a Queens' Pageant, Community Dance, Fun Run, Gumbo Cook-off, Zydeco Dance, Lighted Boat Parade, Merchants' Parade, Kids' Parade, and the Krewe of Krewes' Parade, which follows four miles of roads through town and has more than 60 Krewes, second only to New Orleans, they say.
Parades in town are fun and family-friendly. Unless it's raining, attendance is so high it's often hard to find a place to stand right on the street. There're floats, lights, music, beads and candy. Families and friends have parties before and after.
This year we wanted to see what people described to us as the "old Mardi Gras," so we drove an hour northeast to the rural town of Mamou, in Evangeline Parish. We were told costumed horsemen would ride through town with their captured chickens after the Courir de Mardi Gras, which is based on ancient begging rituals.
I won't pretend to be knowledgeable about the complex cultural events in southern Louisiana. If you're interested, this article at the Louisiana Folklife Program site, as well as other pieces by Louisiana writers and scholars linked in the sidebar, offer good explanations.
I do know we stood around Mamou for an entire afternoon, waiting, because we didn't understand what was happening. Mamou is a small town with a two-block main street, and it bills itself as the Cajun music capital of the world. A few people stood around in the cold and the winter sun, talking and drinking canned beer, listening to a Cajun band play from a trailer down by the bank. Half a dozen kids ran around in the street, hopping over horseshit for sport, and a solitary portable barbecue poured smoke. There wasn't actually much to eat—styrofoam bowls of gumbo, a few Boston Butt sandwiches that kept running out, some snacks in the bars. But people were from there and had no doubt eaten at home. Or, as one man said, "You don't want to ruin your 40-dollar drunk with a five-dollar sandwich."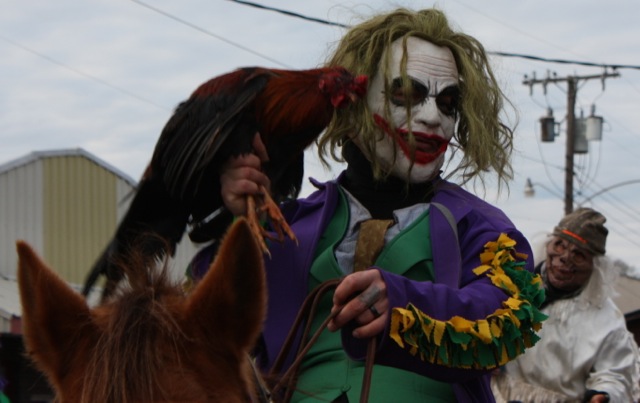 By 5 pm the only reason I'd managed to keep us there at all was that the members of my family didn't mutiny all at once. Then, suddenly, the crowd swelled, the drunken Mardi Gras entered town, and even my tired little Wolfie, standing amid the frightening costumes and shifting tired horses, said it had been "totally worth it."
My elder son, Starbuck, is 12 now and interested in the arts. He took photos at the two Mardi Gras parades, town and country, a few of which I've edited into this brief slideshow. The ones from Mamou, especially, give a good impression of the slippery ground underfoot.
You may also be interested in...
Today's News from Inside Higher Ed
Inside Higher Ed's Quick Takes