A Blog from GradHacker and MATRIX: The Center for Humane Arts, Letters and Social Sciences Online
Title
Choosing a Dissertation Lab
Important issues to keep in mind when choosing a dissertation lab for STEM research.
Lesley McCollum is a PhD student in neuroscience at the University of Alabama at Birmingham. Follow her on Twitter @lesleyamccollum.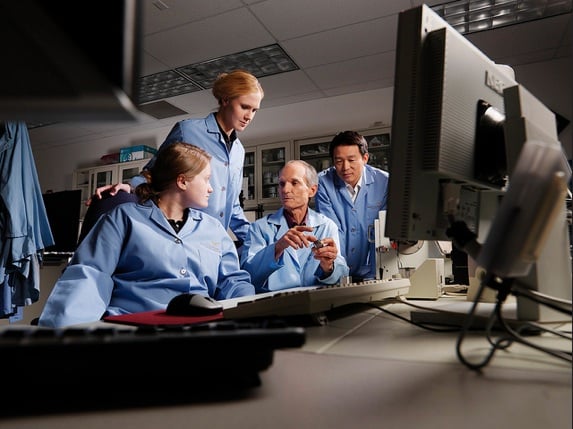 We are well into the fall semester now, and many first-year students in STEM fields are partway through their first laboratory rotations. So this is a great time to revisit two must-read posts from the GradHacker archives on choosing a lab rotation and picking a good mentor, both written by Katie Shives. I have reemphasized her points here, as well as included some from my own experiences, but both of the original articles are excellent reads. Choosing a lab for your dissertation research is a big decision and will affect the rest of your graduate school experience. Here are a few things to keep in mind as you make that decision.
Research Topic
Of course, this is the first thing that you think of when considering a lab. It's what drove you to pursue an advanced degree in your field, and likely part of the reason why you chose the university where you are now. You may already have an idea of a specific disease that you want to study, or you might be having a hard time narrowing down your interests because everything sounds exciting. Either way, keep your mind and options open. Especially if you don't have much research experience from college, or if you are transitioning into a new field for graduate school, like I did, there are a lot of exciting research avenues that you may not even realize exist yet. Take advantage of your multiple rotations to try out different research focuses and different techniques. You may be surprised that you end up enjoying something that you didn't expect.
Mentor Compatibility
While this aspect of choosing a lab isn't as immediately obvious as the research topic is to new students, I would argue that it is just as important. You'll be working closely with this person for the foreseeable future—it's vital to your sanity that you find someone you would work well with. As Katie advised, think about how you work best. Are you most productive and motivated with someone whipping at your heels and setting deadlines to push you along? Or does a more hands-off approach, requiring you track your own progress, sound like your style? Some mentors have an open-door policy, while others schedule weekly or monthly meetings with their students to catch up on recent progress. Similar to Katie's experience, I have also found that younger investigators tend to be much more hands-on, spending more time doing their own experiments in the lab. This also often comes with a contagious excitement that they have as they are early on in their careers. Senior professors tend to have a more well-established reputation in the field, but they also generally have a number of other roles in the department and thus spend less time in the lab. Everyone is different, of course, and there are always exceptions. Talking to other graduate students in the lab is a great way to get a feel for the mentor-mentee relationship. Find out if they are supportive of students interested in non-academic career options (if this applies to you), or how they handle publishing papers. Just remember, choosing a lab means not only deciding on your research focus, but also deciding who controls your fate for the next several years … Make sure it's someone you could at least get along with. But better yet, find a mentor who will really support you and your professional development.
Lab Dynamics
The dynamics of the lab you choose will have a significant impact on your graduate experience as well. For example, my lab is pretty small in size, with just one other grad student, a postdoc, and a research assistant. My experience has been vastly different than those of students in larger labs on campus with teams of postdocs, several graduate students, and a handful of research assistants. Each has its own pros and cons. A large lab means lots of collaboration opportunities and likely more resources at your fingertips. A smaller lab, however, means getting to take on more leadership roles, and often more communication directly with the PI, rather than being "assigned" to a postdoc. These factors aren't going to make-or-break your graduate school experience, but being aware of them as you do your rotations can give you an idea of what you might be in for if you join the lab. Regardless of the size of the lab, your team will be spending a lot of time together. While people come and go, and the group of graduate students and postdocs currently in the lab will likely change each year, it's important to be able to establish good relationships with your labmates.
Funding
The bane of all academic researchers' existence! You will need to find a lab that currently has funding to support a new grad student, and with a good funding record to continue that support while you complete your research. This point can be a bit more difficult, since you really have to find out from the PIs themselves. It's an important one though, and worth emphasizing from Katie's article. It can be uncomfortable asking about funding when you first meet with a PI. Ideally, the faculty member will be up front about this when you ask to do a rotation, but that isn't always the case. If not, try bringing up the topic without directly asking what their money situation is. For example, ask if they would be looking to add another graduate student to the lab after your rotation. Or try talking with your program director to find out if they know of faculty with openings in their labs. If all else fails, you can also find individuals grants funded by the NIH online, though hopefully this level of sleuthing won't be necessary.
I have seen many students join graduate programs with the intent to work with a specific faculty member, but end up in a different lab for any of the reasons discussed above. The bottom line: there is a lot of exciting science happening, and it is likely you will find multiple projects you could really get behind. Make sure to consider in full the environment that you will work best in.
On a related note, make the most of your rotations. Even if you have found the perfect lab right off the bat, take advantage of the opportunity to spend a few months working with another faculty member. You will have plenty of time to become an expert on your research. Use this time during your first year to learn new techniques, meet new people, or even establish a unique collaboration between labs with co-mentors for your dissertation.
To more senior graduate students: what was most important to you when choosing a lab—a specific research project, the work environment, a celebrity-status PI? What advice would you have for your first-year self if you could go back in time?
[Image by Flickr user PNNL and used under Creative Commons Licensing.]
Opinions on Inside Higher Ed
Inside Higher Ed's Blog U