You have /5 articles left.
Sign up for a free account or log in.
Michelle Lavery is a graduate student in Biology at the University of New Brunswick in Canada. You can find her on twitter @JMichelleLavery or on tumblr.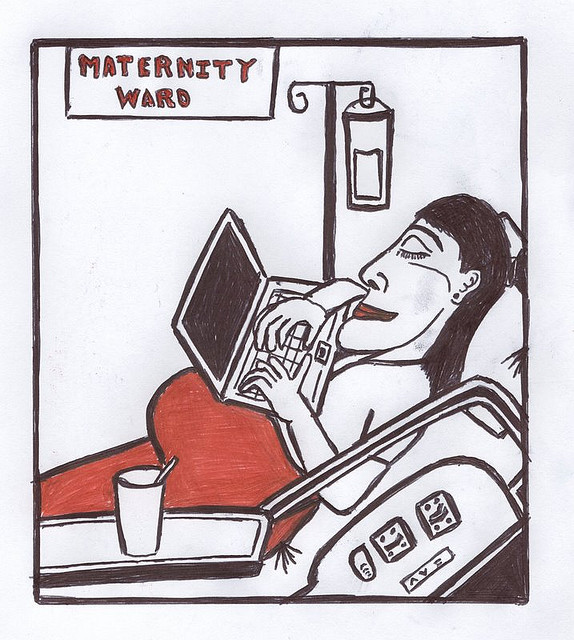 A few months ago I was approached by a friend with concerns about the process of taking maternity and parental leave at the University of New Brunswick in Canada, where we both study. She noted some issues with the process that, to the average Canadian, are fairly out of the ordinary. Our standards for parental leave are pretty high, and we're used to hearing about year-long leaves that are partially, if not fully, paid with full healthcare benefits. Coming to the realization that those privileges might not be afforded to me if I became pregnant while in grad school made me wonder why I hadn't heard about these issues, and why no one had spoken up before. I realized that, for the affected parents, advocacy wasn't a priority (child-rearing is stressful enough!), and for the potentially affected non-pregnant students, researching maternity and parental leave policies also wasn't a priority (you don't worry about it until it happens to you, right?).
I decided to take it upon myself to contact some of the new parents within my department, my university, and among universities in Canada. They responded with a wide variety of experiences; however, I was able to distill the following trends:
Having a Supportive Supervisor Makes a Difference
The vast majority of my respondents were satisfied, at least in part, with their arrangements for maternity and parental leave, specifically because their supervisors made an effort to assist them in some way. Whether it was letters to administration, agreeing to unofficial periods of paid leave, or even assisting with childcare, support from supervisors was a major component in the quality of the parental leave experience. Of course, not all of us have the most supportive or understanding supervisors. Furthermore, depending on the field, women may already face some difficult stereotypes and expectations without the added pressure of negotiating maternity leave. And expecting fathers might not have it any easier—they may also face hesitation from supervisors when attempting to negotiate parental leave.
Satisfaction Depends on What You Were Expecting to Receive
One of the few respondents from the U.S. said, "I consider myself fortunate to be able to stay home at all and still receive pay! Personally my work schedule was flexible enough that I was comfortable with the time I was able to arrange, but I expect for most U.S. graduate students they have no choice but to either leave school (which of course means no health insurance in the U.S., and no pay), or take very little time off."
To a Canadian, this sounds almost barbaric, but it reveals what a difference our expectations can make. From my (albeit limited) research, it seems that parental leave in either country will be challenging and stressful—for various reasons. It will probably have to be cobbled together in some way, since a standard, national policy for grad student parents has yet to be realized in either country.
Parental Leave in Grad School Is a Lot Like Research in Grad School
It is unconventional, challenging, and personalized.
Not one of my respondents mentioned taking a period of "official" parental leave as prescribed by their home institutions. Many took parental leaves that were associated with specific granting agencies, while others took unofficial and pseudo-official leaves (where supervisors continued to pay partial stipends, or student statuses were switched to part-time, etc.). Many respondents also remembered that cobbling together their parental leave was stressful, due to the lack of a standardized policy and unexpected administrative issues.
That being said, the vast majority of the new parents I spoke with encouraged prospective parents to have their children while they are in grad school. One respondent noted that "life doesn't stop just because you're in grad school. If having a baby makes sense for your family, go for it… I suspect there is no good or especially easy time to fit a baby into a science career." Most respondents echoed this sentiment, and offered some sage advice for expecting parents:
"Start planning for parental leave as early as possible." The arrangements may be complicated, and you will have enough to stress about later on. Research your institution's policies and speak with as many other new parents in your department as possible.
"Stay on track as much as possible during your or your partner's pregnancy." It is normal to feel exhausted, or be sick throughout your first trimester. As graduate students with fairly flexible schedules, it can be very tempting to ease off when we feel sick or tired. Do your best to keep up your work so that you don't return to a pile of discouraging guilt.
"Have a plan in place for when you return to your research." It can be difficult to re-integrate into a research program, so having a plan is essential. Communicate openly and honestly with your supervisor to make it reasonable and clear.
"Enjoy every moment as much as possible." Having a child is a life-changing experience. Cherish it.
I am very grateful for all the new parents who responded to my inquiries through email, Twitter, and Facebook. I was honored by their openness and honesty. To all the expecting grad students out there—congratulations and best of luck!
[Photo courtesy of Flickr user mikekline and used under a Creative Commons license.]