You have /5 articles left.
Sign up for a free account or log in.
The learning management system startup Instructure unveiled a learning analytics feature for its Canvas platform this week at InstructureCon, its (now) annual user conference.
Instructure's hardly the first or only learning management system to offer learning analytics. Blackboard unveiled its data analytics platform early last year. And it's not surprising to see Instructure follow suit as learning analytics are becoming an increasingly important – and lucrative – feature for LMSes to offer.
Learning analytics – so the marketing goes, at least – can aid institutional efficiency; they can help instructors identify struggling students; they can boost course and, hopefully, college completion. A lot of information can be gleaned via the learning management system – how often do students log in? How often do they post in discussion boards? How often do they interact with their classmates? With the instructor? How frequently does the instructor respond? Are students completing assignments? How are their grades?
Of course, most schools probably aren't taking full advantage of all the data they already gather on campus, but between the big data buzz and the pressures of budget cuts, that's likely to change.
And Instructure hopes to make that process easier, in part by making the feature free. That's a different approach than that taken by some of its competitors who charge for each additional component, upgrade, or new service. It also means that there's no need to have to "sell" data analytics to skeptical administrators, instructors, staff, or students; the learning analytics dashboard is just there, available for everyone.
And it's available with the ease-of-use that Instructure users rave about. (George Siemens has just posted a review of Instructure in which he says "There may not be much new under the sun in the LMS space, but Instructure is a big leap forward in positive end user experience.") The learning analytics feature doesn't require building or pulling reports. There's a dashboard – separate views for students, instructors, and administrators – that don't require training to be able to understand. Students can see assignments, grades, and other performances stats, and they can ssee how they're doing compared to others. Instructors can see overviews of courses, compare courses, and (ideally at least) identify and help struggling students. Administrators can export the data via the Canvas API to manipulate in their own spreadsheets.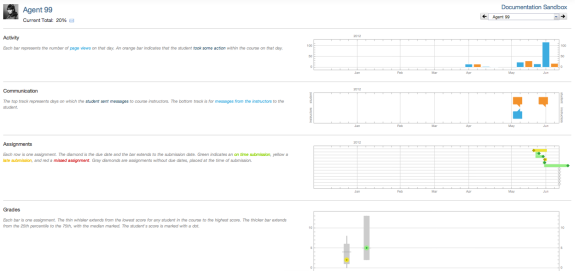 Instructure touts in its press release that it built this new feature in consultation with educators and students. I had a peek a couple of months ago at the tool as they were building it, and I'd echo what Siemens says about the startup's willingness to listen to what learning analytics should or could look like. Siemens writes that Instructure "is an organization that knows its strengths and is willing to engage with others to address areas where it needs (wants) to learn."
But he notes too that Instructure has a "touch of bravado/boldness/audacity" that means it sometimes plows forward confident that it already knows best.
That attitude seems to have served the startup well as it's won a number of contracts recently, including the the Washington State Board for Community and Technical Colleges which moved away from ANGEL. Last week, the startup also announcement a partnership with McGraw-Hill which will integrate its "Campus" product with Canvas (single sign-on access to e-books, test materials and the like from within the LMS).
I'm eager to hear what more Canvas users – administrators, instructors and students – think about the new analytics. Giving students more insights seems particularly important.