Title
A Remote Work Continuum Framework
Thinking about work through the lens of The Low-Density University.
Recently, UPCEA gathered a group of thought leaders together to talk about remote work at their institutions. An outgrowth of their "Conversations with Colleagues" webinar was the development of a tool to provide institutions with a common language to make strategic decisions about work after COVID.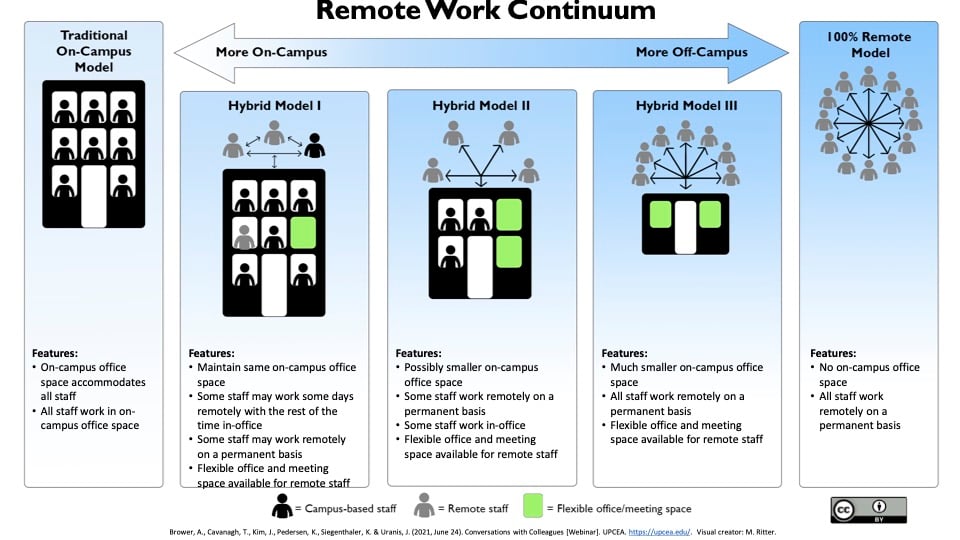 This Remote Work Continuum framework has been made available on CC license. The idea is that your institution might want to utilize it as well to guide campus discussions about post-pandemic work.
For us, the remote work continuum described in the framework is highly reminiscent of the continuum that we developed for our writing (and subsequent book) on The Low-Density University.
In that book, which began life as a series of Inside Higher Ed articles, we lay out a continuum of 15 scenarios for teaching and learning during and after the pandemic.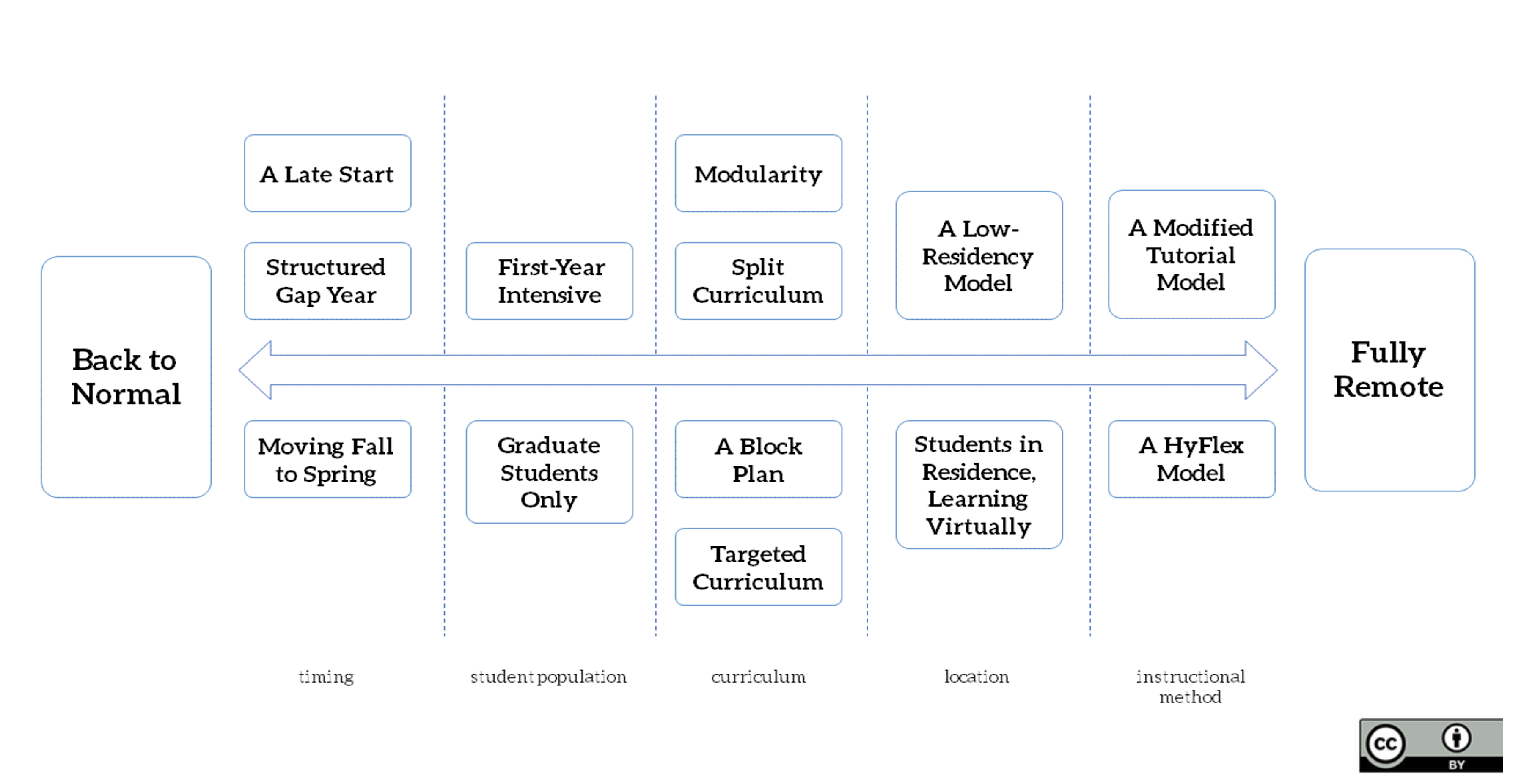 The continuum that describes the options for instructional methods (from fully residential to fully remote) is the analog to the continuum of how higher education teams (often those working with faculty on courses) can organize their work.
The low-density university is as much a lens to understand how work works in academia as it is to understand the potential futures of teaching and learning.
Decisions among campus academic units to move to some version of remote and hybrid work serve as much to create the low-density university as the decision to shift residential courses to blended and online delivery methods.
The Remote Work Continuum framework helps to demonstrate that the decision about where academic staff work is not binary. Instead of thinking about the future of academic staff work as either on-campus or 100 percent remote, we should instead be thinking about the range of "more on-campus" and "more off-campus."
It is within and between the "more on" and "more off" where many in academia will, post-pandemic, likely end up working, with the schools likely having to choose which hybrid models fit them best, both for the success of campus and for the individuals who make it up.
Going forward, the traditional on-campus model may end up being the exception, reserved for those ever-rarer cases where some form of hybrid work does not make sense. And the extent to which 100 percent remote work will grow remains an open question.
This shift mirrors and reinforces the evolution of teaching and learning into a normative hybrid model. When academic life begins to return to more or less normal in the fall of 2021, we expect that most courses at most schools will end up being (more or less) hybrid, blended and flipped.
Any course that relies solely on in-person lectures and high-stakes summative assessments may seem to its students anachronistic. Courses that choose not to supplement and surround the important face-to-face experience with recorded lectures, digital learning materials, online discussions and digitally formative assessments could seem like something from a different era.
In the same way, any employer (maybe especially higher ed employers) that does not offer hybrid working options may seem out of touch. The work of work and the future of learning is hybrid. How we get there and what that future ultimately looks like is still to be determined.
As with all big changes, the newly arrived reality of hybrid learning and working brings with it pros and cons. Few really big changes are ever all positive or negative. There will be winners and losers.
For instance, what does the new hybrid reality of learning and working mean when viewed through the lens of inequality and privilege? How will schools support the complexities of hybrid learning to make the experiences as deep and rich as possible?
And how will schools provide support for staff whose positions cannot be easily made hybrid? The people in those positions were too often at the greatest disadvantage this past year.
What are the trade-offs that hybrid work and learning bring on outcomes as diverse as productivity, community and happiness?
The coming post-pandemic months (and likely years) might best be thought of as a trip that all of us in higher ed have embarked on, but on which none of us know precisely where the destination will be.
Frameworks like the Remote Work Continuum can help us think through how we will all navigate the turbulence along the way.
Where will your campus and unit/center/office fall into the continuum come fall?
You may also be interested in...
Today's News from Inside Higher Ed
Inside Higher Ed's Quick Takes