The StratEDgy blog is intended to be a thoughtful hub for discussion about strategy and competition in higher education.
Entrepreneurship Education
January 14, 2014 - 8:58pm
There has been much debate about whether entrepreneurship can be taught. However one thing is clear, students increasingly want to be exposed to entrepreneurship as part of their college experience.
WGBH estimates that, "nearly 25 percent of college students want to be entrepreneurs." Entrepreneur reports that the millennial generation is fueling a part of this demand.
Institutions have responded with more courses, certificates, institutes and programs. Kauffman Foundation published two white papers detailing some of the growth and initiatives colleges are undertaking in this area. As shown below, formal programs in entrepreneurship offered by institutions have increased dramatically in the past ~25-30 years, as has the number of entrepreneurship courses.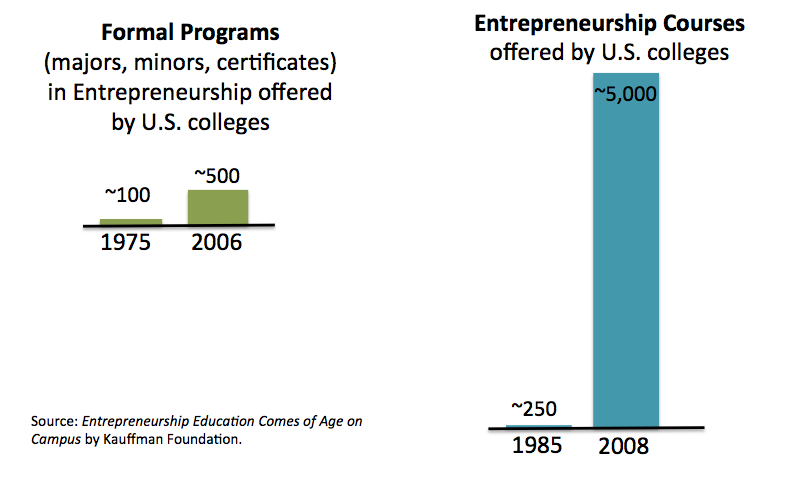 At least one perspective on entrepreneurship education was offered by Bill Aulet, managing director of the Martin Trust Center for MIT Entrepreneurship in a recent interview, "While demand is surging, the supply of high quality entrepreneurship education is not meeting that demand. And entrepreneurship has not been taken seriously and there's not a huge body of work out there on it. It has been more kind of a black art…"
Topics
Job Categories
Related Jobs
Oklahoma State University is a multi-campus public land grant educational system that improves the lives of people in Oklahoma, the nation, and the...
Our History. Your Future. As one of the nation's top Catholic liberal arts colleges, St. Norbert enjoys a proud history and a foundation rooted in...
Most
Past:
Day
Week
Month
Year