The Leadership & StratEDgy blog is intended to be a thoughtful hub for discussion about leadership, strategy and competition in higher education.
Lessons learned from using student teams that are applicable to all of the teams we're part of. 
I've been a member, leader, and launcher of many teams throughout my professional life and have used teams in the majority of classes I teach. This experience led me to become more interested in what makes some team work, what makes some teams go haywire, how to manage team conflict, and how to bring 'stuck' teams back to being productive – so I started to study teams, then teaching what I learned to student teams, and ultimately created a class, Making Teams Work.
I've been sharing a lot of what I've learned in using student teams with other faculty, as well as people that use faculty/staff teams in higher ed and ast week I conducted a webinar for the Global Business School Network titled Tips and Traps in Using Student Teams. One of the items that got the most interest was a discussion of team charters, or contracts, that teams create to discuss and create to define how they will operate, including how they will act, what's allowed, and what are the 'no-nos' for the team. Here's one slide from the presentation that spurred a lot of interest.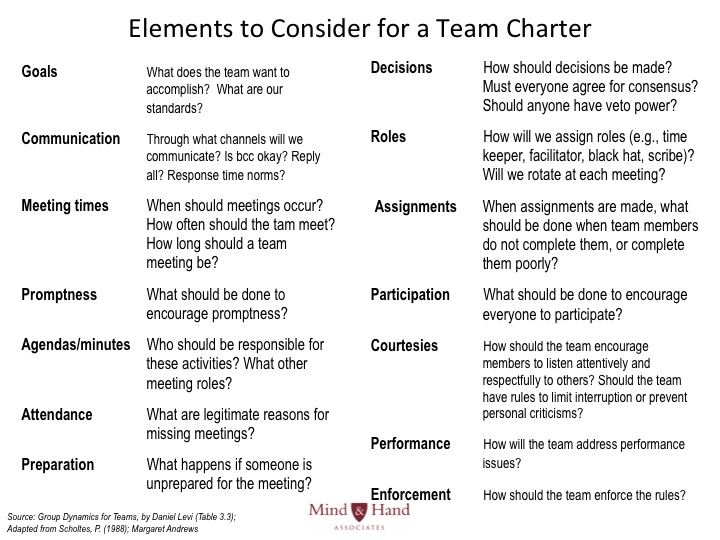 If you're interested in seeing the presentation, you can view it on YouTube or on the GBSN website (this one includes some commentary and downloads). If you'd like the slides from the presentation, or any of the handouts, just email me at Margaret [at] Mind-and-Hand [dot] com. Also, if you are involved with a lot of teams and/or use them in your teaching, please let all of us know of some of your best practices (and, okay, horror stories – those are sometimes the most instructive) below.
You may also be interested in...
Today's News from Inside Higher Ed
Inside Higher Ed's Quick Takes