You have /5 articles left.
Sign up for a free account or log in.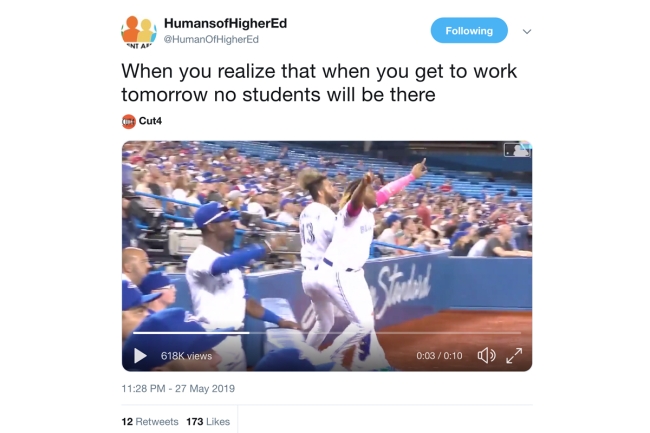 "Getting to know the true people of Higher Education and their stories. Satirically." – Humans of Higher Ed
This is definitely not the blog post I thought I would be writing this week. However, when I checked Twitter on Wednesday morning I noticed that the #SAchat hashtag was trending. Curious, I clicked in to what was a multi-threaded debate (storm?) about satirical memes, perceived shaming, bullying, self-care, nuance and an 80-hour work week.
Things started off with a tweet from Humans of Higher Ed (a mostly anonymous satirical social media account):
Initially, at least from what I was able to dig up after what felt like miles of scrolling through a cascade of Twitter activity, the 'celebratory' tweet was criticized by two prominent leaders in education who took umbrage with the framing of happiness by way of student absence:
The original tweet from HoHE was obviously not meant to serve as an all-encompassing view on the student experience (especially for year-round students) nor was it meant to showcase that students are a "nuisance." If anything, it was an inside joke about the change of pace when campuses get just a bit quieter.
Oftentimes, that change of pace comes as a relief to student affairs practitioners who need that time to regroup, rebuild, and recharge as stated in this tweet from Kimberly Newton:
Then things escalated when Sara Goldrick-Rab, a Temple University professor and scholar-activist, joined the digital debate.
Goldrick-Rab is well known for her academic research and public policy work fighting against college student food insecurity, homelessness, and precarity. With a verified Twitter account and more than 32,000 followers, Goldrick-Rab is an influential voice in higher education. She posted several responses to Newton, a self-described new professional:
What followed after that was a fast-paced flurry of tweets from a variety of higher education professionals and Goldrick-Rab:
There are literally hundreds of tweets that make up this exchange. In many ways, Humans of Higher Ed has unlocked an important debate that doesn't necessarily have a sense of closure at the moment. However, it's vital that conversations keep happening. But in the meantime:
Do you tweet? Let's connect. Follow me on Twitter.