You have /5 articles left.
Sign up for a free account or log in.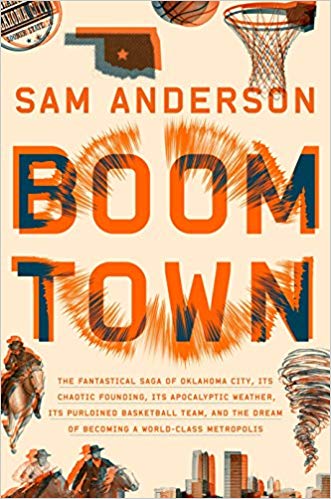 Boom Town: The Fantastical Saga of Oklahoma City, its Chaotic Founding... its Purloined Basketball Team, and the Dream of Becoming a World-class Metropolis by Sam Anderson
Published in August of 2018.
There are 18 public and private institutions of higher education within a 70 miles radius of Oklahoma City. The largest universities are the University of Oklahoma (enrollment ~24,00) in Norman (21 miles from downtown OKC), and  Oklahoma State University (enrollment ~25,000) in Stillwater (67 miles from downtown OKC). In Oklahoma City, there is the private Oklahoma City University (enrollment ~3,000), Oklahoma City Community College (enrollment ~15,000), and OSU-OKC, a branch campus of Oklahoma State University (enrollment ~8,000).
All of the colleges and universities in the greater Oklahoma City region translate into a student population of over 125,000.  The number of postsecondary faculty and staff in and around OKC is a number that I don't know. Thousands, I'd reckon.
Are all the academics in OKC and its surrounding geographies reading Boom Town?
Is Boom Town showing up on the syllabi of courses across the disciplines at OKC institutions of higher learning?
I hope so. The present, past, and future of this mid-size American city tell us a great deal about all of our prospects.
Until the NBA's Thunder came to town in 2008, it is probably fair to say that Oklahoma City did not loom overly broad in the national conscience. Save for the horrific bombing of the Alfred P. Murrah Federal Building in 1995, OKC did not get much national attention. It took the migration (theft?) of Thunder from Seattle (SuperSonics) to elevate the city to national prominence.
Sam Anderson, a NYC journalist, showed up in OKC to cover the Thunder - and then proceeded to never go away. In Oklahoma City, Anderson found a place in which he might make sense of the larger story of America.  Boom Town is a book about migration, urbanization, institutional racism, uncontrolled growth, and some terrifying weather, and much else.
In its brief history, as OKC's founding only dates back to 1889, the city has seemingly made every bad decision that is possible for a place to make. OKC is a poster child for unplanned sprawl. The city tore up its streetcar lines in 1948, replacing this beautiful form of public transportation with busses. In the 1960s the city blew up its most historic buildings, replacing vibrant neighborhoods with concrete monstrosities and highways under the banner of urban renewal.
And yet, amazingly, Oklahoma City is thriving. 
Today, Oklahoma City is the 27th largest US city by population (~643,000), and the among the largest by square miles (621).  By 2040 Oklahoma City should grow to over 800,000 residents.
The city boasts a low unemployment rate, affordable housing, and a business-friendly climate. At the same time, OKC struggles with a tax system that has proved inadequate for investing in public services such as education and infrastructure, despite some success in raising sales taxes (the primary sources of revenue) to implement a downtown urban revival plan.
Boom Town does an excellent job of bringing OKC to life through the people who built, run, and live in the city.   We meet lifetime OKC resident Wayne Coyne, the lead singer and founder of the Flaming Lips - as well as various weather celebrities, politicians, and business tycoons. 
Anderson explain the recent rise of OKC through the triumphs and tribulations of the Thunder. Anyone who has ever obsessed about their own professional sports franchise will understand just how essential a team can be for the identity of a place.
Before reading Boom Town, I knew almost nothing about Oklahoma City. I didn't know about the founding of the city and the 1889 Land Run. I didn't know what an important place OKC played in the Civil Rights movement. I didn't realize that Ralph Ellison grew up in OKC. I thought I knew about how the Thunder arrived from Seattle, but I didn't really. I thought I knew about weather.
What I also didn't know was how attractive Oklahoma City is as a place to live. OKC is a medium-sized city with some big city amenities. Neighborhoods such as Bricktown, Deep Deuce, and The Paseo seem like alluring places to play, work, and maybe live. The cost of living is low, and jobs are plentiful. Oklahoma City represents an alternative to the expensive superstar cities of Boston, DC, San Francisco, Portland, and Seattle.
Is Boom Town a book that is making big news in the OKC higher ed scene?
What are your favorite biographies of cities?
What are you reading?