You have /5 articles left.
Sign up for a free account or log in.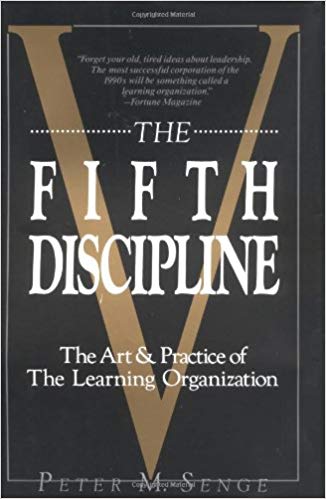 The Fifth Discipline: The Art & Practice of The Learning Organization by Peter M. Senge
Originally published in 1990. Audiobook release in 2000.
The Fifth Discipline holds up really well. First published all the way back in 1990, and revised in 2006, Senge's book is still relevant for those interested in leading organizational change in higher education.
I'm actually surprised that Senge has not completely updated the book for since 2006. Even more surprising is that the audiobook that I listened to, as part of my investigation of Libro.fm, was released in 2000. This makes it necessary to look past the examples that Senge cites as good examples of learning organizations, such as Digital Equipment Corporation (DEC).
Although no college or university wants to follow in the footsteps of DEC - gone - there is much wisdom in The Fifth Discipline. That fifth discipline is an idea that any sociologist would love.  It is systems thinking. The idea of systems thinking closely mirrors (as far as I can tell), the way that sociologists look at the world.  From a sociological perspective, the life course of an individual is determined by their choices (agency) and constrained by the environment or context in which they live (structure). Systems thinking scales up the importance of structure to the organization.
Senge's argument is that companies (and maybe universities) will only make positive changes when the people in the organization are able think in systems. This way of thinking prioritizes an appreciation of the unintended consequences that can result from decisions that seem logical in the present moment, but that are not properly calibrated to account for the larger system in which the organization operates.
The only way that any organization can practice this fifth discipline of system thinking, according to the book, is if the people in the organization master the first 4 disciplines. These are: 1) personal mastery, 2) mental models, 3) building a shared vision, and 4) team learning.  Companies that follow the 5 disciplines are consciously attempting to become learning organizations.  These are organizations in which decision making by hierarchy is replaced by change informed by dialogue, transparency, and mission.
I would love to see Senge, or someone else, update the idea of the learning organization to account for all that we are discovering in the learning sciences. There are some wonderful books now about how individuals learn, including Make It Stick (2014), How We Learn (2014), and Learn Better (2017).  Can those same frameworks that help us understand how the brain learns be scaled up to how the organization learns?
The idea of the university as a learning organization is inherently appealing. Higher education is all about learning. Shouldn't we be able to think of the institutions in which we work as places that can learn how to learn?
Has there been work done specifically on universities as learning organizations?
I'm coming sort of late to The Fifth Discipline party. Was there a peak of excitement about turning our institutions into learning organizations?  Is this language that college Human Resources departments have adopted?
How does the idea of the university as a learning organization fit into our craze for innovation?
What organizational change thinkers do you recommend to help us think about higher ed change?
What are you reading?